2023 – CHW
Further investigations in the greenhouse.
A flower still on Magnolia laevifolia x chapmanii x [M. laevifolia x maudiae] which is scenting the greenhouse. Out of season to put it mildly.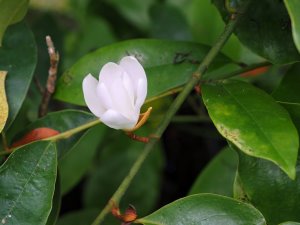 First seed heads on Euonymus schensianus.
One of Asia's seed grown Rhododendron yuefengense (TH 2785) is about to flower.
Karol & Asia besides the frames.
Beside the frames and growing on the dead roots of a Rhododendron arboreum is Geastrum triplex or the Collared Earthstar fungi. A bizarre shaped fungus which starts onion shaped and then splits into 5-7 segments.
Brock inspects the piles of plants picked out for planting in different areas.
This pile for Old Park includes a dozen magnolias.
We acquired this plant of Lindera cercidifolia which grows above Hovel Cart Road in 2002. Its leaves are nothing like the 3 lobed Lindera obtusiloba which is now said to be the same thing as Lindera cercidifolia and Lindera praetermissa. I would beg to differ.
The second ancient and darker form of Camellia sasanqua on the castle walls is now out as we await the tail end of Storm Agnes.
Also now just a couple of flowers on the first of the white forms of sasanqua.
Osmanthus yunnanensis normally flowers in late winter but here it is on 16 year old plants above the greenhouse.
Magnolia acuminata 'Seiju' with lots of secondary flowers.
Euonymus hamiltonianus 'Popcorn' with white fruits but no sign of the orange seeds as yet.
The original Magnolia 'Lanarth' which was hit by a tree is recovering beautifully. It used to grow in full shade but no longer.
Microtropis petelotii is a little known shrub from Vietnam which is supposed to have violet fruits in late summer. I suppose they may yet turn. The leaf looks correct when you search this online but many of the pictures are nothing to do with this plant and obvious rubbish so I am not yet 100% certain of the identity of this oddity from Crug Farm. The fruit looks like a Euonymus species? Then I discover that Burncoose stock this variety so we must have grown this from seed. The Burncoose plants look a little different in their leaf form. This plant need full shade which it hasn't got here but it survived the drought in good order.
A one year from planting Euonymus oxyphyllus (BSWJ 10815) with excellent open seed capsules.
I don't ever remember our largest 40 year old Magnolia virginiana setting such a crop of seeds as here now. Asia needs to grab these in a week or two. Another by-product of the drought. The silvery undersides of to the leaves are splendid too.
Secondary flowers appearing on Magnolia 'Ian's Red'. I have not seen this variety do this before.
Rosa banksiae 'Alba Plena' is now well established on the Tin Garden shed. My mother's favourite rose.
Still a great show on Magnolia 'Yakeo'.
Astonishingly vigorous late new growth on Paulownia kawakamii.
Photinia villosa var. coreana loaded with berries.
Severe nibbling by roe deer on this weeping cherry.
Sorbus prattii with just two clusters of white berries.
Photinia villosa var. zollingeri rather sparsely berried.
Photinia villosa var. laevis covered in berries but far less ripe.
Photinia macrophylla (if correctly named?) has joined the dodo!
A 2014 planted Quercus franchettii with vigorous new growth and attractive bark.
Quercus rugosa has struggled in drier summers but is now getting away now that its trunk is protected from roe deer horns.
A flower or two on Rhododendron mucronulatum which will be out in two months anyway. A secondary flower or the start of an early flowering?
Another Schima in flower which may be another Schima khasiana. It was planted as Schima wallichii but we all know the muddle in Schima identification.
A couple of tail end flowers on Schima superba nearby.
Every so often you suddenly spot a shrub which you may have passed by a thousand times but taken no notice of until now when it is covered in fruits. It was planted in the early 1990s and has become a suckering multi stemmed shrub of around 6-8ft in height with a similar or smaller spread. It is clearly deciduous and this suggests it may be Ilex verticellata although it is not as I recollect plants in the nursery. If this identification is correct then what we had thought was our Ilex verticellata (but Tom Hudson thought was Ilex centrochinensis or now Ilex corallina) by the camellia foliage piece definitely is not and Tom was probably right. We of course missed this plant on our ilex hunt with Tom in July. Again we will need Susyn Andrews' help with our ilex identification.
The old quince has just as much fruit on it as usual. Where the quinces are in groups of four they are smaller but, odd individuals on their own, are as large as apples. Sadly old Mrs Kendall who used to come to collect these each year to make her own quince jam is no longer with us. I DETEST the smell of quinces! Perhaps I should report an allergy or is this a 'ME TOO' moment?
Rhododendron 'Yellow Hammer' with its autumn flowering which is rather good this year. As good as the spring flowering I think.
Arbutus unedo full of flower nearby but all the strawberry fruits have already been eaten by the pheasants. This is one of the few plants which normally flowers and fruits at the same time.
The elderly Cornus controversa by Donkey Shoe has produced loads of seedlings on the bare ground where we cleared away an elderly oak and camellia last autumn. Jaimie has potted up a few before we strimmed the area but there are plenty more for Asia here if she has not plundered them already?
Rhododendron concatenans putting on a very good autumn show now. Again as good as what we expect in the spring and, hopefully, not instead of.
Hardly an old leaf survived the blasting but here is Garrya elliptica 'James Roof' in fine fettle with flower tassels developing.
Euphorbia mellifera looked dead but with a chop back it has now regrown and is nearly the same size it was a year ago. Remarkable resilience!
Daphne bholua 'Jacqueline Postill' was leafless and appeared dead in March. Now very healthy!
2017 – CHW
The first camellia of the autumn is out! I have been looking but had missed this young plant which was only planted out in the spring. Camellia sasanqua 'Variegata' is variegated in both leaf and flower. Rather attractive I think anyway although my father hated all variegated plants.
2016 – CHW
The Symplocos paniculata clump is plastered in lovely blue berries. Very few last year. Asia needs to get collecting seed at once. What a display!
The mushroom circle has appeared on the lawn again but not quite where it was last year.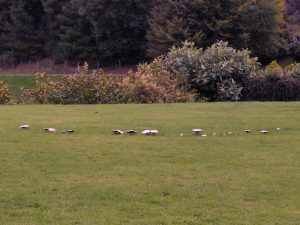 2015 – CHW
Three new photinias planted in 2011 from Crug Farm nurseries have all got fruit on them but the habit, fruit clusters and leaf forms are very different.
Photinia villosa var laevis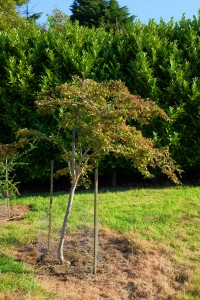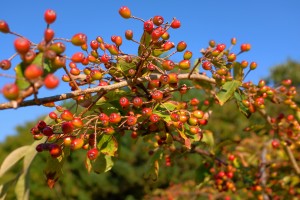 Photinia villosa var zollingeri
Photinia villosa var koreana
Quite an exciting new addition to the garden. I photographed Photinia var koreana in flower earlier in the year but missed the other two.
1998 – FJW
Sasanqua out. Same as 1992. Has been a wet September on top of wet year so far.
1992 – FJW
Home from holiday to find Sasanquas out.
1967 – FJW
Using the family spade as an Assegai, Neal Bruce Miller killed a pigeon in the Auklandii Garden.
1940 – CW
We are getting over a very long dry spell and had some rain 10 days ago but still very dry. I find even the cyclamen suffered badly. The magnolia in my old garden had over 25 flowers out on the 25th and now the berries on the best cornus have been good for weeks. Not much colour so far – Camellia sasanqua out on wall.