2023 – CHW
A garden tour with Peter Mills.
Seed heads on Viburnum taiwanianum.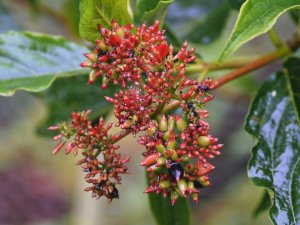 First flowers out on Schima superba.
Clethra pringlei nicely out in flower.
Disanthus cercidifolius just starting to turn colour.
Schefflera delavayi now full out.
Hoheria populnea at its best in the mist.
Hoheria populnea 'Alba Variegata' now in flower.
Buddleia heliophila with its first flowers which are pleasant enough for this time of the year. Also planted last spring.
Betula utilis subsp. albosinensis 'Chinese Garden' has even darker rich, pinkish-red bark than the quite similar Betula utilis subsp. albosinensis 'Bowling Green'. Both original plants were Wilson introductions in 1910 (W4106) which grew at Werrington. One is, I believe, now dead but I gave Mike Williams a few replacements from Burncoose a while ago which I think are planted by the White Bridge. Betula utilis subsp. albosinensis 'Werrington' grew here until the 1980's. All rather confusing. Both 'Werrington' and 'Chinese Garden' grew here 40 years ago but died of old age. Good that replacements are now well established.
Nearly ripe fruits on Euonymus moupinensis which will soon split open.
Ilex opaca is making a spreading tree but no berries. We have one other plant which I have never seen flower either.
A carpet of fallen flowers under Rhododendron 'Polar Bear' in October!
Secondary flowers on Rhododendron 'Blue Tit'.
2021 – CHW (photos to follow)Our spring order of daffodil bulbs has just arrived from Ron Scamp's son. These are what we hope they will go on to look like next spring growing along the bank as you walk under White Stiles field on the way to Old Park. They are all old Cornish bred varieties from one of the very last small scale daffodil growers and breeders left in the traditional Cornish business of daffodil production which goes back to the 1880s. All power and success to Mr Scamp! Other Cornish daffodil growers are larger scale (mainly Dutch) growers and cut flower sellers who would not bother with old traditional varieties like these.
2020 – CHWA trip along Sinogrande Walk.
Taxus baccata 'Standishii' – a female form of fastigiate holly which has yellowish new growth. Here with its first crop of berries that I have seen anyway. Planted 2008.
Myrtus ugni loaded with nearly ripe berries and one or two flowers still. The fruits were first visible four to six weeks ago.
Ilex aquifolium 'Bacciflava' with its berries just turning yellow. A small tree of 15x10ft now. Planted in 2008.
Now on down onto Bond Street – sadly nothing that I photographed appears on the planting plans.
This is a self or bird sown Ilex kingiana which has flopped over or been pushed over into the light by a nearby common holly. Some berries even on this young plant.
Sadly this holly got a bit singed by a bonfire earlier in the year. It has however made a good recovery with lots of new shoots. I think it is Ilex x koehneana 'Chestnut Leaf' as these pictures show (I hope).
This appears to be a young ailanthus species (from Crûg) which is doing well.
Then a nice surprise which I have missed out on in recent years. I remember planting out these three or four malus 25 or so years ago. They may have been from Westonbirt. Dullish plants with no labels then put in a not very often seen place. There are three very distinct and different forms of crab apples here. I assume they are all species if they did come from Westonbirt?
Left to right:
1. A rounded yellow fruit very similar to the Malus 'Golden Hornet' seen in Leslie Baker's garden a week or so ago but with smaller crab apples.
2. Much more oblong or pear shaped crab apples which are yellow at first turning reddish. Large clusters of fruit on slightly cascading branches.
3. Small clusters of large round red fruits lower down and larger clusters higher up.
Could these all be forms of Malus x floribunda? Very doubtful. Is No. 3 Malus prunifolia? It certainly has ascending branches as it should and the crab apples do look the right size and shape. Is No. 2 Malus bhutanica (Malus toringoides)? Research suggests definitely not as the red fruits are rounded and the leaf shape is different. I am pretty sure I have photographed these three plants in flower in this diary and need to check. This may well help with identification. All suggestions from readers welcome.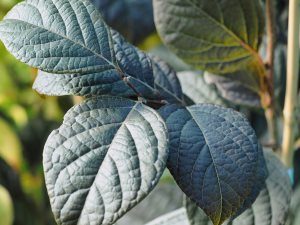 Genuinely weeping Styrax japonicus 'Fragrant Fountain' is new to us too. I must grab one for Caerhays before they all sell.
Cotinus coggyria 'Lilla' appears to be dwarfish in habit with bronze leaves that show a hint of red on the newer growth.
Yucca filamentosa 'Ivory Towers' is a startling colour combination.
As is Yucca flaccida 'Color Guard'.
Not so sure Phormium tenax 'Lemon Spritzer' is really that much to write home about. Perhaps the new growth will be better next spring?
Astelia nervosa 'Red Shadow' is stunning. These all sold out very quickly last spring before I managed to photograph them properly.
Chusquea gigantea is clearly in too shady a place but is already 12ft or so after planting at a small size in 2011. This will be new in the 2017 catalogue.
Stewartia henryae has very striking red autumn colour and stands out in Kennel Close although only planted this year. Wrong place again I fear as too exposed for it to show off its autumn colour well later in life.
Fargesia utilis – supposedly the largest growing species of fargesia which is fully hardy but here the leaves are often blown off in winter with no ill effect next year.
Fargesia rufa (syn Fargesia dracocephala 'Green Panda' according to Hillier's) seems to grow to about 10ft and is spreading vigorously.
Chimonobambusa tumidissinoda – this one will be in the Burncoose 2017 catalogue. An extraordinary layered spreading habit. Easily the most shapely and attractive of these six new ones. The canes are used in China as walking sticks.
Fargesia robusta is as its name implies although only planted (as all these were) in 2011. It will, and already is, breaking some underdraft.