2019 – CHW
Time to take a look for seed for Asia to collect now or shortly and enjoy some early autumn colours in the late afternoon sun.
Nyssa sinensis showing its first dark purple hues. Soon it will be purple all over.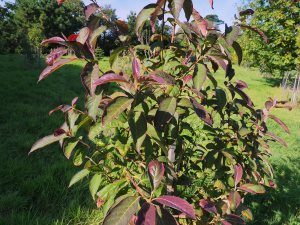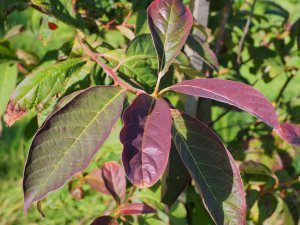 Some newly peeled bark on Prunus serrula tibetica glows red in the sun. Wonderful!
Unusual shaped seed pods not yet quite ripe on Magnolia kobus 'Octopus'.
Likewise chubby seed pods on Magnolia 'Atlas' x 'Vulcan'. Well worth collecting shortly. Planted in 2013 and perhaps the first flowering this spring of this cross. Who knows what these seedlings might produce? Certainly worth a try.
One of the wooden glasshouses used for propagation has been recovered in polythene with metal supports. This has cost £200 plus labour. About half what it has cost to point the structure every three years since it was erected in 1964.
Nyssa sylvatica 'Wisley Bonfire' just starting to turn to its wonderful autumn colouring in the nursery.
Cornus florida well on the way to autumn glory in early September and quite a sight today.
Cornus kousa 'Gold Star' with large numbers of strawberry fruits after the dry summer. Some leaves have reverted to plain green on this large plant at the entrance to the Burncoose Garden.
2017 – CHW
Jaimie and his team have been cutting the trash on the islands. They came upon the swans' nest with five addled eggs. The swans hatched off only two chicks but sadly only one has survived to near maturity.
The Caerhays 'yacht' tied up after completion of the grass cutting on the islands. A nasty job with lots of wasp nests. Some of the pampas grass clumps are flowering pink, some white. All the geese have gone which is good!
2016 – CHW
Hydrangea aspera subsp robusta outside the front gates is now fully out. The florets are a pure white and stand out well at a time when there is little colour in the garden and autumn is around the corner.
Hydrangea aspera Villosa Group, conversely, is over. The flowers have faded to a dull pink here and gone brown elsewhere. This is a very variable plant in flower and most are short lived. Of the three mature plants from the 1990s above the Four in Hand only part of one still survives. Hydrangea sargentiana lives rather longer.
One forgets just how attractive the leaf arrangement is on Ginko biloba even before the brilliant autumn yellowing. Just look at how intricately these leaves interrelate and combine together.
2015 – CHW
A group of three newly planted hypericum are flowering very late with oddly shaped light yellow flowers. It seems that this species will make quite a decent shrub in time.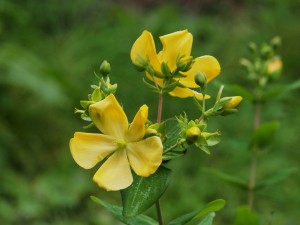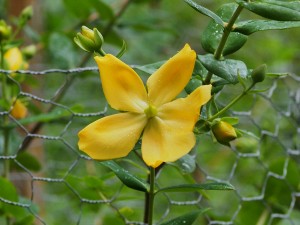 Metasequoia glyptostroboides 'Gold Rush' has lovely yellow emerging new foliage in spring but its autumn hues are not at all bad either. Growing it in full sun seems to improve the colour of the foliage although, in the past, we always thought of metasequoias as bog plants to be planted near water. At Tregrehan they have actually planted three right in the lake and they are thriving.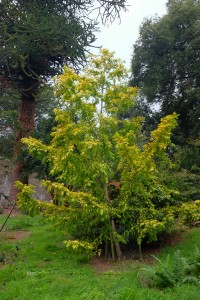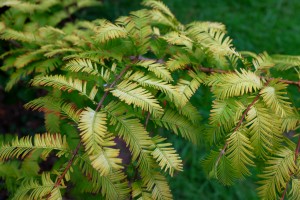 2004 – FJW
Fairly wet early to mid August – fine first ten days of September until rain today.
1969 – FJW
Long dry spell finished – still 4 acres of corn out – garden does not look too dry.
1916 – JCW
The following rhodo's are in flower – R flavidum, R hippophaeoides, R scintillans, R racemosum, R radicans, R fastigatum, and bits of flower are open on R decorum, R ungernii and R intricatum. The roses are very good indeed in the 3 beds.