2019 – CHW
To Burncoose to make a film about our new superfast broadband connections on the Burncoose estate with Openreach. It is a publicity film for them about connecting remote business pockets in the countryside and we have to keep quiet about all the hassle and delay with Openreach about their engineers and the final switch on. Seven people in the film crew plus a PR assistant. Two hours of my time may add 3.5 minutes to the film which may well be useful publicity for us.
While waiting I discover the following camellias have their first flowers in the tunnels:
Camellia "Winter's Joy"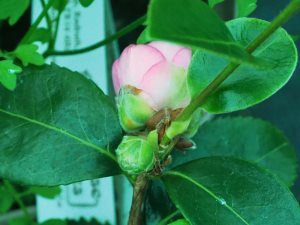 Camellia "Winter's Dream"
Camellia x williamsii 'St Michael' – early even by x williamsii standards
Camellia 'Sundae' – rather unexpected
Camellia sasanqua 'Paradise Hilda'
Camellia 'Gay Border'
Camellia sasanqua 'Narumigata' – this one I would have expected
The Muehlenbeckia complexa plants have grown exponentially and spread everywhere. It needs tying in to the main cane again and a severe haircut.
A few berries on Viburnum opalus 'Compactum'.
x Gordlinia grandiflora with lots of flower buds.
Just missed Cautleya spicata 'Robusta' in flower.
Dregea sinensis in full flower. Flowers very like those of Hoyas.
2018 – CHW
Buddleia lindleyana making its usual superb September show on the drive. The curved racemes of flowers hang over the drive and seem to have been showing colour for weeks. Probably at their best today.
A multitude of young rhododendron seedlings all now pricked out and ready to pot on next spring.
The puya are also showing well albeit slowly.
Metapanax davidii with its first seed head. Another obscure novelty to go out next spring.
Disanthus cercidifolius leaves showing their superb range of autumn colours. Why do we struggle to get this going in the garden?
Indigofera howellii and Fagus longipetiolata as gifts for the Belvoir Castle trip today.
2016 – CHW
Acer x conspicuum 'Red Flamingo'
stands out proud at this time of the year with its superb mottled new growth. Better even than the Acer x conspicuum 'Phoenix' at Burncoose which I showed to The Garden Society a year or two ago. Much more red and pink in the autumn flush. 'Red Flamingo' was a new introduction to us in 2015 and is one of those 'must have' plants to brighten up a drab early autumn day. The best thing I saw today starting to plan the camellia cutting programme for the next week or two. Remembering where all the new ones we all liked in the spring are is far from easy even with the planting plans. One casualty or a later addition to a planting plan can swiftly make the whole thing nonsense.
2015 – CHW
Ilex perado 'Perado' from the Canary Isles has been spread around the garden by birds feeding on its berries. This rare and rather dull species has one peculiar attribute in that, in spring, it has berries and flowers at the same time. The berries are usually solitary. Here they are not and the leaf shape suggests that this seedling may well in fact be a hybrid between Ilex perado 'Perado' and Ilex platyphylla. This may explain the large quantity of emerging berries.The berries on the very rare Vaccinum urceolatum are also changing colour but are not yet properly ripe.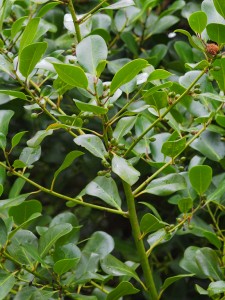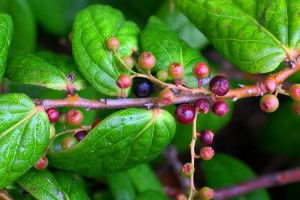 1992 – FJW
Harvest finished, dry until.
1985 – FJW
Bad harvest. Nearly all finished. Bad summer – hyb's yellow. First good leaves on Sinogrande. Beech trees look dreadful.
1963 – FJW
Harvest all but finished – very difficult for hay and corn. Weather for hay and rain laid corn flat.
1915 – JCW
Roses in the three beds, the cyclamen, the cassia and the hydrangeas are all good, have been crossing R primuliscum with R trichocladum, very hot and dry.