2018 – CHW
Rather more rose hips on Roy Lancaster's wild collected Rosa filipes than last year. They rise above the plant which is well over the top of the castle gate wall and glistening in the sunlight this evening. Well worth Asia growing a few of this vigorous but beautiful specie climbing rose.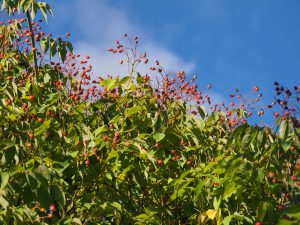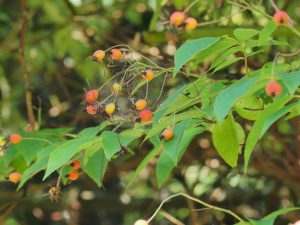 Cornus kousa 'Doubloon' was covered in fruits. Since I spotted them first the pheasant poults have taken at least half of them. I have never seen the fruit on this tree before.
Catalpa bignonoides, the Indian bean tree, living up to its name. Another tree which is used to hotter temperatures and is performing well after the dry summer. While we have had some pleasant drizzle and light rain we really do need a downpour soon to get plants going again. The hydrangeas on the drive are drooping their leaves and look terrible again.
2017 – CHW
Western Power hoist in the new transformer into the back yard. No damage to the Magnolia 'Leonard Messel' so far.
The electrical connections to the mains under the wall look rather insignificant!
2016 – CHW
No entry.
2015 – CHW
Another collecting evergreen cuttings day for Burncoose with six black bags to go including some particularly prickly hollies which they will not like at all.We took cuttings from Stewartia pteropetiolata which we know will root but there are plenty of good seed pods forming all of which look fertile.
Crabiodendron yunnanense (record tree) has had only a few very late flowers some 20 feet up in the crown of the tree. We have seen this tree set seed lower down but it has proved easy from cuttings. The flowers are pieris like and normally much better than they look here.