2023 – CHW
Back at Burncoose again to hopefully finalise the 5 year Woodland Management Grant.
In the till area some startling Amaryllis belladonna or so they are labelled? Could they in fact be Nerine?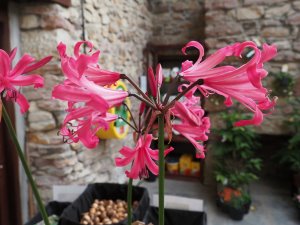 Different coloured berries on Pyracantha starting to colour up.
Cotinus 'Grace' turning colour nicely but not yet at its best.
We grow many different Corokias and Coprosmas very well but they simply do not sell by mail order or to nursery visitors.
Aralia elata 'Variegata' now with ripe black berries.
Caryopteris x clandonensis 'Heavenly Blue' superb at this time of the year.
Callistemon 'Red Cluster' with secondary flowers.
Our new pictorial labelling in the nursery is getting better and better. 700 more new colour labels this week and a clever plastic holder with a wooden back which is safe for the public and not easily damaged by our own staff in vehicles.
The old oak tree which fell a week ago at 4am with no wind has now been cut up. The main trunk is destined for Jaimie's wood-burner.
Sorbus 'Pearly King' (from Trevor Green) planted in 1997 is full of fruit. Sorbus 'Golden Wonder' behind it has none. Sorbus do not generally fruit well in our wet conditions but Pearly King does well. Two others on the drive.
A small number of raspberries are just forming on Rubus lineatus together with yet more attractive new growth. Must remember to look in a month.
The top grafted Crateagus grignoniensis has been photographed before in this diary but seldom fruiting as well as this! The pheasants are, as yet, uninterested.
Heptacodium miconoides has grown well in a year and is flowering attractively. A wonderful border shrub with crinum or crocosmia.
Hydrangea quercifolia 'Phantom' is still out above Red Linney and very late for a Hydrangea quercifolia. All the others are long over. This one a single survivor of three or five planted and clearly has a rather dwarf habit.