2018 – CHW
A morning gathering seeds and evergreen cuttings here this Monday for propagation for the nursery by a third party specialist propagator. We cannot grow everything ourselves and many rarities are so difficult to propagate that it is best to have more than one person trying. The add-on benefit is that we may get new replacement plants for some of our aging rarities. Perhaps the most important thing overall! Fifty separate sets of seeds and cuttings were gathered by four of us in three hours with a careful route plan.
The first ancient single pale pink Camellia sasanqua has sprung open in a bit of drizzle. I looked only two days ago. About three weeks earlier than last year but about on par with the norm over 20 years. The other old sasanquas are a bit later especially the smaller flowered darker pink one. The camellia season is starting all over again. Marvellous!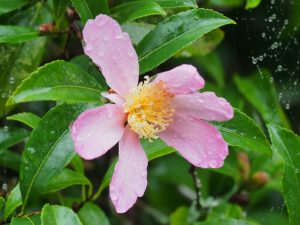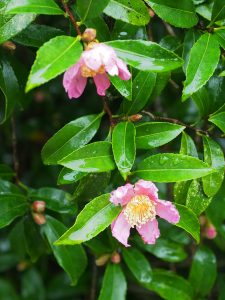 The big find today was Symplocus paniculata simply plastered in blue berries. Last year there were only a few here and there. The drought has brought its own benefits in the seed production of plants which like a hot dry summer.
We go on to take cuttings of three separate species of Torreya. We saw two species with green fruits a couple of weeks ago. Today Torreya grandis' fruits are still green but they are splitting and most were collected from the ground. A single seed in each green capsule with lots of sticky pith around it which has an odd smell.
2017 – CHW
You do not very often see Euonymus japonicus growing in Cornish hedgerows but here a bush full of seed pods which are turning red nicely but no colour on the leaves yet.
The Newton barn conversions are starting to take shape and are rising again out of the ground. One is an almost total rebuild but we have managed to retain two walls on the second.
2016 – CHW
We have all missed the first flowering at Caerhays of another new clethra species. Clethra monostachya has leaves similar to Clethra delavayi but a different growth habit or so it appears so far.
The March 2016 new planting above the Auklandii Garden where we ripped out the laurel hedge looks well with, as yet, no obvious casualties.
2015 – CHW
Cornus kousa 'Gloria Birkett' had the best and largest red fruits on any cornus in the garden last year. They are hanging in profusion and swelling but not turning red just yet. I wonder why this exceptional variety is not more widely available?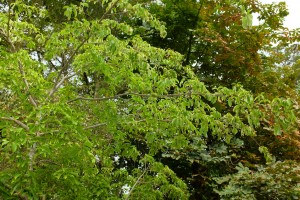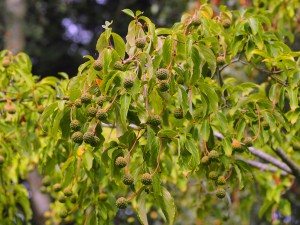 Beside it I find a young plant of Heptacodium micinoides in full flower. A strange plant with nicely peeling bark that can achieve a height of eight to ten feet but does not seem to live more than 20 years. Two others have died recently. It makes a nice aftermath to the hydrangeas. One would guess it was Chilean but it is actually Chinese although it only came to the UK in 1980. A plant which Burncoose could do a lot more to promote as something different.