2023 – CHW
A visit to Burncoose to complete the annual tree survey.
The first time I have seen Sesbania punicea in flower. Another genus with pea flowers.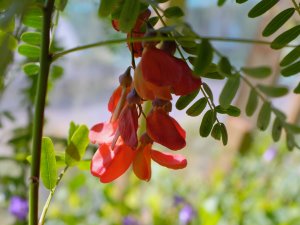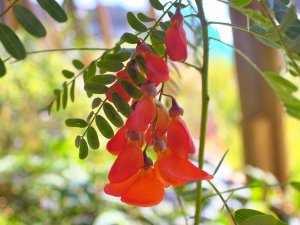 Daphne gemmata nicely out in flower in the shade.
The first time we have grown Acacia boormanii and offered it for sale.
Berberidopsis beckleri still in tight bud. At Caerhays the flowers have been out November-December.
Cotoneaster bullatus covered in berry right at the entrance to the garden. A forgotten plant.
Acer x freemanii 'Autumn Blaze' just starting to turn at the tips of the branches.
Secondary flowers on Magnolia 'Sweet Merlot' below the lawn.
A badger has dug out a huge wasps nest below a fallen beech tree stump.
The ground is covered with fallen white petals under an Eucryphia x nymansensis 'Nymansay'.
There was a hornets nest in the this crevasse in an old tree but they appear to have moved on.
We have given up on the half cut back Cordyline australis. After the drought it only had 3 or 4 terminal green shoots, so now a ground level cutback. They normally reshoot well from the base after this sort of treatment but has the drought been just too bad?
Sarcococca saligna with flower buds nearly out in a damp corner by the front gates.
Hydrangea aspera 'Robusta' just coming out as it always does very late in the Hydrangea season.
A year ago we thought this Magnolia dawsoniana might die after it was severely wind chill frosted and when early into leaf. Lots of die back from the twig tips. Now, however, one has to say that it has recovered into rude health.
Flower tassels well formed on Garrya elliptic 'James Roof'.
Rainclouds loom at last and a westerly gale is promised. The banks were only cut yesterday after all the wild flowers had seeded. If left any longer it would mean cutting the autumn cyclamen flowers.
Flower buds on Schima superba nearly out.
But still not far advanced yet on Schima khasiana.
Styrax formosanus var. formosanus with a good crop of seeds but far less seeds than there were flowers.
Magnolia grandiflora 'Kay Parris' nicely out.
Eucalyptus nicholii is shedding or splitting its old bark like a snake with new bark already visible beneath.
Camellia 'Cornish Snow' with many swelling buds.
Hoheria sextylosa now full out.
Fruits forming on Sorbus eleonorae. Last year they were not ripe until late January or February when I ate one.
Hydrangea paniculata 'Grandiflora' with just a hint of pink.
Secondary flowers (as usual) on Rhododendron concatenans (concatenans Group to be correct).
One flower head on Hydrangea aspera from Lord Howick. Very late into flower.
Vigorous reshooting from the fallen and pollarded Magnolia 'Cecil Nice'.
Seedpods forming on Lomatia ferruginea in profusion.
Very few seed heads have formed on Michelia doltsopa but there are a few if you look hard.
First purplish autumn tinges on the record Acer henryi on the Main Ride.
Secondary flowers on Rhododendron impeditum 'JC Williams' just below the acer.
A seed head on Sorbus sargentiana just turning colour just above the acer. No colouring yet on the nearby Tetracentron sinense or Cercidiphyllum japonicum.
Ripe seeds on a young Magnolia wilsonii up from the two Magnolia x veitchii for Asia to collect now.
The nearby young Magnolia sieboldii seeds are not yet ripe although the two plants flowered at the same time.
At last our Xanthocyparis vietnamensis is starting to grow more mature cypress foliage out of the top of its immature foliage. We need to move this tree in the autumn as it is in a daft place. Tom Hudson's rather older trio of trees developed mature foliage at a much quicker rate although one of the three was as slow as ours.
Tilia henryana has flowered early and the seeds are setting. The whitish bracts behind the seed clusters are interesting and attractive.
The fattest fruit I have ever seen on Stewartia rostrata. About twice the size of the ones on the drive which I looked at earlier in the week.
The elderly Magnolia soulangeas are all flowering for the second time. Unusually the flowers are more or less the same colour as in the spring. Smaller, but more normally, these would be all mauve.
Sorbus torminalis already showing autumn tints.
Two plants of Phellodendron amurense are developing into rounded trees with interesting bark. Sadly I planted them too close together but they are slightly different. Perhaps, however, one is a male and the other a female? Time will tell! No flowers or fruit as yet.
Seed forming on Aesculus wilsonii. This tree never seeds heavily and the conkers are small. Still only half formed here. Is the discoloration on the leaves the work of moth larvae which attack Aesculus hippocastanum or is this just autumn colour? I fear the worst looking at our chestnuts generally.
Sadly no seed has formed on Paulownia fortunei which flowered for the first time in the spring.
2016 – CHW
Recently, in my absence, a formal visit from Plant Health to inspect our sweet chestnut trees for disease. Apparently they have been overflying the woodland here looking for new infection in old Castanea sativa trees. They believe it to be yet more phytophthera ramorum.I have  my doubts as many elderly sweet chestnut trees have been very slowly dying back in their crowns for decades.
Anyway yet more tests for SOD and I fear some compulsory felling notices on some trees in the garden and in Forty Acres. Quite how Natural England and the Forestry Commission (what is left of it after cuts and mergers) can afford to fly around the country in helicopters while they still cannot pay our HLS agreement contract payments even faintly on time beggars belief. No funding shortages when it comes to all the PR of more 'new' disease to bolster their jobs and justify their existence. More hassle and rows to come I expect just when we thought the ten year ponticum eradication saga was over.
2015 – CHW
Every time I get to myrtles I curse the botanists and all the name changes – luma, amomyrtus, myrtus and ugni. So the common Myrtus luma in full flower today in many places is now properly Luma apiculata. It self seeds in profusion, has lovely peeling bark and is a wonderful coastal plant but the temptation to call it the 'Common Myrtle' is overwhelming. The Common Myrtle flowers earlier in the summer and is Myrtus communis. Not such a good plant and not nearly as hardy, common or floriferous even though from the Mediterranean rather than Chile. That is the 'common' bit I suppose.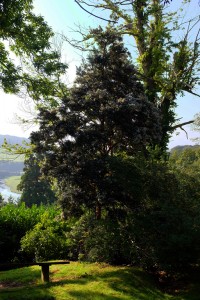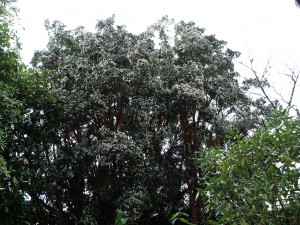 1968 – FJW
CHW first shots with 4.10 – 2 hits / 2 at Ovaltine tins. Lapageria out sometime.
1965 – FJW
Corn in. Bad harvest. Hay touchy and corn downtrodden.
CW
17 of the beds in the Tin Garden dressed and replanted. All daffs boiled and the bit below planted in daffodils. A lot, mostly Glorious, in the K Garden. Eucryphia cordifolia very good. White rhodo's auriculatum etc mostly over. Magnolia delavayi good and both var of Grandiflora. Quite a lot of Mag salicifolia have flowers also Conspicua. Cyclamen good. Lapagerias at their best and fuchsias.
1916 – JCW
The cassia on the terrace, the hydrangeas, the cyclamen, and the lapageria and solanum are about all we have to look at now.