2017 – CHW
While spraying the gorse regrowth in the Treveor Hill new planting a typically chaotic pheasant's nest was found. Three eggs only and one clearly broken. They lay any old where and seldom get them actually in the nest. No wonder we never see any hatch off from the hundreds of hens left on the ground in February.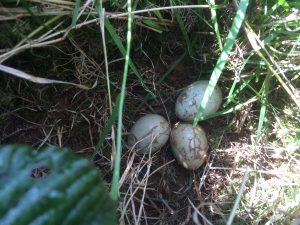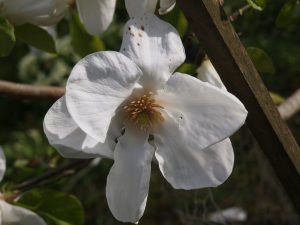 The four Rhododendron 'Loch Awe' are now full out below the Engine House. A pleasant trace of pink.
Magnolia 'Peachy' is just out and quite a peculiar colour combination.
Prunus 'Horinji' flowering nicely. Only planted in the Autumn. If only the names were a bit easier on the tongue.
Magnolia 'Lemon Star' (syn 'Swedish Star') is just out and what a good yellow it again is! Even the farmers liked it and they might even buy one or two.
The bank outside the front door that was all primroses 10 days ago is now all bluebells (not Spanish either!). These have seeded themselves here in the last 20 plus years as a result of late grass cutting.
2016 – CHW
Jolly trip around the garden with Sir Richard Needham and party on a fine day. Sir Richard in good form expressing his lack of plant knowledge at every opportunity. He never did identify 'a myrtle' and tried hard to catch me out on various conifers with no success. Mr Billy enjoyed himself enormously with a light coloured Labrador bitch getting clouted frequently for his amorous intents.The weekend wind has indeed taken its toll on the best magnolia flowers but Magnolia campbellii alba (original) is the only one to have held up more or less intact. The party are still surprised and impressed by what they saw battered though it was.
2015 – CHW
Predictably they are all late for lunch and the afternoon's racing at Aintree.  Old Scout, our oldest Labrador, expresses his displeasure at the absence of nibblets on the floor by leaving a daisy chain of diarrhoea in front of the buffet lunch.The guests bring a rare fern which apparently only grows in Trematon Gardens.  Pretty dull but rather like the very rare to Cornwall fern in the Lower Rockery which the HLS weed survey discovered in 2011.  Need to investigate and photograph.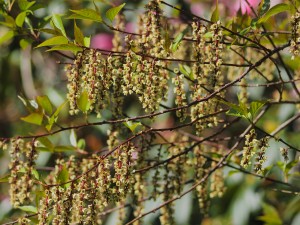 The stachyurus are all full out. Stachyurus chinensis is still far and away the best spectacle but very short lived as a plant – 20 years or so. Stachyurus praecox has much shorter and chubbier racemes which appear with the start of the leaves. Stachyurus lancifolius is in the diary on 8th March as 'not very different' and Hillier's now has it as a form of Stachyurus praecox listed as praecox var matsuzaki. At the moment none of the new evergreen species such as Stachyurus yunnanensis and Stachyurus sigeyosii are any match for Stachyurus chinensis in flower but these are not yet fully out and a bit chewed by roe deer.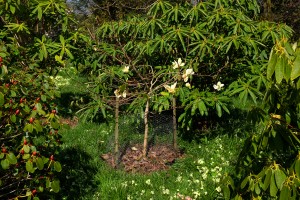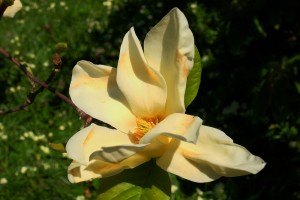 Magnolia 'Sunray' has its first four flowers.  Nothing to write home about as a yellow and probably should be cut down soon.  We need rain urgently for the new planting.  Only a dribble overnight.
1998 – FJW
Very wet fortnight. Bad floods central England. Camellias never better.
1984 – FJW
Late Easter, leisurely spring – cold and dry – magnolias and camellias good. Rhodo's shy.
1978 – FJW
2 inches of snow found on waking.
1934 – JCW
Magnolia sargentiana is open and so kobus and denudata. Mag nicholsoniana is just moving. Mag halleana and kobus are both of them good.
1933 – JCW
(Handwritten note in Garden Book)
On April 11th I crossed the old Camellia speciosa on about 20 or 30 flowers with the pollen of Camellia salicifolia.
1932 – JCW
Magnolia sargentiana is half of it open, but is feeling the wind very much. The big Mag kobus is over. Mag denudata is good. P incisa is very good. Daffs are far on.
1917 – JCW
Very late season, early yellow stuff just starting, snow this morning, impossible to stop snow? Outside nearly all the stuff is or has been frosted. Rho fargesii stands up to it, and the end should be June.
1905 – JCW
Not so far on as in 1903. We sent Penguin to the Plymouth Show yesterday. Cerasus pendula is good, M stellata very good. Grandis not yet open. A few grap tulips.
1903 – JCW
C saw the first swallow, waterlilies well on the move. Cherries well open, we should have had no trumpets at the show today.
1901 – JCW
Show Day. These were open and at it in good order – Weardale, Glory of Leiden. M plemp, 223, Golden Bell, Victoria, also many of our best saucer eyes, Dante, 137.
1900 – JCW
Took the pollen out of the first Lulworth, saw a bit of Cerasus pendula open.
1899 – JCW
Tulips at their best. Cherries hardly out. All the later daffs at about their best. Send flowers to Birmingham tomorrow.
1898 – JCW
Tulips well open. Cherries have begun to open. Lucifer open.
1897 – JCW
Tulips nearly over. Cherries also. The first seedling Auklandii came out.