2019 – CHW
Two tour groups today. Both two hour guided tours. Amusingly the first from Gardens Illustrated who seemed to have no idea that there was a feature on us in the February issue. The second was a RABI outing with supper which was more entertaining. More tour groups than ever this year as the weather remains fair with coldish nights.
Syringa pinnatifolia is just coming out and, again, well before its normal time.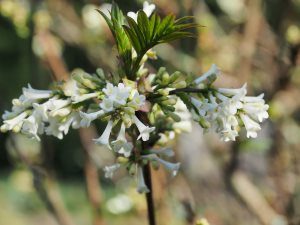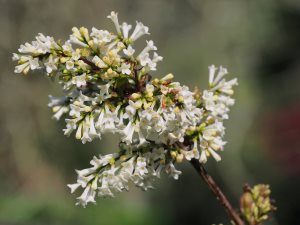 Holboellia latifolia subsp. chartacea flowering for the first time with us in the frames. Clusters of maroon coloured flowers and very pretty indeed. Sausage shaped seed pods last autumn.
Eucommia ulmoides with elm-like leaves is a Chinese tree used to make rubber. These appear to be flower bracts which I have never seen before.
Acer campestre 'Red Shine' living up to its name in Kennel Close. A good new plant which will be popular in the nursery as a half standard tree.
New growth on Aesculus chinensis is attractive too.
Magnolia 'Maxine Merrill' has small flowers but they really are yellow!
Asia had been wondering what had become of Acer tsinlingense. It is planted out in Kennel Close and has oddly veined yellowish new growth. I cannot immediately find this in any reference books.
Sorbus coloneura with young growth and flowers.
Lindera umbellata in flower. Not that exciting!