2023 – CHW
I cut the suckers off the 3 grafted Syringa pinnata 2 years ago but to no avail. Just out now.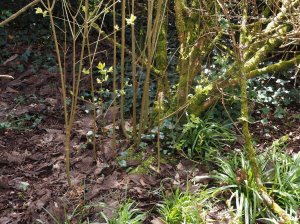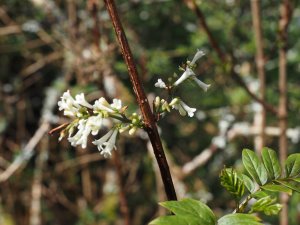 Rhododendron desquamatum – what a show stopper!
Camellia 'Fairy Wand' still as impressive as any camellia still out in mid-April.
Ucodendron whartonii (I still prefer to call it this) just into flower.
Magnolia 'Fairy Cream' just out as 'Fairy White' finishes flowering beside it. Odd! No colour yet on 'Fairy White' or 'Fairy Blush'.
Daphniphyllum macropodum var. humile in full flower and developing well.
Rhododendron 'Red Centurian' nearly over.
Lindera erythrocarpa has made a decent tree of 30 feet or so. The best of the species in flower here I think.
Magnolia 'Black Tulip' x 'Deep Purple Dream' has small rounded reddish flowers. Different but nothing outstanding.
Prunus matsumae 'Hanaguruma' was given to us by Harvey Stephens of the Savill Gardens. A really good double flowered pink cherry.
Magnolia 'Purple Sensation' is a later flowering New Zealander which is well worth growing. This is the last decent flower.
Magnolia 'Apollo' is one of the very best New Zealand hybrids of much earlier vintage. We have a small plant on the drive that has never done well and one in Penvergate. At last we have a decent plant strutting its exceptional stuff.
Magnolia 'Chrystal Chalice' is a fair white and showing up quite well.
Magnolia 'Plum Pudding' has made a good tree and has been out for weeks. A tidy rounded shape to the flower.
Prunus 'Umineko' was planted in 2011 and has made amazing progress. Quite the biggest and best thing in flower this year in Kennel Close. Not a full double but absolutely plastered in flower today from top to bottom. A new variety to us too which merits propagation or purchasing more of.
Magnolia 'Galaxy' is growing in a tight spot so it is hard to get a decent picture as it has grown too tall. Rather similar to Magnolia 'Heaven Scent' I think.
Magnolia 'Butterflies' has lost its leader but two plants we have here grow like this in a spreading fashion. The third is however a tall upright tree with slightly different flowers which do not have the tepals inverting in on themselves in an irregular fashion. Perhaps there are two forms of M 'Butterflies'?
Magnolia 'Alixeed' is not in the normal magnolia reference books but looks like a x loebneri variety as it is too vigorous for a Magnolia stellata type. It is clearly planted (by me) too close to the drive. A soft pink blush to the opening flowers quickly turning pure white.
A tail end flower on Magnolia dawsoniana 'Chyverton Red' on the drive by Red Linney. This plant was never named as such but Nigel Holman always thought it nearly identical to his Chyverton creation. We have other plants elsewhere and a good one at Burncoose near the rockery which is also good in bud but quickly fades.
The camellia hedge below the drive at the fernery is really now showing up well proving how late some Camellia japonica varieties are in relation to the Camellia x williamsii varieties.