2017 – CHW
A trip to look at more magnolias flowering for the first time but many distractions!
Rhododendron edgeworthii x leucaspis – the rhododendron season is rushing on and we rush to see it all properly!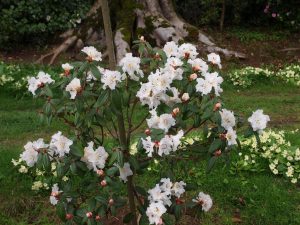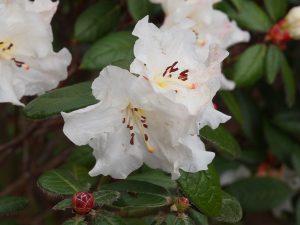 Camellia reticulata (white) flowering for the first time by the greenhouse. Entirely genuine and entirely new to us. We never knew there was such a thing as a white reticulata.
Stapylea holocarpa 'Rosea' with more flower than I have ever seen before on such a small tree. Fourteen years from planting.
One of the two old original Magnolia salicifolias full out. Poor picture I fear in drab light.
A fine Magnolia 'Caerhays Surprise' reigning above a rhododendron at its absolute best even without the sun. One of several seen in the garden today.
A young Magnolia 'Yakeo''s second flowering in Kennel Close. The 25 year old original plant is half dead as of last summer. Over flowering as it's a 'twice a year' performer I expect.
Magnolia 'Angelica' – entirely new to me in its first flowering in Kennel Close. Nothing startling I fear.