2023 – CHW
Torrential rain again today in what has been a spectacularly wet week as we try to cut perfect flowers for the CGS Show tomorrow. A catch up from last summer's drought and a dry January/ February but not good for garden visitor numbers. A few bedraggled and wet stalwarts here today.
Fame at last! The Newquay Voice newspaper (which I have never heard of) has published pictures of the Malus planting in the Old Kitchen Garden as part of the Queen's Green Canopy.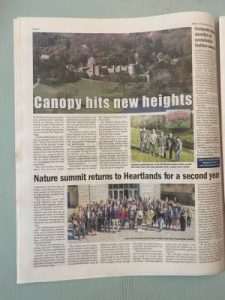 Magnolia 'Blushing Belle' is usually out later in the year than this. I looked last week and nothing but Jaimie has snapped it today (M. 'Yellow Bird' x M. 'Caerhays Belle'). You do not really see the yellow in the opening flowers in the rain and drizzle today but this is what makes this a much under rated and still unknown hybrid of great merit which will, when known, sell well. Burncoose has a decent few plant coming on.
New growth on Metapanax davidii.
First flowers out on Rhododendron oreotrephes.
Flowers emerging on Aucuba aff. chlorascens (BSWJ 11815e).
At last I locate Michelia caveana to cut for the show. No flowers yet on this (already) 12-15 foot tree planted in 2017. Interesting bark.
Michelia floribunda 'Fansipan Furry' (FMWJ 13340) not yet large enough to cut.
First flower on a Rhododendron grande seedling in the Ririei Opening.
Michelia laevifolia 'Sophie Van Vive' (Raf Laenarts 2020) also to small to cut and no flowers yet.
Magnolia 'Asian Artistry'.
Magnolia sinostellata has a hint of pink which does not show properly in this photograph.
Magnolia cylindrica x M. 'Darjeeing'.
Eucalyptus gregsoniana from Roundabarrow with interesting foliage.
Magnolia 'Black Tulip' x M. 'Serene'.
Magnolia x brooklynensis 'Titan' nearly out – early for a x brooklynensis variety.
Magnolia 'Tititare' (x 'M. 'Vulcan' x M. 'Apollo').
Magnolia 'Parfum' – not registered as far as I can see.
Magnolia 'Lu Shan' (M. denudata x M. cylindrica).
The last flower on a graft from the original Magnolia sprengeri var. diva. The shape is unique and unmistakeable.
The two huge trees of Magnolia kobus var. borealis in the Rookery are nearly over with leaf just forming behind the flower.
The best Rhododendron macabeanum now full out.
Magnolia acuminata 'Sunray' is full out but hidden a bit from any path. Not bad and odd to see an acuminata variety out this early.
At last, and for the first time here, Magnolia ernestii (formerly Michelia wilsonii M. sinensis) is just out. Similar in shape and colour to M. martinii but smaller and less yellow – although the leaves are quite different. Nice to have in the collection but not that big a 'wow factor'. Lots more buds to come.
Trunks from the once record tree Pinus pinaster rot away in a laurel hedge as we are now encouraged to do for biodiversity rather than burning them up.
A fallen old sycamore with a rotten base which must come down unnoticed in recent storms by Bramble Field gate. It has done little damage in a laurel hedge.
The pollarded laurels in the Bramble Field shelterbelt are regrowing vigorously.
Horrendous squirrel damage on a 15 to 20 year old beech tree (one of many).
Ilex kingiana covered in berries.
Magnolia 'Wada's Memory' is a serious 'flopper' once its flowers are out.
Narcissus 'Astro Pink' below White Stiles.
Magnolia 'Gold Cup' above the kennels. Not very golden really as I have commented before.
Then the first of the 23 Amelanchier in the new collection planted above the kennels are just into flower.
Amelanchier laevis 'Snow Flakes'
Amelanchier laevis 'Princess Diana'
Amelanchier grandiflora 'Robin Hill' with a hint of pink in bud. I had not noticed this before in the nursery.
Amelanchier laevis 'R J Hilton' very pink in bud.
First flowers on a newly planted Salix hookeriana in Old Park opposite the bottom Gunnera patch. This is the 'coastal willow' from W. North America. Not bad flowers either are they?
Magnolia 'Wada's Memory' full out in the sun.
I have been trying to get a decent photograph of Cercidiphyllum japonicum 'Pendulum' in flower for years but usually forget. Apart from the scent they are pretty pathetic 'flowers' – merely fat anthers with pollen. The tree is a remarkable shape and beautiful as it starts to leaf up.
Magnolia 'Kalleberg' full out.
What may or may not be Melicytus crassifolius definitely does not have the 'usual' tiny yellow flowers as you can see here.
The Donkey Shoe Michelia doltsopa at its absolute best.
Rhododendron 'Elsie Frye' gorgeously scented by Georges Hut.
The original and pure white Magnolia cylindrica (ex Trewithen).
We do not seem to have decent website pictures of Magnolia 'Joli Pompom' which has been slow to flower.
Camellia 'Drama Girl' full out. The flowers are truly enormous but not so different from Camellia 'R L Wheeler'.
Magnolia 'Phelan Bright' full out above the greenhouse.
2020 – CHW
If you have been pondering on the demands of our own chief medical officers and the World Health lot, the apparent unpreparedness of our hospitals and the general medical panic just have a read of this interesting article in The Spectator last week. If this retired professor is actually going to be proved, even partially, right then do we really have a pandemic or just a bad bout of flu-like deaths?
The Spectator – The corona puzzle
Karol has been arguing for days about this sort of idea with his usual penchant for sinister conspiracy theories and I had just laughed up to now. Are the death certificate statistics being arbitrarily misconstrued or fudged in reality? Time will tell, as the professor says.I could easily describe my current mood as 'seething'! Many City friends working from home have rung recently. Almost no one has actually 'furloughed' anyone and very few of them have actually read or understood the new employment rules. Let alone any thought about the real long term consequences of course. Still an exciting holiday to them!Smart London/City panic from those with enormous incomes/bonuses who are 'working from home' because they can and they can afford or have access to the technology. I suggest to those who ring that a huge cut in directors' salaries/bonuses is essential to avoid socialism for a generation but only my brother seemed already to '
get
' this and was talking to his colleagues in Savills.The rich twits from the City are as bad a lot of panic struck non thinkers as the NHS supremos. Fat chance of a pay cut for the latter.When Barings went bust 36 years or so ago and was sold for a 'quid' to a Dutch bank (curtesy of Mr Leeson's gambling in the markets) a Barings director asked the then governor and the Accepting Houses Committee if their bonuses would still be honoured even though they were bust. Needless to say, the Bank of England did not bail them all out. I hope the reaction to demands for City bonuses is to be treated in the same way now.Greed and panic / self-interest is, I suppose, entirely predictable human nature, BUT, as I say again, for heaven's sake stop and think and calm down. Even if the BBC, and their plaintive drivel, is still alive and well in eight to twelve weeks, can we not hope for some common sense by then? Even an admission of unnecessary scaremongering and bankrupting the country perhaps?This pack of purple South African plums from Tesco has a clear 'best before' date of 5th March. Nearly a month later they are delicious. At least the crisis may put paid to this sort of food waste and profiteering by the supermarkets.
I have been trying to work out which pittosporum species this is and I plump for Pittosporum illiciodes.
The cold winds have knocked off every evergreen leaf from this Michelia 'Touch of Pink' in the last week but the buds look fine still.
I find two berries on a rather sickly plant of Photinia integrifolia. An evergreen which was planted in 2010 but has not enjoyed things since 'The Beast'. It may yet recover with some dieback which I trimmed out today.
A young Pittosporum daphnoides is getting away despite some deer nibbling. Our old plant of this species died years ago.
A last year planted Lithocarpus fenestratus with pinkish new growth and, sadly, a touch of frost as well.
These new leaves on Tilia endochrysa we first saw with awe in the greenhouse three or four years ago. Now a plant is getting established. The awe continues! Unbelievably good.
A big clump of Rhododendron impeditum 'JC Williams' just out. A very short lived form but one which grows to 4ft or more and is not really a dwarf at all.
Our best Rhododendron macabeanum is nearly full out. Not that many flowers this year which is fine.
This is incorrectly labelled as Magnolia soulangeana 'Sundew'. It is identical to the two Magnolia cylindrica on the drive at Burncoose. I thought Magnolia 'Pegasus' at first but it is not that either. Definitely cylindrica!
A dead scots pine which must come down soon with extraordinary columns of white fungi all up the old trunk. A fungi which only lives on decaying Pinus sylvestris?
Acer tsinglingense early into leaf with an initial bronzy leaf form.
Still, despite the east winds, huge decent flowers on Magnolia campbellii 'Princess Margaret'. Very late out for a campbellii. The plant in Kennel Close is now our best example of 'Princess Margaret'. Another has partially keeled over.
Prunus 'Matsumae-beni-yukata' full out and splendid. The National Trust want us to use social media to promote the cherry blossom which everyone is missing. These new Matsumae cherries should be in every garden and on every street. So much better than the Japanese cherries which we have all known as street and garden trees all our lives.
Magnolia 'Gold Finch', planted in 2014, is already a decent tree. Just a few flowers out yet.
Magnolia 'Petit Chicon', also 2014 planted, is well out now too against a cold blue sky.
Magnolia 'Cleopatra' has been out for weeks. Still holding up well despite all the east wind and some frost.
The rare and little known Rhododendron xichangense is looking good today. Four rather small and frail plants were put out in 2017. I gave them little chance but was wrong. This looks a bit like Rhododendron racemosum in flower and leaf. An Alan Clark collection I assume. Plants purchased when he moved from his nursery which came here in a couple of vanloads and were mainly planted in Old Park.
2019 – CHW
Today a brief examination of five Stachyurus species and one named variety. The clock change has caused the usual hassle but Karol was on time for the videos.
Stachyurus yunnanensis is an evergreen growing as a spreading suckering bush to around 10-12ft with arching stems which the deer nibble when they can reach. The flowers are nearly over here making this the first of the species to perform. The racemes of flower buds have been visible for some time. The new growth shoots are upright along the stems with reddish new leaves. The older evergreen leaves have been bashed in the wind over winter and some will soon drop. The bark is attractive on the new stems too.
Stachyurus lancifolius (BSWJ 5690 – a wild collected form introduced by Crug Farm) is listed in Hilliers as now being called Stachyurus praecox var. matsuzakii. Hilliers say it has yellow flowers but you can clearly see a touch of red when they first open here. This makes me wonder if this is in fact Stachyurus 'Rubriflorus' which I have seen at Rosemoor in flower and have planted here somewhere that I currently cannot remember. It is half the age of S. yunnanensis shown above but already 16-18ft tall with a central leader and few side shoots. Almost a small tree. Flowers and the first leaves appear at the same time (as they do in 'Rubriflorus'). The bark is unexceptional as you can see.
Stachyurus chinensis. This is a large spreading (even trailing) shrub which is best grown on a bank above a path (as here) so you can look up and admire it. It flowers profusely, seeds profusely (and the seeds are ripe by mid-summer) and has, consequently, a fairly short lifespan with us here. This plant is 10ft tall, 20ft across and will not last much longer. The lower branches are already failing after just short of 30 years. The racemes of flowers are 3-4in long with 30 or so bell shaped flowers on each raceme.
Stachyurus chinensis 'Joy Forever'. This flowers before its leaves emerge (as here) but these are dark green edged with yellow. The odd leaf is sometimes completely yellow. The plant is only 10 years old but already 8ft tall and 6-8ft wide.
Stachyurus sigeyosii – sadly the deer have eaten this evergreen species to ground level and now killed it completely. Time to replace from Burncoose and protect with a wire netting surround.
Stachyurus praecox – this has (eventually) larger leaves than S. chinensis and reddish brown or purplish branchlets. The racemes of flowers are fatter, shorter and chubbier than S. chinensis. Perhaps 1½- 2in long with 15 to 20 pale yellow flowers. Slightly slower growing with us and more upright in habit than S. chinensis. It is hard to say which of the two species is the best for your own garden. Either are pretty good value!
Stachyurus salicifolius is another rather smaller leaved evergreen which is still a small plant with us. Multi-stemmed habit and, as yet, in smallish flower racemes. The bronzy new growth is attractive.
400+ people around the garden today on Mothering Sunday (plus hordes of free grandchildren). The 'Vegans' placard, picket and shout at (ie bullying) local dairy farmers near here on Sunday afternoons while most people enjoy themselves looking at something which really is protecting the environment and preserving endangered species in the perceived fight against 'climate change'. Extremism should not win when set against calm, beauty and photosynthesising plants! Do cows really fart enough to affect the ozone layer or is this also deliberate disinformation by the lobbyists?
A new variety of magnolia to us flowering for the first time. Magnolia zenii x M. salicifolia 'Jermyns' (no hybrid name). Nothing special sadly. A bit larger flowers than on M. zenii but with much the same colouring as M. zenii which also has a dab of pink at the base. Not worth naming I suspect.
Camellia 'Tiffany' I think rather than 'Elsie Jury'.
More investigation of yesterday's unknown rhododendron. You can now see the indumentum on the underside of the leaves and the height (15ft) of one of the three plants in the group. Since it is out so early I think it must be a form of Rhododendron arboreum rather than Rhododendron venator or a red Rhododendron floccigerum. With my pocket guide I get as far as Rhododendron arboreum ssp delavayi var delavayi. The size of the flower trusses is smaller than I would have expected and only the odd flower has a couple (only) of calyxes. I will await the new growth which may tell us more. Since yesterday most of the flowers have been frosted. I vaguely remember planting these here 40 plus years ago with Philip.
Camellia 'Marguerete Gouillon' with gentle pink flecking.
Camellia 'Kick Off' with rather more pronounced 'flecking' in the petals.
Camellia 'Kramers Supreme' is well up to its naming and a huge red.
Camellia 'Kimberley' is delicate and has interesting centres. I must compare this to 'Anemonaeflora'.
Magnolia 'Pickards Sunburst' is just out but, as last year, I do not see the 'sun' bit! On looking it up it is supposed to be pure white so it is correctly named. It is the name which is daft.
Then a pleasant surprise. The young Magnolia sprengeri 'Diva' below Hovel Cart Road is nicely out at the top with more lower buds to come. The best performance from it so far but the wind is strong in its face.
Prunus matsumae 'Beni-Yutaka' just out at the cash point.
Rhododendron sinogrande 'Lord Rudolph' is pink in bud opening to the more normal cream colour.
Camellia 'Dream Castle' was only cut down two years ago yet already a wonderful show from the regrowth.
The half deciduous Rhododendron 'Chink' is superb today on the main ride.
As is the nearby Stachyurus chinensis. Over flowering and soon to expire!
Magnolia 'Petit Chicon' in its second year of flowering. Not really a proper yellow but ok as a halfway house?
Magnolia 'Wadas Memory' full out with its drooping flowers.
First flowering here of Magnolia 'Joe McDaniel'. Large plant on the drive at Burncoose.
Magnolia 'Mighty Mouse' with its first two tiny flowers. Planted only last week.
Magnolia pseudokobus 'Kubimishidori' just coming out and true to name which many are not as we have discovered to our cost.
Here are some pictures of magnolias in the game larder and cold store wrapped in lavatory paper ready to go to the Boconnoc Show later today. A labour of love not to mention expense!
On the top ride the Magnolia campbellii Alba (the third of the originals) is at its peak and, below it, now in the open and not shrouded by trees is a very fine Magnolia 'Lanarth' seedling which I have never taken in before.
The two record Magnolia x veitchiis are just coming out against a blue sky. About on time and normal in this unusual and very early magnolia year.
A blue sky and one of the original Magnolia campbellii albas at its very best. Not quite as good as the one in Old Park which I did not photograph yesterday.
Magnolia 'Caerhays Philip' has taken a battering since a week ago but still has some gorgeous flowers left.
Inflorescences on Acer negundo 'Auratum' are very fine. I have seen these often on Acer negundo 'Violaceum' but not before on this 1991 planted tree with yellow leaves. 'Violaceum' had inflorescences a month ago.
The Queen Mother's magnolia which she planted is very fine and full out today (sargentiana robusta x mollicomata). Improving with age!
The three different magnolia species in the ririei opening are the best thing in the garden today. Even better than last week.
Probably Atlas wins today in terms of height but not today in terms of width.  Over Easter I will get a tape measure but the impending gales may make this impossible.