2017 – CHW
Now on to Llanover Court garden.
Darmeria peltata as a large clump.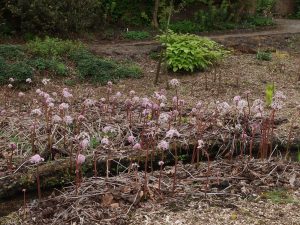 An unusual iris growing wild in grass.
2016 – CHW
Sophora japonica 'Sun King' is full out at the greenhouse. We planted out three of these by the playhouse four to five years ago and all three are now dead from cold although one lasted a couple of years more than the others. No point really in planting this one out.
Two plants of Magnolia 'Holland Red' (liliiflora nigra hybrid) have flowers at the greenhouse. We had planted this out before but lost it. A smallish shrub for a good place and a late flowerer.
A group of azaleas bought at the Landriana flower show (south of Rome) below the greenhouse steps are nicely out. No idea of the proper names but they are mainly doubles. Red and pinkish-red forms are the best today. We promised the Italian grower that we would not propagate or sell these and have not! The reddish one I discover is 'Salmon Pink Cushion' and the pinker one is 'Gerards Salmon'. Well worth propagating now!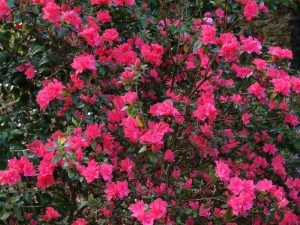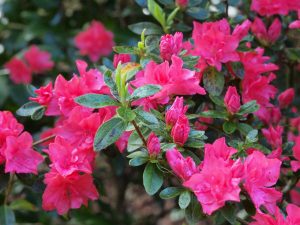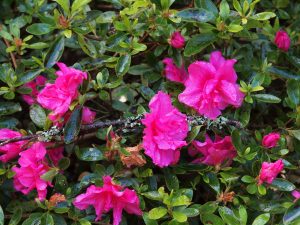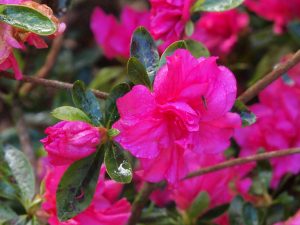 Another wild collected Magnolia cylindrica is equally impressive nearby. The same as the one below the Magnolia x veitchii.
Stachyurus praecox 'Magpie' has attractive yellow and green variegated foliage but the flower is not bad today in the sunlight. A good spray of this on the Rosemoor show bench yesterday.
Azalea stenopetalum 'Linearifolium' is quite variable as to colour and the divisions in the flower. This one is in the car park and was originally from Italy. So we did propagate it after all! Different from the much older plants in the rockery and perhaps nicer?
2015 – CHW
I trip around the garden with Asia to help identify the scented rhododendrons currently in flower from which cuttings will need to be taken in four to six weeks when still soft (fragrantissimum, formosum, Princess Alice, Lady Alice Fitzwilliam, Berts Own, HarryTagg, Anne Teese, ciliicalyx, Countess of Haddington, Michaels Pride etc).
Outside the backyard on the bank are two rather different evergreen azaleas, 'Tebotan' and 'Blushing Bride'.  The latter resulted from one of those Christmas time potted azaleas unusually proving to be a half decent garden plant.  Tebotan, as I remember it years ago, was a smaller bush with more delicate flowers so I may yet stand corrected on the naming of this.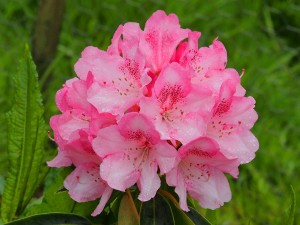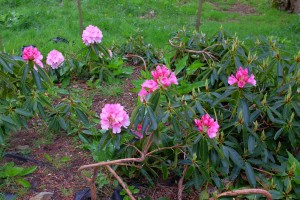 Good to see some of our tissue culture grown plants of long standing old favourites doing well.  Rhododendron broughtonii has a spreading creeping habit and has sat happily and unnoticed towards Green Gate for decades.  Now thanks to the work at Rosemoor by Ros Smith we have saved this hybrid for posterity and have several new clumps getting going.On our travels we bump into three more rather new and startling magnolias in full flower; two for the very first time.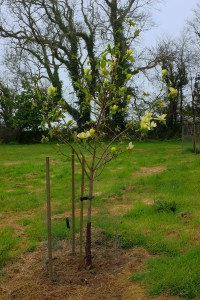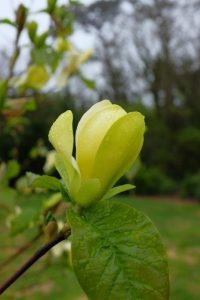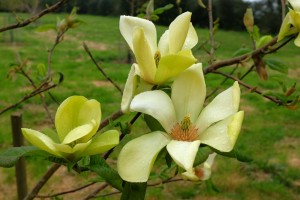 Magnolia 'Swedish Star' looks from a distance to be a 'Yellow Bird' but, on closer inspection, it is a really good new addition to the yellows collection.  Time, yet again, to check the reference books.  It is greenish yellow with a good shape, opening flattish.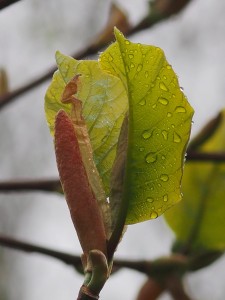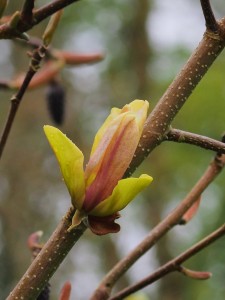 Magnolia 'Woodsman' x 'Pink Surprise' (unnamed hybrid).  This horror is a surprise alright and gets my vote as the most insipid and revolting 'new' magnolia colour yet.  You would not inflict it even on your mother-in-law.  Clearly an American product presumably as seed via the Magnolia Society International.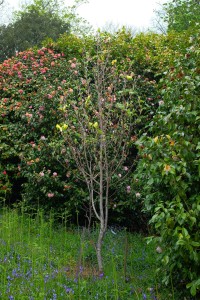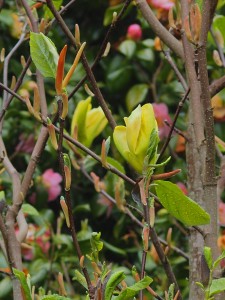 Magnolia 'Green Bee' is another Belgian from Philippe de Spoelberch which is good but not perhaps quite as good as 'Lois' or 'Daphne'.  The latter is not even showing colour here yet but Lois will merit the camera in a couple of days.  'Green Bee' does get into the current top 10 yellows but not quite the top 5.  However it may yet improve like 'Yellow Lantern'.
1984 – FJW
HRH came and a happy day was had by all.
1982 – FJW
CHW married Emma Richey at Woodstock – Mag nitida in evidence.
1973 – FJW
Big leafed Rhodo's very bad – only 4 Sinogrande flowered – decorum x 'Humming Bird' flowering at 4 years (1968 cross) – 4 out of 18 plants – interesting to see them next year.
1934 – JCW
Fairly free from frost or storms so far. No sign of a maddeni hybrid anywhere. I saw Mag mollicomata flowering for the first time. It is not quite open.
1928 – JCW
Truro Show. Much has been broken by wind and frost. A fair show but being well arranged it seemed very good to most there. Have had no Maddeni's since about Christmas. Auklandii now opening.
1913 – JCW
The Cherries in the shooting ride at about their best (additional note: all but one died in 1925 and the same sort of thing in the Drive). The Auklandii x Arboreum going back, the Broughtonii are good, particularly in the Beech Walk. Primroses wild very good.
1908 – JCW
Heavy snow. Marvels are good, and a hard frost which cut the Auklandiis a good bit.
1907 – JCW
Altaclarence seedling opening. Tropaoleum tricolor is well out. One R auklandii opening.
1899 – JCW
Found Tropaoelum tricolor open.
1898 – JCW
Saw the first Azalea altaclarence open.