2019 – CHW
Still no rain!
A flower on the large Rhododendron sinogrande which we took up to Chelsea two seasons ago. It had no flowers then (just wonderful new growth) but three or four this year and the plant looks in rude health despite its travels. We lifted it in November but left it in place with the roots wrapped in wire netting until it moved off with the TV cameras in mid May.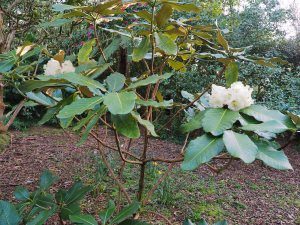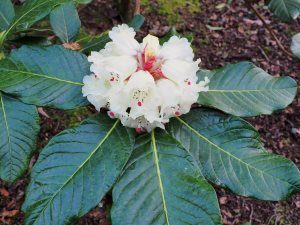 Magnolia lilliflora 'Raven' two years on from planting with its first flower with us. This was one of John Gallagher's last crosses and raised by Nick Macer I believe but need to check as it is not in Jim Gardiner's magnolia book. A large flower with a bit of greenish colouring at the base and not, as yet, as dark as its name would seem to imply?
x Rhaphiobotrya 'Coppertone' (Rhaphiolepsis x Eriobotrya) coming nicely into flower with its coppery new growth acting as a nice match. This genuinely does have the best features of both parents in what is a rare and unusual hybrid between two separate genera of plants (I can only at present think of two other examples: x Gordolinia and Calycanthus x raulstonii). It is a rounded evergreen shrub which should grow on to be much larger.
Camellia 'Midnight Magic' still has some very good dark red double flowers as the camellia season finishes earlier than I can remember before.
The new rhododendron planting is coming on well. Huge growth in the last two years.
A good Magnolia campbellii 'Alba' seedling above the rhododendron planting.
A new clump of Rhododendron racemosum (pink form) just starting to flower.
This Trochodendron aralioides has layered itself and there are four young plants growing up away from the original tree.
Views across Lawn Field and the Luney Valley from the top gate in Old Park.
View from the top gate back into Old Park. More new plantings here too.
The record Trochodendron aralioides below the top path with rhodos alongside.
This huge bed of Gunnera manicata is above the top path in the wood. Located over a spring these rhizomes are just waking up.
What is left this year of the two good Magnolia 'Lanarth' seedlings.
A rather better sky today to show off Magnolia campbellii 'Alba'.
Daffodils in Giddle Orchard. These were planted out from the kitchen garden when daffodil breeding stopped at Caerhays 60 to 70 years ago.
Magnolia 'Athene' in Giddle Orchard. I had forgotten about this tree. Slightly frosted but not too bad. The earlier magnolias alongside it totally frosted.
Views back towards the drive from Giddle Orchard.
A view through the middle of Old Park.
First two flowers on a young Magnolia 'Caerhays Belle'. Smallish and slightly frosted but better than nothing! Below the track along White Styles Field on the way to Old Park.
Camellia 'Arajishi' is a good red but a shy flowerer and often with painfully yellowed leaves.
The Styrax odoratissimus which we have always known as Styrax veitchiorum is nearly out in flower as the leaf emerges. Quite the earliest of the styrax species into flower.
Magnolia 'Lennei' x 'Daybreak' is nothing special above the styrax.
Camellia 'Ruby Wedding' is full out. Two plants by the Orchid House Nursery which I had forgotten.
The Magnolia 'Todds Fortyniner' is still out – a good 10 weeks since we first saw colour on this plant. Well faded now but still there through all the weather has thrown at it.
Rhododendron loderi like the one on the Burncoose drive.
The new growth on Aesculus wangii.
Similar on Acer heptaphlebium also planted last June. Note the purplish undersides to the leaves.
Rhododendron 'Mrs J C Williams' – an ancient hybrid not unlike 'Sappho' in flower but earlier and smaller.
Despite being nearly dead the three old Camellia reticulata 'Captain Rawes' are still trying hard.
Camellia 'Extravaganza' at its best.
Last November we admired the autumn colour on Rhododendron schlippenbachii. Now it is just out in flower.
Here you can see how pruning wisteria in February works. Where the new growth from last year has been cut back hard we copious flowers appearing at the end of the pruned stems
At the Cornwall Garden Society Spring Show at Boconnoc. Jaimie and Michael win the same three cups (mainly for magnolias) as last year. These were: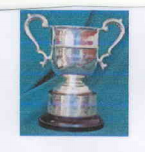 The Treve Holman Memorial Cup – First awarded in 1988 for: Best Exhibit in Section B – Magnolia Classes.  Treve was an active member of the Executive Committee.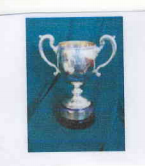 The George Johnstone Perpetual Trophy – First awarded in 1970 for: Most points in Section B – the Magnolia Classes and was donated by Mrs George Johnstone. Mr Johnstone was the first President of the reformed society in 1958. Though disabled through a riding accident, he built on the initial planting of his ancestors to establish the now internationally famed Trewithen Gardens.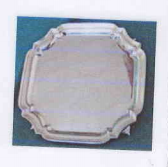 The Abiss Memorial Trophy – Donated by the Cornwall Garden Society in honour of Captain Abbiss. MBE. DCM. MM. NDH. FLS.  A pioneer of the Cornish Horticultural Industry and one of the best known figures in British commericial horticulture. The trophy was first awarded in 1966 for: The best vase or growing plant, in Sections A B C or D, as it is today.  Captain Abbiss was presented with a silver salver by the CGS shortly before his death in 1966; in honour of his work for the CGS and in general.  A memorial garden was built in his name at the Royal Cornwall Showground.
2015 – CHW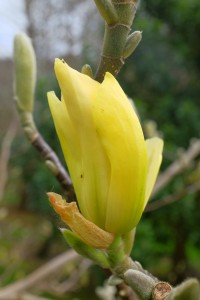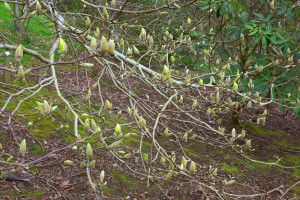 It is a bank holiday (Good Friday) but still three house tours despite the rain. This house was not designed to be lived in by us and dad with six dogs and be open to the public so we escape to Penvergate to see if the yellow magnolias there are showing colour yet. Magnolia'Butterflies' is nearly out and Magnolia 'Yellow Bird' will be in a week to 10 days. Hassle all day long now.
The trees blown over in February 2014 gales have been cleared but there is still debris to burn up. An oak branch, down more recently, has just missed Magnolia 'Apollo' which is just coming out.  More seriously the specimen Acer opalus has also blown over and left a big gap and the best of the two new Metasequoia glyptostroboides has had a direct hit and lost its top completely down to 10 feet or so.  So we lost three mature oaks and three sweet chestnuts here. However half of the original Sorbus torminalis has survived.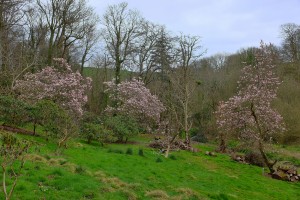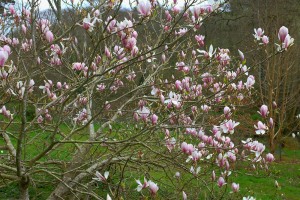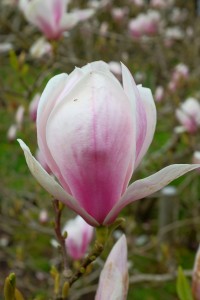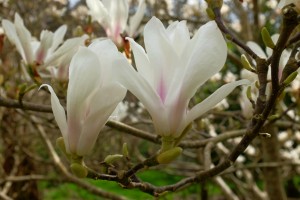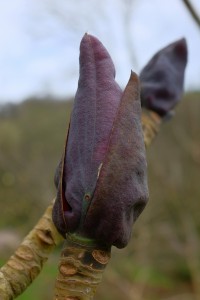 Apart from being untidy there are good displays from the 1920s original and newish Magnolia soulangeanas and especially soulangeana 'Alba Superba'. Magnolia officinalis biloba is still in bud but about to flower well.  The buds have an almost black indumentum covering and stand proud to the upright stems.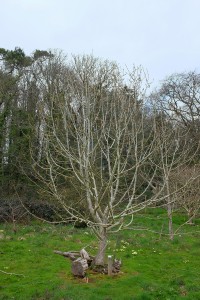 Sadly we have missed Magnolia mollicomata 'Sidbury' which is now putting on its leaves.  Another website set of pictures going begging until next year.
The dogs catch yet another rather sickly cock pheasant who has clearly been fighting his rivals and had lost an eye in the process.  This is a pretty common occurrence as the cocks fight to defend their harems who will now be starting to lay properly in the mild weather.
1994 – FJW
The wettest open day to date – non stop rain – say 80 visitors.
1988 – FJW
Open day – 2200 – beautiful day – Magnolias mostly over – Camellias excellent.
1983 – FJW
Open day – 2003 – despite ominous weather forecast – Magnolias A+ Camellias and Rhodo's B+.
1934 – JCW
Just the reverse of last year. Cherries much injured by birds and bad shooting. Mag sargetiana smothered in blooms. A late season.
1927 – JCW
A very few Augustinii open. Daffs broken by wind. De Graaf not all open. Subhirtella in the Old Park is the best cherry.
1926 – JCW
The pink Davidsonianums were far best two plants in this last week but the Augustinii were very good indeed.
1925 – JCW
Appleyard saw the martins and swallows.
1918 – JCW
Daffs on the wane, though the best late whites are not all open yet. The cherries (double) are starting. Mountain forms of Rhodo at W (Werrington) two days ago were wonderful. Red and white Auklandii's are very good.
1916 – JCW
Yellow stuff well open, no real poets. Hot sun by day, cold wind. R fargesii has been very nice, a lovely shrub but not a wonderful flower. R fastigiatum of kinds open here and at W (Werrington) varies very much indeed. The first bit of colour in the drive Cherries.
1912 – JCW
M de Graaf going back, a bit of colour on Auklandii. Adenopodum and Fargesii at their best.
1906 – JCW
Truro show. De Graaf in plenty, some but not the best poets, 10 days dry east wind before, no good Auklandii's.
1899 – JCW
The first Poet arum and M de Graaf, colour shows on the double cherries.