2018 – CHW
Saturday 7th of April saw us claiming nine first prizes at the first RHS Savill Garden Flower Show in Windsor. These are shown below:
We also scooped :
Class 1 – 4th with Prunus serrulate 'Shipotae', Stachyurus chinensis, Pieris 'Charles Michael' and Osmanthus delavayi
Class 9 – 2nd with R. praestans and a 4th with macabeanum.
Class 13 – 1st picturered below, 2nd M. 'Purple Sensation, and 3rd M. sprengeri 'Diva'
Class 25 – 2nd with R. impeditum 'J.C. Williams'
Rhododendron rothschildii now full out.
Rhododendron arizelum var rubiscosum below Lower Quarry Nursery is a superb colour when just out. The debate about its name and parentage continues. I doubt this is correct! These big leaf plants were replacements for ones which died after the 1976 drought. This rules out it being a Rhododendron kesangiae as this was only introduced to the UK about then. Its colour is purple and not that of a 'red' arizelum.
Then off on a four and a half hour drive to the Savill Gardens for the RHS early rhododendron show with a few exhibits in the car boot prepared by Michael.
Rhododendron kesangiae exhibited from the Crown Estate. Note how different it is to our plant as above.
Magnolia 'Phelan Bright' on the show bench.
Out in the New Zealand garden beside the show tent we find a fine clump of Hebe rakiensis.
Prunus 'Matsumae Akathu Kinokana'
(Bamboo) Chusquea couleou nicely pruned to show off its stems properly.
Acer negundo 'Kellys Gold' with flower and emerging golden leaves.
A fantastic display of Lysichiton americanum which we are now banned by Defra from including in our catalogue and selling as it is considered 'invasive'! No ban in the Savill Gardens!
Cyrtomium falcatum 'Rockfordianum' beside the Temperate House.
Never seen before – Viburnum bitchiuense.
Rhododendron russatum flowering sparsely.
A bold show from Malus sieversii.
Philadelphus coronarius 'Aurea' glowing in the sun.
Mahonia nervosa as a mature clump and full out. The mahonia collection here is most impressive.
Primula sieboldii as a nice clump also in the sun.
Erythronium 'Pagoda' as a good established clump.
A massive trunk on a mature Acer davidii.
Primula denticulata just fading a little.
2016 – CHW
Another fine and dry day for the 34 members of the RHS Rhododendron, Camellia & Magnolia Group to make their tour of Caerhays and view part of the private and previously unseen Wilson/Forrest archive in their centenary year. From 10.45 to 12.00 we looked at the superb magnolias up the drive. Then an hour in the Billiard Room and Museum viewing the archive and lunch in the Dining Room and Georgian Hall. The main garden tour ended in the tearooms at 4.45 with everyone still dry and somewhat exhausted.
Caerhays centenary day attendees:Lyn Aldridge and guest
Mary Ashworth
Russell Beeson
Peter and Pat Bucknell
Barry Champion
Sarah Chesters
Wella and Katy Chubb
Colin Clark and guest
Edwards
Vaughan Gallavan
George Hargreaves
Alex Hill
Gary Long and guests
Nicky Manisty and guests
John Marston and guest
Graham Mills and guest
David Millais
Cheryl Sapote
Ray Steele and guests
Peter Watson and guest
2015 – CHW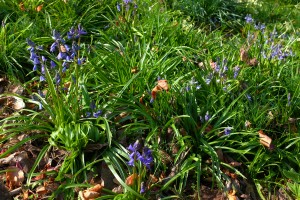 The Spanish bluebells outside the front gate have popped out into flower.  We live in the jobsworth era where Defra and the National Trust just love miseducating the public about 'invasive' plants.  Spanish bluebells (like rhododendrons) have become hated aliens to be abused and destroyed in Dalek like fashion.   Supposedly they interbreed with our native bluebells and make their progeny bigger and lighter in colour.  These Spaniards have not cross bred or developed at all as a clump in my lifetime although they are surrounded by natives.  I guess they were planted by my great grandfather.   A year or two ago I had correspondence on the subject with the environmental correspondent of the Western Morning News.  The consensus was that this was all another load of bollocks from a ministry that has just supremely cocked up the online computer system for the new European Basic Payment Scheme (BPS) which has now been abandoned in favour of paper applications with an extended deadline.  Perhaps I will start the Bluebell Protection Scheme.
1934 – JCW
Magnolias as in 1930. Denudata is the best of them.
1936 – JCW
Cyclamineus at the glass door starting to open on Jan 26th was quite fresh on this day, a late season, some Magnolia kobus – stellata – conspiscua and denudata purpurescens.
1928 – JCW
Poets opening and the best daffs are all over. The blue tit forms are good. The pink Triflorums are opening. Bob's white heath is and has long been good.
1927 – JCW
We are well behind 1926. No sign of an Auklandii yet.
1926 – JCW
Some Auklandii open. Daffs in the poets are nearly over.
1925 – JCW
No Auklandii moving. Well behind 1923 (April 8th).
1919 – JCW
A few de Graaf open. The spring seems to have conquered the cold now. The heaths are very good. The rhodo's went a week to shake off the frost. Engelhart and Clare were here for Sunday.
1908 – JCW
The show at Truro. De Graaf just out in a hot place, very few and bad of them at the show. All flowers were rough and below the best form. PDW's very good.
1905 – JCW
Nearly half our de Graaf open, Weardale going back. Cherries a quarter open.