2017 – CHW
The huge clearing above the old playhouse is now nearly finished. Now the real fun can start with the final planting plan from the spectacular list which I wrote in the spring. It will be a cold spot facing the sea winds. The planting list is attached so you can see how the thinking has gone. There is not enough room for all of it so a few things need to be dropped and excluded.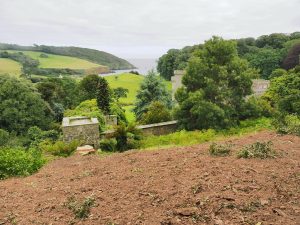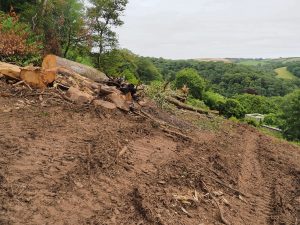 2016 – CHW
No entry.
2015 – CHW
No entry.
1999 – FJW
Total eclipse 11.14 am – house martins and seagulls caught out. Also much cloud. Everywhere at their best – 2 young Lithocarpus pachyphyllus have seed.
1951 – CW
Lapageria just out. Eucryphia pinnatofolia not at best and Nymansii beginning. Very few flowers on Auriculatum and its hybrids. A wet day and some storms. Little corn cut. Cyclamen Neapolitanum a few flowers. Magnolia delavayi and both grandiflora good.
1948 – CW
Lapageria has been out a day, Eucryphia pinnatifolia going over. Nymansii good. All the pink Griersonianum and Eriogynum about over. Many of the white at best. Auriculatum good. Prophertum x Auriculatum very good. Just began to sell Hydrangeas. Storms bad. Harvest good quality.