2021 – CHW
The recently restored (by Heritage England) remains of West Harlsey Castle which dates from the 1430s.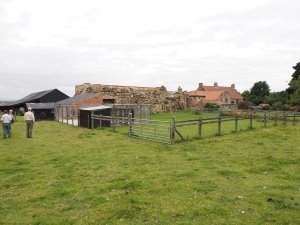 Buddleia 'Pink Delight' beside the castle remains.
The Hydrangea paniculata 'Limelight' just coming out above the pond.
Lilies in pots to go in the borders next year – many Lilium 'Stargazer'.
2019 – CHW
Meanwhile at home Aronia arbutifolia 'Brilliant' in the Isla Rose Plantation is covered in fruits for the first time.
The second batch of young swallows this summer fledge from above the dog kennels into the Back Yard on a very wet day. Despite Jaimie returning them to the nest only four out of five made it.
2018 – CHW
Quercus x bushii 'Seattle Trident' had gorgeous light pink new growth. The huge leathery leaves are therefore a big surprise. A really good new oak for the collection. Planted in only 2017.
Photinia macrophylla forming attractive clusters of fruit which is still far from ripe. Planted in 2010.
2017 – CHW
'Magic' but very edible mushrooms on the lawn.
One of the three year old Magnolia 'Caerhays Splendour' has had an ants' nest inside the spiral made of earth. This would have quickly killed the tree if not removed.
2016 – CHW
No entry.
2015 – CHW
No entry.
2004 – FJW
Boscastle washed away in freak flood.
2001 – FJW
P.M. Blair walked on beach. No immediate payment! Christopher amazed!
1995 – FJW
Harvest all in.
1918 – JCW
Not more than half of our 2 years daffs are out of their pans from lack of labour and energy. The buddleias are good also odd flowers are open on Auriculatum, Brachycarpum, Caucasicum, Primulicum with other mountain forms including Hippophaeoides which is very pretty.