2020 – CHW
Jaimie spots Sorbus chamaemespilus with its first fruits in Kennel Close. Planted in 2019.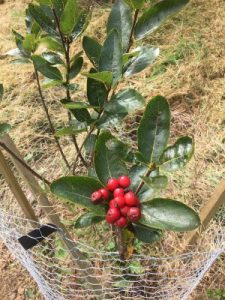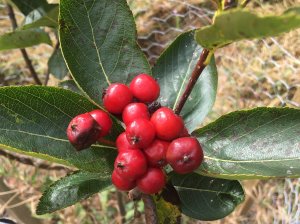 Jaimie thinks this is a Castanopsis below the borehole but I believe it is actually an oak. Cannot remember which but we will see who is right when the fruits or seeds develop. I think probably Quercus castaneifolia.
2019 – CHW
The Robinia slavinii 'Hillieri' shattered in the wind and rain. We saw this earlier in the summer in this diary and commented that a collapse was near.
My magnolia hybrids from 2017 coming on nicely.
Malus hupehensis has a nice crop in the Isla Rose Plantation despite the lack of rain.
Callicarpa psilocalyx – in the Isla Rose Plantation. A new species to us not seen before.
2017 – CHW
The new machine has done a nice job cutting the banks outside the front door for the second time this summer. The machine mulches the grass which saves raking it up.
2016 – CHW
No entry.
2015 – CHWBack from Yorkshire to find the house unrecognizable and full of film kit but 72 emails have to come first. Just a quick trip out to find Wisteria 'Black Dragon' still has a single flower on it above the gents' loo. Very late for any wisteria let alone a double flowered form.