2021 – CHW
A visit to Braithwaite & Sons just off the A1 at Leeming. An old fashioned family run nursery business which actually grows things and acts as a florist as well! Mr Braithwaite senior grafts the trees while his son has developed a good display of newer and more novel herbaceous plants. So very much a nursery and not a garden centre. Among the novelties seen were:
Achillea 'Summer Fruits Lemon' and Achillea 'Lilac Beauty'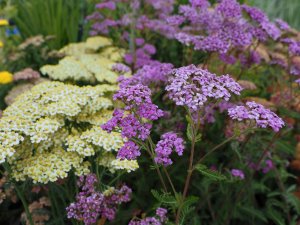 Achillea 'Summer Fruits Carmine' and Agastache 'Golden Jubilee'
Anemone 'Pretty Lady Susan'
Monarda 'Knight Violet' and Eryngium planum 'Magical Purple Falls'
Lobelia siphilitica 'Blue'and Lobelia 'Fanship Burgundy'
Lobelia 'Fanship Scarlet' and Lobelia 'Fanship Blue'
Monarda 'Melua Pink' and Monarda 'Melua Violet'
Rudbeckia 'Enchanted Forest'
Rudbeckia 'Enchanted Romance'
Rudbeckia 'Enchanted Embers'
Rudbeckia 'Enchanted Flame'
Clematis 'Fascination'
Clematis 'Aromatica'
Scabiosa caucasica 'Fama Deep Blue'
Scabiosa caucasica 'Fama White'
2020 – CHW
Jaimie spots Sorbus chamaemespilus with its first fruits in Kennel Close. Planted in 2019.
Jaimie thinks this is a Castanopsis below the borehole but I believe it is actually an oak. Cannot remember which but we will see who is right when the fruits or seeds develop. I think probably Quercus castaneifolia.
2019 – CHW
The Robinia slavinii 'Hillieri' shattered in the wind and rain. We saw this earlier in the summer in this diary and commented that a collapse was near.
My magnolia hybrids from 2017 coming on nicely.
Malus hupehensis has a nice crop in the Isla Rose Plantation despite the lack of rain.
Callicarpa psilocalyx – in the Isla Rose Plantation. A new species to us not seen before.
2017 – CHW
The new machine has done a nice job cutting the banks outside the front door for the second time this summer. The machine mulches the grass which saves raking it up.
2016 – CHW
No entry.
2015 – CHWBack from Yorkshire to find the house unrecognizable and full of film kit but 72 emails have to come first. Just a quick trip out to find Wisteria 'Black Dragon' still has a single flower on it above the gents' loo. Very late for any wisteria let alone a double flowered form.