2023 – CHW
Tom Hudson visits to investigate Lindera and Litsea species. I had rather taken the view that Litsea were all evergreen (as ours are) which is clearly not the case. I had also not realised how allied these two genus are particularly in terms of their flowers. Quite a bit of taxonomic uncertainty and name changes with some Lindera species which adds to the fun.
Lindera cercidifolia on Hovel Cart Road – 2002 planted and now about 15 feet tall.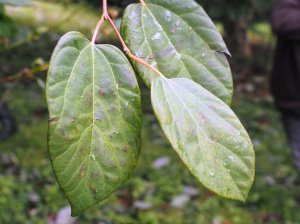 Lindera aggregata, after 20 years is still a compact bush of only 4-5 feet in height.
We have always called this Litsea glauca and that was its name when measured in 1966. A tree which died some years ago but then remerged as a clump of root suckers in the Rireii Opening. Tom's view is that this is a Dodecadenia – species unknown. Trengwainton has Dodecadenia grandiflora which was collected in Nepal in 1983. The IDS website has very little information on Dodecadenia and its not listed in Bean, New Trees or Hilliers. Tom may be able to enlighten us more with the samples which he took away.
Lindera communis died of old age and was cut back. Currently reshooting reasonably well from the base.
Windblown seed clusters under the old Lithocarpus cleistocarpus.
Lindera angustifolia (FMWJ 13156). Incredibly quick growing and more or less evergreen. Lost several side branches in the recent storm. We have 2 trees of different ages.
Lindera erythrocarpa – a gift from Roy Lancaster c. 1990.
Magnolia foveolata.
Lots of seed for Asia to collect on Pittosporum illicioides.
Lindera umbellata.
Lindera sericea – side shoot badly damaged by roe deer.
Litsea aff. polycarpa has grown into a vigorous upright tree.
Secondary flowers on Magnolia salicifolia.
Lindera triloba – difficult to confuse this with any other species!
Lindera tonkinensis (FMWJ 13123) is another quick grower with very attractive foliage.
Litsea from Taiwan (perhaps a Neolitsea?) from Nick Lock
In all we looked at 17 different species of Lindera and Litsea. I did not photograph Neolitsea sericea, Lindera megaphylla or what I had been calling Litsea glanduliferum below Donkey Shoe. Looking at old records Cinnamomum glanduliferum and Litsea zeylanicum grow here and I had muddled the names. We didn't look at Lindera praecox or Lindera reflexa which we have somewhere, perhaps at Burncoose.
These are pictures of what Tom had cut from Tregrehan and brought with him:-
First ever flowering of Meliosma myriantha aff. ? – as yet no name. Huge leaves and flowers very like those of Meliosma oldhamii.
Lindera glauca with seed forming.
Litsea dilleniifolia with flowers. A brute of a thing!
The extraordinary rare (2 plants only in the UK) Litsea populifolia. One at Tregrehan and one in John Marston's garden.
Lindera reflexa.
Lindera elongata.
So we ended up looking at 22 species of Lindera and Litsea. I doubt many people have ever indulged in this way!
2022 – CHW
Despite the heatwave all our stock in Burncoose growing area tunnels is looking fantastic. I complement Ruta & Artorius for their work in the heat. They start watering at 5am.
I spot another new entry today for the 2023 catalogue. Good plants of the very rare Machilus yunnanensis.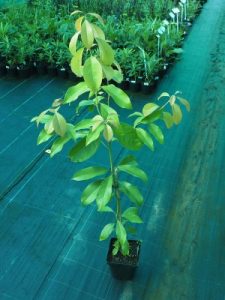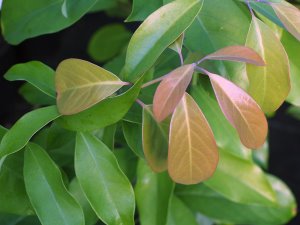 Other things looking good at the nursery today:-
– Tibouchina urvilleana.
– Senna corymbose.
– Clethra alnifolia.
Surprised to see choisya x dewitteana 'White Dazzler' in flower.
Clearance work starts for our new glasshouse along the top wall.
Canna 'Tropicanna Black' and Acacia longifolia out together.
Aronia melanocarpa 'Autumn Magic' with ripe, black berries already.
A drought struck specimen box ball and a survivor! Such is life in a heatwave. These box balls brought in a lorry from overseas by a customer who then said they were too expensive although they knew the price. As ever the nursery ends up carrying the can for being efficient.
All 40-50 year old beech in the nursery car park with die back from the top branches in the drought.
2021 – CHW
The recently restored (by Heritage England) remains of West Harlsey Castle which dates from the 1430s.
Buddleia 'Pink Delight' beside the castle remains.
The Hydrangea paniculata 'Limelight' just coming out above the pond.
Lilies in pots to go in the borders next year – many Lilium 'Stargazer'.
2019 – CHW
Meanwhile at home Aronia arbutifolia 'Brilliant' in the Isla Rose Plantation is covered in fruits for the first time.
The second batch of young swallows this summer fledge from above the dog kennels into the Back Yard on a very wet day. Despite Jaimie returning them to the nest only four out of five made it.
2018 – CHW
Quercus x bushii 'Seattle Trident' had gorgeous light pink new growth. The huge leathery leaves are therefore a big surprise. A really good new oak for the collection. Planted in only 2017.
Photinia macrophylla forming attractive clusters of fruit which is still far from ripe. Planted in 2010.
2017 – CHW
'Magic' but very edible mushrooms on the lawn.
One of the three year old Magnolia 'Caerhays Splendour' has had an ants' nest inside the spiral made of earth. This would have quickly killed the tree if not removed.
2016 – CHW
No entry.
2015 – CHW
No entry.
2004 – FJW
Boscastle washed away in freak flood.
2001 – FJW
P.M. Blair walked on beach. No immediate payment! Christopher amazed!
1995 – FJW
Harvest all in.
1918 – JCW
Not more than half of our 2 years daffs are out of their pans from lack of labour and energy. The buddleias are good also odd flowers are open on Auriculatum, Brachycarpum, Caucasicum, Primulicum with other mountain forms including Hippophaeoides which is very pretty.