2018 – CHW
Head Gardener Jaimie has been keeping up with the daily diary while I have been away in the north.
A wander in Old Park with the terriers after a week of grass cutting. A couple more days and we should be finished, then back to the main gardens.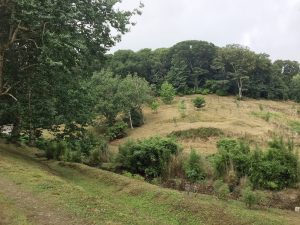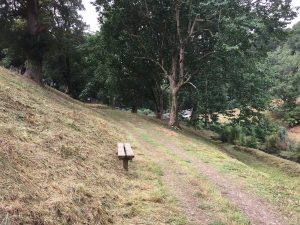 The weather has been on our side for grass cutting this season, but not so kind to the plants. Illicium lanceolatum from Mark Fillan, that we planted here, did not make it this year.
Gunneras seem smaller this year, and less of them. The snow and cold we had in February/March took their toll on them I would imagine.
2017 – CHW
View from the new planting area which is now complete. New seats needed!
2016 – CHW
No entry.
2015 – CHW
Rubus tricolor covers the bank outside the flat and is one of the best ways of covering up weeds on a steep bank which can only be maintained with a long ladder. The fruits are orange and delicious both to birds and small boys. Much enjoyed with my cornflakes.