2022 – CHW
Then I have a look at the Knapweed in the field to try and compare it to the Caerhays forms inspected 2-3 weeks ago.
Although the flowers were long over, except in full shade, all the plants are, I think, Centaurea nigra or Lesser Knapweed. The dried seed heads are much browner than our form of Centaurea nigra or Centaurea debeauxii. The leaf formation tallies to the reference book as well.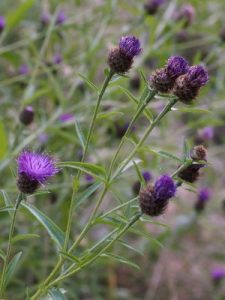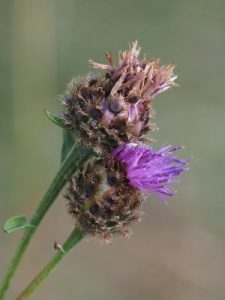 A cottage mouse caught in the open.
Coreopsis 'American Dream' and Lysimachia 'Alexander'
Hypericum inodorum 'Magical Beauty' which I first saw in flower at Bodmin Garden Centre. Impressive seed heads now as well.
Allium 'Millennium Lavender Bubbles'
Geranium 'Hocus Pocus' with near black leaves.
2020 – CHW
Sloes forming up nicely but only just colouring up at the back of The Cottage.
2019 – CHW
The start of grass cutting in Old Park reveals a fungus the size of a dinner plate. Again I wish I knew more about fungi!
The weather has been on our side for grass cutting this season, but not so kind to the plants. Illicium lanceolatum from Mark Fillan, that we planted here, did not make it this year.
Gunneras seem smaller this year, and less of them. The snow and cold we had in February/March took their toll on them I would imagine.
2017 – CHW
View from the new planting area which is now complete. New seats needed!
2016 – CHW
No entry.2015 – CHW
Rubus tricolor covers the bank outside the flat and is one of the best ways of covering up weeds on a steep bank which can only be maintained with a long ladder. The fruits are orange and delicious both to birds and small boys. Much enjoyed with my cornflakes.