2018 – CHW
Head Gardener Jaimie has been keeping up with the daily diary while I have been away in the north.
Another wander in Old Park. Tail end flower of Magnolia sieboldii 'Michiko Range' seedling.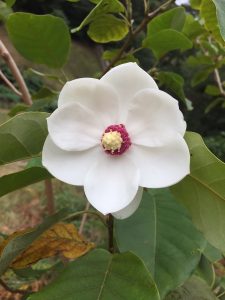 Odd seed on the later flowering magnolias. There is not much seed around on the magnolias at all this season after the snow in February/March.
Magnolia 'Apollo' showing a couple of late flowers. I would imagine they will first drop off rather than open.
Plague of flies in the bracken. Spiders/wildlife being well fed by them I would imagine.
2016 – CHW
No entry.
2015 – CHW
A jolly day out at The Oval watching Australia take a commanding first day lead in a 'free' food and drink bar in the new stand. Guests of a director of Surrey cricket club.