2016 – CHW
A brief respite in the Green Hut at Garrigill during torrential wind and rain that led to the abandonment of the day by 2pm. The rain was so heavy that those without jackets were drenched in the few paces to the cars. Lizzie is wearing her all weather riding coat and not drinking the gin although this may not be so accurate looking at Trevor!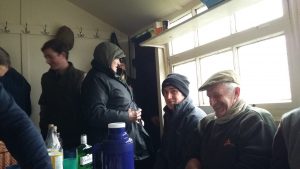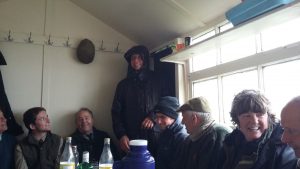 2015 – CHW
In my absence and lots of rain the seeds on the Lithocarpus pachyphyllus have really begun to swell. Amid the seed clusters you can now see one or two seeds swelling much more than the others. These larger seeds will be the only ones to be big enough to be viable and germinate normally in two years time.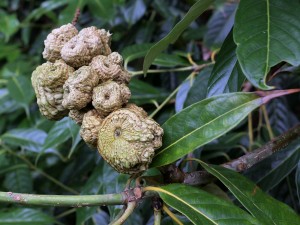 About six weeks ago I saw a second inflorescence on twigs above the already forming acorn clusters. I have now found one low down enough to photograph properly. On lithocarpus the male flower spikes point upwards while the female flower spikes hang down. Still cannot work out why there is a second flowering?
1981 – FJW
Philip Tregunna 50 years old today.
1959 – FJW
Last of corn and straw safely carried in.
1944 – CW
Eucryphia pinnatifolia over some days. Nymansii a week past its best and the Auklandii Garden Cordifolia looks well from front door. Rho auriculatum going over but many of the white hybrids at their best. Magnolia delavayi, grandiflora and grandiflora var Goliath all good. A few Parviflora left. Odd out of season flowers on several deciduous Magnolias as the seedling from Denudata nearest N.E corner of Tin Garden. Fine till 2 days ago. Now a lot of rain and thunder right in the middle of carrying corn. Most things done fairly well.