2017 – CHW
A trip to examine what is setting seed this year but I get distracted!
Hypericum lancasteri has grown massively since last year and is full of flower with more to come. We put in three plants together and there is already quite a clump.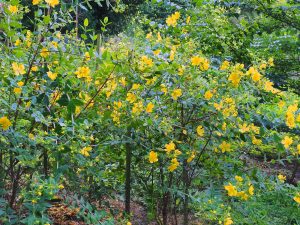 Hydrangea paniculata 'Vanille Fraise' is turning colour where the sun catches this immature but impressive clump which is largely in shade. The close ups reveal how pink the bracts can get. The pure H. paniculata which we looked at earlier this week also goes pink in the sun. Is 'Vanille Fraise' really that different?
The suckers on Tetrapanax papyrifera 'Rex' have grown apace in the last two months and the largest is nearly as tall as the original and now a dead stalk. One sucker is at least three yards from the original plant.
Magnolia globosa has three, as yet unripe, seed pods. Larger than last year's and important to collect in a couple of months.
Styrax hookeri has many large seeds already. Ripe in four to six weeks I suspect?
Gevuina avellana is plastered in flower from top to bottom of this 30ft plus clump. Are there male and female flowers? Yes I think this shows this. No sign of any of the black nuts or seeds which we saw this time last year on this 'Chilean nut tree' or 'Chilean hazel'.
2016 – CHW (photos to follow)
It has got to be a good summer when you can find a stick insect this size in the nursery! Huge! I wonder what stick insects eat?Updated by Julie at Forgecom – stick insects love privet, also rose and hazel leaves.
2015 – CHW
Why is Hydrangea 'Blue Wave' at its absolute best when all the other hydrangea clumps on the drive are starting to fade in colour or have gone over altogether?
1992 – FJW
All corn in – poor harvest. Peas west, then Barley – wheat average.
1990 – FJW
All corn in – good yield but prices on low side. Caerhays not as badly hit by dry summer as some areas close to sea fog.
1967 – FJW
Terrace not cut for year – Camellia with one flower in the Werrens.
1966 – FJW
All corn in and only one field to bale – marvellous yield.
1916 – JCW
Just as in 1914 for flower, several mountain rhodo's show flowers.