2017 – CHW
The dogs firmly tied on in the tent during the clay shoot. Dexter won the dog scurry (behind the spaniel).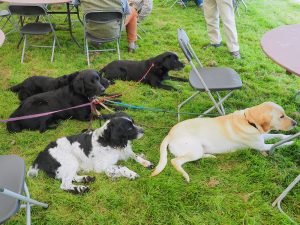 Sheila Tidball and Peter Bickford-Smith collecting the clay shoot entries.
Schefflera myriocarpa is about to flower – three flower spikes showing.
Schefflera pauciflora (another wild collected form) also has setting seeds.
We have managed to keep the roe deer off this young Meliosma veitchiorum. Last year's plantings were all munched and leafless. Why do deer only select the rarest plants to kill?
Secondary flowering on Rhododendron flavidum as normal.
A nice flower on Magnolia delavayi at the top of the garden. It never sets seeds and the floor is littered with empty seed pods.
2016 – CHW
The Hortensus hydrangeas may be past their prime on the drive but the paniculata varieties are absolutely at their best. Here Hydrangea paniculata 'White Lace', planted in 2009 as a five plant clump in the open / full sun, have made a massive display. The flower heads vary in size and shape from the top of the plant to the lower branches.
Hydrangea paniculata 'Kyushu' has smaller, more lacecap flowers and is more spreading but less tall overall. None the less the overall impact is just as good. In shade this can be a straggly grower with few flowers and we had a poor clump at Burncoose.
Hydrangea 'Tricolor' (some would say 'Quadricolor') is full out. This plant would do better in a less exposed and windy position where it would get less dieback. Nevertheless the blue lacecap flowers set against the yellow edged leaves is an excellent contrast.
2015 – CHW
In Kennel Close planting to catch up on early autumn:
Aesculus pavia 'Splendens' has lost its leaves but still the first conkers I have seen on our 2011 aesculus collection plantings.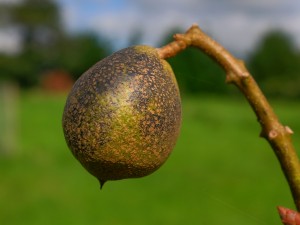 1976 – FJW
Dryest year for 250 years we are told – slight rain in evening after a summer of drought – damage in garden very grave and is as bad as a v cold winter.
1970 – FJW
Corn and straw all harvested and collected. Yield light both in grain and straw. 60 acres in 5 days fine weather.
1961 – FJW
19 loads of humus around the wood. The whole of the Rockery, Auklandii Garden – 1550, Tetropeplum hybrid, Salutation, Donation, Iteophyllum, Saffron Queen, Diaprepes, Humming Bird, Crassum – 2 Camellias by tree ferns, one up by Crossbill – Aberconwayii, 3 Camellias, Mag and Auk hybrids, H cinnarbar hybrids, Golden Oriole 1 and 2, Trewithen Orange, Rhabdotum, Megacalyx Golden Oriole, G.Blandford, Caerhays.