2017 – CHW
You seldom see teasels in Cornwall but they are common on the Isle of Wight. Here growing away by the entrance to a bio digester in Newport which we had a trip around. Dispacus fullonum is the Latin name for teasel which the finches so enjoy eating when the seeds are ripe. Growing here on waste ground to 6ft with some flowers out and some setting seed. Would they sell in the catalogue I wonder?
2016 – CHW
Off to Ventnor Botanics again with the Caws and the Thorpes in torrential wind and rain. We were almost the only visitors and everything looked battered. The gardens may be 'the hottest in the UK' with only 28 inches of rain per year but today they were Cornwall in a good, foggy, westerly gale.A few new things today to admire although the pictures will be poor and fuzzily damp:Kniphofia 'Ice Queen' – not sure I have ever seen a pure white 'red hot poker' before.
An unidentified fuchsia species with panicles of flowers six to nine inches long and large blue-green furry leave. The shrub was five to six feet tall.
(This has now been kindly identified as fuchsia boliviana by Russell Beeson in his comment below, I have to agree.)
A rather poor picture of Chitalpa taskentensis in flower on a hot sunny bank. A tender and difficult plant even in Cornwall which I have only ever seen in flower before in pots in the nursery.
A eucomis species with white rather than green flowers. Not the Eucomis bicolor which we stock.
The bicoloured Agapanthus 'Queen Mum' just coming out.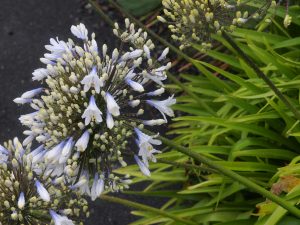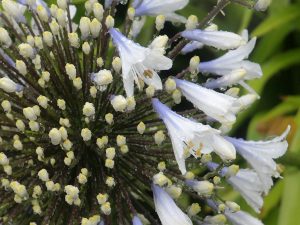 Olearia coriacea was another new dwarfish species in this vast collection of this genus here.
2015 – CHW
Saw the first swift here today over the pond (evening) and watched some other youngsters yesterday out of the window at a rather critical and decisive if not terminal Cornwall Farmers board meeting at the Arundell Arms in Lifton (Devon). If the swifts have bred at the castle this year I have not seen them.What a joy to have two weekends on the trot to settle into life at Caerhays and enjoy the garden with no public here or public functions to attend and all the time in the world to look at plants and research (and covet old and new ones!) them properly. I cannot remember this happening for several years. Time to think, children all married (John and Katie visit), dogs happy, work absolutely up to date. Weddings at Coastguards Hut and Vean so everyone busy earning money apart (for once) me! Glorious Twelfth and The Cottage loom soon but Wi-Fi and Gmail access will still be necessary nearish there. Technologically illiterate I admit!
So now time to investigate Hydrangea paniculata hybrids on the drive which are coming out and making a show a bit later than all the hortensus varieties. Mostly planted 2007 or 2009.
Hydrangea paniculata 'Phantom' – by the top lodge with a second sunnier positioned clump further down above the drive. Huge flowerheads which turn coral pink in autumn.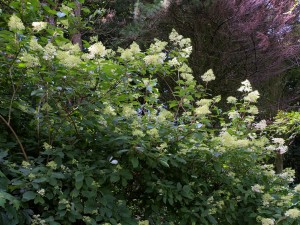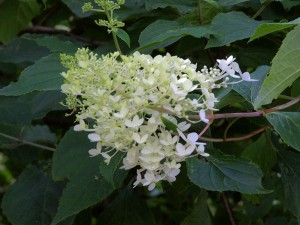 Hydrangea paniculata 'Kyushu' – top end of clearing to top lodge. Smaller growing and a distinct upright habit. Attractive pointed flowers but short lived at Burncoose (20 years).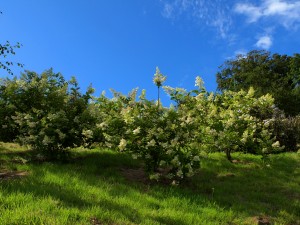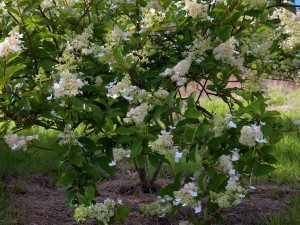 Hydrangea paniculata 'White Lace' – above Red Linney on bank. Distinct and dainty habit as its name implies. Very nice and would do in a large pot.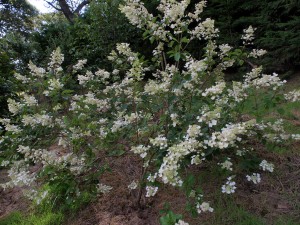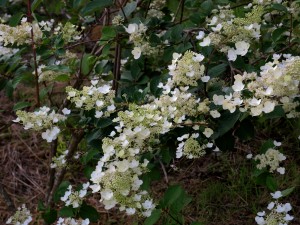 Hydrangea paniculata 'Pink Diamond' – by Hovel turning in a huge clump of around eight feet tall. Very floriferous in full sun. Opening white, then a hint of pink, then pinkish allover.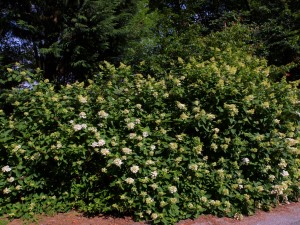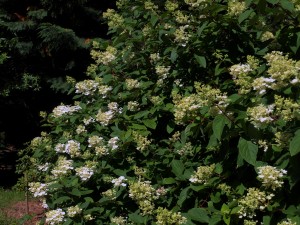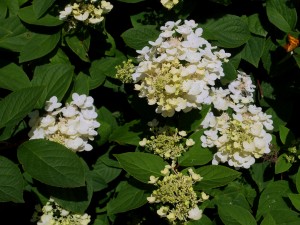 Hydrangea paniculata 'Vanille Fraise' – a newer form planted only five years ago on the bank of The Fernery. Pretty ray florets which again open white then turn pale and finally deeper pink. Benefits from pruning. I think this would be my first choice in the paniculata varieties although Hydrangea paniculata 'Unique' which is much taller growing is the current best seller at Burncoose.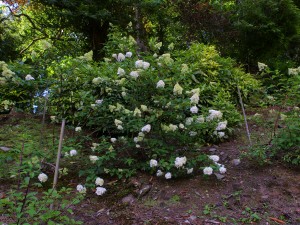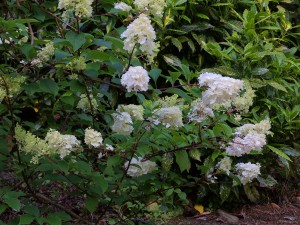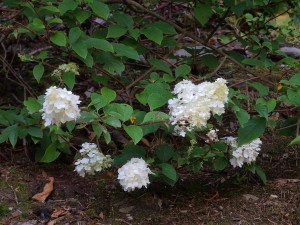 1980 – FJW
Still a few flowers on Midsummers Day Camellia.
1952 – CW
It has been very dry for long. Lapageria coming out – Auriculatums good and hybrids. Prophortum nearly over. Big wall Magnolias about at best – a few cyclamen. Hydrangeas very dried up. A few of the late Auriculatum pink hybrids still out. Eucryphia pinnatifolia at its best. An odd flower on Nymansii.
1944 – CW
A few lapagerias. Eucryphia pinnatifolia very good – Magnolias grandiflora and delavayi out. Didymum x hybrid white rhodo's good. Auriculatum half open.
1942 – CW
One lapageria out – Eucryphia pinnatifolia beginning to be good, also white rho hybrids. A few 2nd flowers on Mag sinensis, many on big Parviflora, and on all 3 evergreen Mag on big wall. Rho didymum very good in places. Romneya at its best. There has been a lot of rain since early June and shrubs have grown well.
1909 – JCW
Buddleias nice, Romneyas good, nothing else. Daff seed sown, bulbs nearly all in, one year olds to plant.