2023 – CHW
Quinces well developed already below Slip Rail.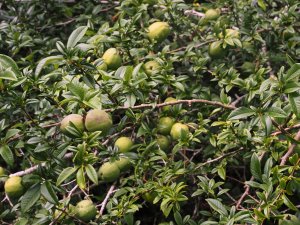 Aesculus parviflora was over at Burncoose but still good here in more shade.
Fruits on Broussonetia papyrifera.
A very late flower on Rhododendron stamineum. The big clumps flowered in late May.
Quercus liebmannii with attractive secondary new growth after the rains. Hopefully time for this to harden off before winter.
The sun catches the undersides of the leaves of Rhododendron 'Sir Charles Lemon' below Hovel Cart Road.
The digger has disturbed a large wasps nest hanging in a nearby Camellia.
Ross now clearing up.
Quercus robur 'Fastigiata' is finally getting going. The Q. buckleyi beside it sadly blew over.
Two elderly and now dead sycamores above Burns Bank.
A rather poor picture of Chitalpa taskentensis in flower on a hot sunny bank. A tender and difficult plant even in Cornwall which I have only ever seen in flower before in pots in the nursery.
A eucomis species with white rather than green flowers. Not the Eucomis bicolor which we stock.
Olearia coriacea was another new dwarfish species in this vast collection of this genus here.
Hydrangea paniculata 'Phantom' – by the top lodge with a second sunnier positioned clump further down above the drive. Huge flowerheads which turn coral pink in autumn.
Hydrangea paniculata 'Kyushu' – top end of clearing to top lodge. Smaller growing and a distinct upright habit. Attractive pointed flowers but short lived at Burncoose (20 years).