2016 – CHW
Camellia 'Golden Spangles' has regrown with patches of completely yellow new growth. This unstable x williamsii hybrid has yellow centres to its leaves and has here shown how the viral (?) cause of this variegation can become more pronounced after pruning.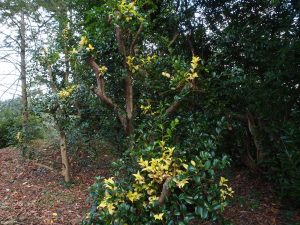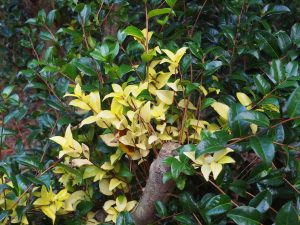 This clump of Rhododendron 'Cornish Red' was cut back from the drive only eight weeks ago but, already, the new growth is readily apparent.
Beside it another few young plants of Rhododendron mucronulatum but this form has much paler and less impressive light pink mauve flowers.
Magnolia 'Delia Williams', on the lawn, has finally shed all its leaves to reveal plenty of buds for next spring. Many other magnolias in more sheltered spots (ie Magnolia 'Caerhays Belle') still have most of their leaves on although they will be out in around three months. No wonder magnolias grow so quickly!
1991 – FJW
George Williams strode into the house.
1981 – FJW
Picked flowers Oleifera, November Pink and Sulfureum.
1976 – FJW
Night stormy enough to move hedges at Rescassa.
1973 – FJW
First good flower on George Blandford.
1964 – FJW
Charles had first pocket money – the bargain of 1/- per week. Temperatures oscillating.
1961 – FJW
Delia found first flower on Noblissima by front door.
1960 – FJW
First frost of winter – rain since August.
1934 – JCW
Saw two blooms of Camellia on separate plants, very heavy , moors have taken a lot of water.
1932 – JCW
No Camellia japonica open but the double white. Cold S.E wind has started and is severe around the house but hardly moves much in the New Planting.
1927 – JCW
Rather earlier than 1924, not much cold so far. Camellia speciosa and sasanqua show colour. Erica hybrida and Cotoneaster salicifolia are the best thing. I saw a flower on Mag delavayi three days ago in the wood.
1924 – JCW
Much as the above. I suppose Berberis polyantha and the Stransvaesia fruit are the best things. Erica hybrida is far the best flower and is on Jan 17th too.
1923 – JCW
'Polling Day'. Some lapagerias have come through the frost but not many. Cotoneaster salicifolia is by far the best thing we have, the Hamamelis mollis just show colour. The Erica hybrida not yet open. Roses (a few) in the Tin Garden.
1915 – JCW
The lapagerias are yet nice. Cam sasanqua gives a few more flowers. Erica hybrida begin to open.
1901 – JCW
Returned after some absence, daffs moving all round a bit, should make my first cross tomorrow or the next day. Several coums open. Lapagerias look well yet, could pick several nice roses yet.
1897 – JCW
Iris stylosa in flower.