2017 – CHW
A Burncoose day of paperwork and a nursery tour to help select the plants for the Caerhays sales point. The gardens at Caerhays open on the 20th February.Camellia 'Memphis Belle' is a particularly vulgar blotched colour mixture but a big and bold flower which is catching the eye in the cash point by the till.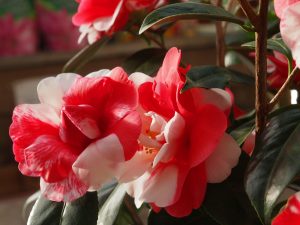 Camellia reticulata 'Dr Clifford Parks' is equally large and imposing. Normally a shy flowerer in the garden. The first flowers will open out more fully in a few days.
A big surprise, and the only magnolia in the nursery with a flower out today, is Magnolia campbellii 'Werrington'. The colour is good and it is a bit like Magnolia sprengeri 'Copeland Court' in shape and colour as we saw a few days ago at Caerhays. This makes me wonder if 'Copeland Court' is really a sprengeri seedling? Magnolia sprengeri varieties flower very much later and I think Copeland Court is probably more campbellii than sprengeri. Very nice thing though.
The old Daphne odora in the car park is plastered in flower and nicely scented. Some (old) leaf drop from the wind but nothing to worry about as the new growth will come later.
Come to think of it I do not ever remember seeing Acacia baileyana 'Purpurea' in flower before. Here a young plant by the packing shed with loads of purple new growth coming already and racemes of tiny globular yellow flowers lower down the stems in the old wood. Very pretty even if my pictures are crap in the wind.
2016 – CHW
A newly bought in batch of camellias from a French nursery are flowering away by the greenhouses ready for planting out.
Camellia champetre 'Fairy Blush' – looks rather tender
Camellia 'Black Magic' – I think we have had this before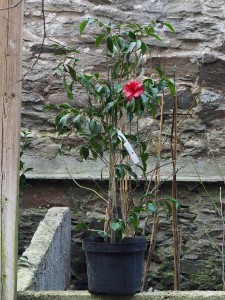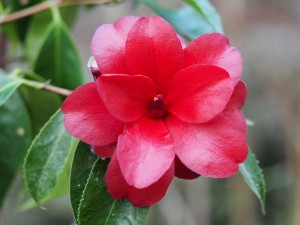 Camellia champetre 'Christmas Daffodil' – hardly daffodil like!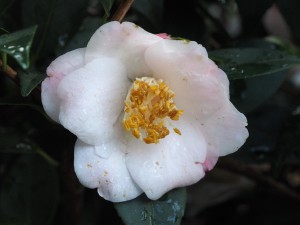 Camellia 'Memphis Belle' – a rather blowsier version of Camellia 'Nagasaki'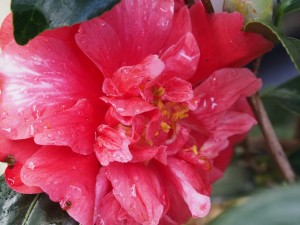 Camellia forrestii – still in bud and looks tender. Entirely new species to me.
Our policy remains to try to buy in and propagate the best of what is new camellia wise. This is not such much in the way of camellias as we are unable to buy the best new forms from Nuccio's nursery in the USA due to plant import restrictions.
2015 – CHW
Gamekeepers catching up laying hens in Rookery. Bit of a mess on Rookery path! Hold onto your hats as we open to the public in three days' time.
1943 – CW
One flower of Mag sargenteana fully out, also several Campbellii, Trewidden, are in full flower – many daffodils, 3 or 4 whites, also Rho' sinogrande.
1931 – JCW
(Note added to Garden Diary page) [Out presumably on this day]
Rhodo's – Sulfureum, Lutescens, Bayleyi, Davidsonianum, Irroratum, Dahuricum semp's, Mucronulatum, Racemosum, Scabrifolium, Ririei, Quinquefolium, Moupinense, Thomsonii, Barbatum, Obtusum, Parvifolium, Rubiginosum.
1915 – JCW
Only Cyclamineus and one or two Cyc x are open with Soleil d'or., six or eight Camellias show flower, Rhodo' moupinense – lutescens – argenteum – sutchuenense – racemosum – mucronulatum – barbatum – keysii – keiskei – sutchuenense x arboreum – and various hybrids. Primula megasoefolia is well open.
1907 – JCW
Hardly any of the 99 things open.
1902 – JCW
Hard frost for a week, ice all over the pond, nothing moves.
1899 – JCW
Open many Telamonius (6028), a few H Irving, Caerhays, and colour only for Tenby, Maximus many, Cyclamineus many, Minor many, several seedlings also P pissardi by the Kitchen Garden, Azalea Dutch oriole and white crocus.