2017 – CHW
The large clumps of Rhododendron 'Winter Intruder' on the drive are now full out. The old Rhododendron nobleanums beside them are over having been bashed by rain, hail and north wind. Unlike some years they were never really out together.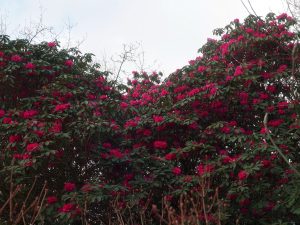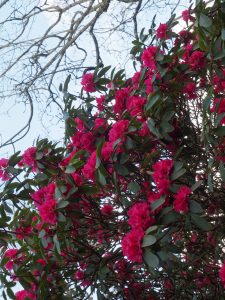 2016 – CHW
Another magnolia is out, this time in the main clearing in Forty Acres wood. Magnolia 'Ethel Hillier' is a seedling of Magnolia campbellii 'Alba' collected from wild collected seed and named after Sir Harold Hillier's mother. This is often confused with Magnolia 'Sir Harol Hillier', another near white 'Alba' seedling and named by Nigel Holman of Chyverton.
Camellia 'Mary Jobson' has one tit damaged flower by the side door. This x williamsii hybrid has some scent which makes it unusual. Mary Jobson was my father's niece.
2004 – FJW
Mild – wet at night – snowdrops out – as is Winter Intruder, Camellias etc.
1993 – FJW
Snowdrops well out.
1987 – FJW
First snowdrops seen.
1963 – FJW
Another hard spell – pond partly frozen over. 10° of frost.

1932 – JCW
A lot of Camellia speciosa in flower, Hamamelis is very good, R mucronulatum wanes, some R sulphureum opening, we have had some good flowers off Caucasicum x for about two months.