2017 – CHW
After the wind a huge array of flowers on the ground below the unnamed Camellia x williamsii outside the front gate. Plenty still on the clump though and many more buds to come. I see that this is now a Tree Register 'record tree'!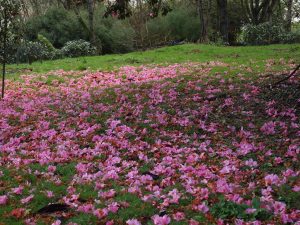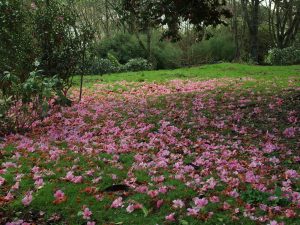 The old Rhododendron mucronulatum clump nearby was however untroubled by the wind or rain and still looks splendid. The best thing in the garden today after 'Winter Intruder'.
2008 – FJW
Continues mild. Front door Nobilissima fully out. Saw first daff. Snowdrops out for Sunday.
2001 – FJW
Coldish. South – South East wind but dry for last 5 days.
1989 – FJW
Very mild indeed – snowdrops out and mucronulatum excellent.
1987 – FJW
Very cold weather persists – 12° F Frost out of the wind. Rhodos look awful and Lapageria.
1966 – FJW
Cold spell started.
1961 – FJW
Flower open on George Blandford.
1959 – FJW
Frost 4°. Easterly gales starting. Snow and ice replaced by rain. Camellias very backward.