2017 – CHW
The Rhododendron 'Harrow Hybrids' on the drive are just coming out and what a sight these huge clumps are. Clearly Rhododendron auriculatum in the parentage to get such late flowering and the leaf clearly shows this too. I wonder how these three separate huge clumps came to be in the garden (actually there are four) and from what era, breeder or nursery? At least we have successfully layered this clump to ensure its survival although the layers are now too big to transplant. Just an extension of the clump in reality.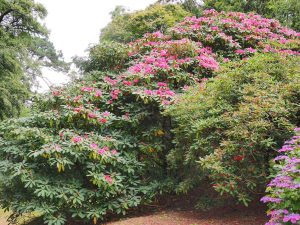 Hydrangea 'Taube' is just out. A startling blue indeed and a plant everyone should grow (on acid soil) if they only have room for just one hydrangea.
Another batch of dead stumps dug up to make room for replanting in the spring.
The end of the embothrium which has been so splendid in recent years. It died over winter. These trees live only 30 years or so as we have proved yet again. Time to plant several more as the others dotted about the garden are the same age.
Hydrangea 'Lady Taiko' has this startling blue-white bi-coloured red effect but the mopheads soon burn in the sun.
Hydrangea 'Geoffrey Chadbund' – purplish at first fading to pinkish-red here. This is an enormous clump of plants on the drive. Quite a spectacle today and for a week or three.
Hydrangea 'R F Felton' is another good paleish but imposing blue mophead.
Buddleia lindleyana is just out much earlier than last year overhanging the drive. The deep purple trumpets on long flowering racemes (often splitting into three racemes) are normally a September show.
2016 – CHW
A party given by my brother for Savills staff at Burncoose to 'launch' the house on an overcast evening. You are seeing the 'well behaved' bit although I was dragged away at 7pm. Not since the last village fete or major staff party has there been so much 'action' around the house.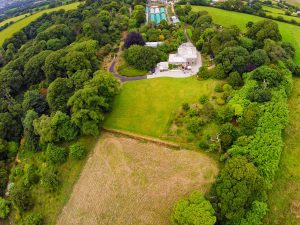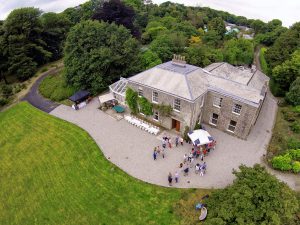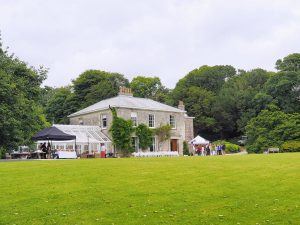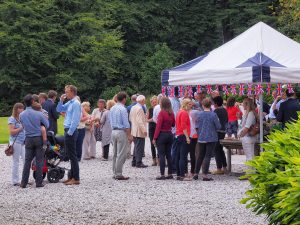 2015 – CHW
Ventnor Botanic Gardens
moved from public to community trust ownership two years ago. Last year you could see the standards of care had risen but not so sure this time. Plenty of bindweed, still pathetically few name labels for a botanic garden and just how many Echium fastuosum can you stick?  Soon time to restart whole areas but I guess they are struggling for cash although entry price is now £7.50 (ticket readmits free for a week which is an idea holidaymakers would like).  Although my visit is exactly the same time as last year much is over. The Echiums are absolutely over as are the Cistus, Puya and most of the Callistemon. Many of the Lampranthus colours, there were six or eight, have died out or gone.
Three outstanding things did however catch the camera: Fucraea longaeva by the café were 15 feet or more tall in flower. Very different in flower to the Beschorneria yuccoides which flowers at Burncoose by the packing shed. These promptly die after flowering and two were already going in the succulent section. What an unusual sight and, of course, no label for the public on any of them.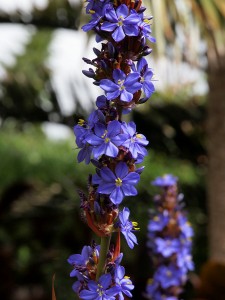 Sisyrinchium striatum in profusion on a very dry bank under a pine tree. Better than a stand of foxgloves today and the second best spectacle in the garden. Burncoose stocks it and the variegated form called 'Aunt May'.
We had Cantua buxifolia on our stand at Chelsea this year. Clearly a tender plant normally only for the patio but this one is 4ft tall and 6ft across. The flowers are much darker and redder than our plants which were more pink than red. It needs growing, as here, on a bank so its flowers can hang down without trailing on the ground. No label.
1944 – CW
Magnolia grandiflora out and delavayi the last few weeks. Styrax japonica best thing in the place. Then the young leaves of the Rho Sir Charles Lemon. Several good Auriculatum hybrids. Didymum Rho good, also one Prophantum. Wet the last 3 weeks after a long dry spell.
1927 – JCW
Only a few Giganteum but they are good. Late rhodo's remain. Late Plagianthus are hardly open. Griersonianum nice yet and so Eriogynum. There has been a lot of rain on and off for two weeks. American Pillar X X X.
1907 – JCW
Lilium giganteum just opening.