2017 – CHW
A happy day with Paul from Roundabarrow nurseries who are going to graft some odd things for us and try to grow a few of the small trees from cuttings which are easyish to root now but very hard to overwinter. Sadly we are a month too late for the enkianthus cuttings which are too hard.
Paul was staggered by Schefflera macrophylla and its amazing orange indumentum on the new growth. No cuttings here sadly unless we cut gashes in the stem by the leaf nodes to encourage side shoots. Much too precious for that!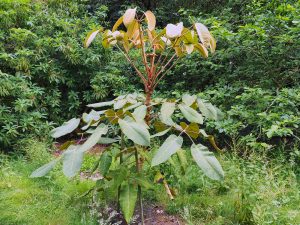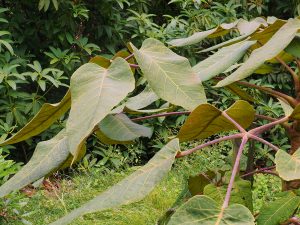 The very late flowering 'Harrod Hybrid' rhododendrons are just coming out by Georges Hut and on Hovel Cart Road. A great show.
I have never seen Lomatia ferruginea quite so plastered in flower as this year. The tree is 20ft plus tall and every twig has a cluster of lobster claw flowers.
Ligustrum confusum is a record tree. Rather a fine flowering truss for a privet although most of the flowers are already over. Not a hedging privet!
Rather splendid new growth on Acer fabri which emerges as a bronzy-red before turning green. This tender plant is evergreen with us. It is tucked away in a small microclimate of its own with shelter on all sides.
A newly planted Quercus insignis has been wind scorched I think rather than suffering from drought.
Lithocarpus variolosus is absolutely plastered in inflorescences. Far more than in any previous years. Perhaps it will now produce some clusters of fertile acorns? Small clusters have formed before but never swollen up.
Quercus crassifolia seems to be getting away quite nicely.
Hydrangea involucrata 'Viridescens' has been ringbarked today by the strimmer so this may be the last you see of this rare-ish variety.
Hydrangea 'Fireworks Blue' is just coming out ahead of the pink and white forms. There have been many supposedly 'new' hydrangeas in recent years but this one is vigorous and different as well as standing the test of time.
Hydrangea serrata 'Bluebird' is also out early and a good blue. Perhaps the best hydrangea on the drive today.
1928 – JCW
The best pink discolor is good , the greater part of them have no buds. A fair number of Magnolia parviflora blooms now , some hypoleucas, but no delavayi so far. Some good Harrow hybrids, also Maddeni's, Eriogynums, Brachycarpum and late pink Azalea.
1926 – JCW
Fortunei Wilson discolor mayerianum would be nice but for the sun and so cross am – maddeni. Papa Goultier, Romneya x American Pillar very good. Brunonis nice.
1912 – JCW
All the late Fortunei of Wilson's first exhibition have flowered. 835B is best for marking and 887B for size of bloom.