2021 – CHW
First visit today to Ventnor Botanic Garden. They had stayed open throughout COVID but gardeners on furlough had not done a lot for the masses of bindweed everywhere. They too had a dry spring and everything was a bit further behind than I had expected.
This year Puya chilensis and Puya berteroniana were both flowering as huge clumps. Most spectacular.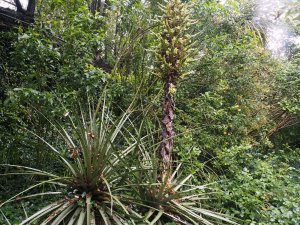 Podanthus ovalifolius not quite out.
Schinus lentiscifolius is another rare but dull species of Schinus to go with the others we have looked at, at home, earlier this year.
Rhaphithamnus spinosus as a tree with a huge trunk. I had always assumed it was just a shrub!
Chordospartium stevensonii is a 15-20ft multi stemmed shrub here. In full flower today.
No idea of the name of this attractive climber.
The Nare hotel may have flowered an Agave americana in 2019 but there are around 10 in flower here or putting up their huge flowering stems before they die.
Agapanthus 'Whitney' was a standout white form which they had for sale in their tiny and not very exciting sales area.
Echium fastuosum as a branched shrub and spectacular in flower today.
I could find no label for this small evergreen tree. I was told it was a Melicytus which it clearly is not!
2020 – CHW
The Rhododendron weyrichii in the Rockery is just going over.Then a trip to look at the newish summer flowering shrubs above the drive and on Sinogrande Walk where they can be seen properly at this time of the year.Philadelphus maculatus 'Mexican Jewel' is a Mexican species which has made enormous growth since planted in 2017. Lots more flowers to come and nice scent close up. The flowers hang down and are a bit hidden.
Philadelphus mexicanus hangs its flowers inside the dense small leaved and much smaller bush which it has become. This is another Mexican and Guatemalan species which has a purple blotch in the centre of the flower. Both need propagating for Burncoose.
The labels are the wrong way around on these two Philadelphus and mexicanus is on the left and maculatus on the right (two plants).
Buddleia delavayi is flowering for the first time that I have noticed it. Some flowers over and some in bud still. Quite pretty but said to be tender.
Buddleia limitanea has quite similar flowers to B. delavayi in that the centres are orange and the flower colour similar. This species has a much more compact habit and even more bluish leaves. Planted 2017 and a gift from Peter Moore. Said to be very hardy.
Fagus sylvatica 'Prince George of Crete' has the largest (and quite dark green) leaves of any beech tree I have seen. Planted in 2006 it is now 15-20ft tall and doing well.
I have been bitching for months about trying to find a decent wildflower book and suddenly Colin French emails me to say he has published a (pictorial and locational) 'Flora of Cornwall'. It is 550 pages long with 1,700 photographs of Cornish wildflowers. The index is not 100% accurate as I have randomly found but this is a real joy of a life's work at £40.Colin did his last survey of flowering plants and ferns here on the estate in 2010. He found several red book rarities in his 2002 survey and more rarities in 2010. I attach a list of the rarities which he found in his last survey.
The fun will be now to try to locate them and see if they are still there. A trip to Tubbs Mill Quarry looms.
Plenty of seed heads forming on Acacia dealbata overhanging the garden.
Hypericum 'Hidcote' and Jasminum officinale affine flowering nicely together outside the doorway into the garden.
Buddleia salvifolia (I think) out a little early in the year in this heatwave. Not quite the same colour or foliage to ours here so perhaps a hybrid.
Amicia zygomeris in the back of a border.
Acanthus spinosus is smaller growing than Acanthus mollis with rather more attractive flowers.
Canna 'King Humbert' with a surprisingly tall and contrasting flower for a variety often grown just for its foliage.
Blackcurrants, gooseberries and redcurrants. Burncoose used to stock these but gave up. Now we have some good photographs if we change our mind.
Triteleia laxa is one of those bulbous plants whose leaves die just before they flower. Consequently they look a bit of a mess in the border, as here, although the flowers are nice enough.
A fine stand of Yucca gloriosa in full flower.
An elderly but very healthy Itea ilicifolia in full show.
A few photographs of some new plants for the 2018 mail order catalogue:Agapanthus 'Strawberry Ice' opens white and then develops a delicate pink tinge.
Parkinsonia aculeata – no idea what this is!
Marsdenia oreophila – an odd but vigorous climber with hoya-like flowers.
Kniphofia 'Rufa Rasta' – pretty horrid name – judge it for yourself!
Ajuga reptans 'Black Scallop' without its pretty contrasting blue flowers.