2019 – CHW
A visit to Southern England Farms owned by Greville Richards. 120 people in the packing and processing plant and 450 eastern Europeans working the rigs in the fields. 7,500 acres of vegetable crops in Cornwall mainly on rented ground from Land's End to Port Eliot.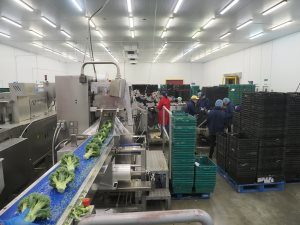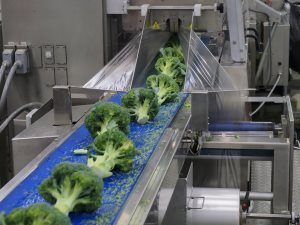 Courgettes are the main crop today for Tesco and Sainsbury's but also broccoli, cauliflower and greens. Seven lorries can be loaded at once. Ultra-low temperatures throughout.
Second crop courgettes grown on biodegradable plastic.
First crop courgettes which will continue to flower and form fruit for 10 to 12 weeks providing the crop is regularly picked. All oversized or misshapen courgettes are discarded as they go.
Each picking team is 14 or 15 people. When the crop is at its best each picker can earn £1,000 (net of tax) per week.
All fairly similar but the leaves are not.
In the greenhouse frames berries are already formed and turning colour on Sorbus rosea (SEP 492).
We saw Rhododendron nuttallii in flower a month ago. This is Rhododendron sinonuttallii in a pot by the greenhouse and identical to the one which used to grow in the Burncoose conservatory and flower in July with a very strong and overbearing scent. The flower trusses have fewer individual trumpets here than they used to at Burncoose but, unlike nuttallii, there is much more colour in the flowers themselves. Nuttallii is much nearer a pure white. This plant has survived 'The Beast' and is certainly one which should have been high on the list of likely casualties.
Sadly we only have one plant of the similar and equally late flowering scented Rhododendron rhabdotum left here and no flowers this summer so no way to compare it to sinonuttallii today.
2017 – CHW
Planted only this year but here are the first flower on Philadelphus mexicanus, a tender species from Mexico and Guatemala. These flowers do not seem to have the purple blotch in the centre which the reference books mention but there is a scent.
The hydrangea Hortensia season is upon us.
The first to be full out is Hydrangea serrata 'Bluebird'. There are two good clumps on the drive which are a decent blue in our soil.
A fine plant of Quercus x bushii with huge and slightly irregular leaves but each has three distinct lobes at the end. Planted in 2003 it has just had a trim of its lower branches.
The large plant on the drive of Polylepsis australis has suddenly died like its counterpart in the garden we saw three weeks ago. No obvious reason.
Hydrangea involucrata 'Viridescens' is full out despite the strimmer badly hurting the main stem in last summer's grass cut.
Hydrangea 'Fireworks Blue' is just starting to show.
Beside it Hydrangea 'Fireworks Pink' has a couple of flowers out too. The white Fireworks is not yet coloured up.
Hydrangea 'Ayesha' (a blue rather than pink form initially at least) has a few of its very distinctly shaped and all sterile flowers out.
Beside it is the stupidly named but once very novel and fashionable (lacecap) Hydrangea 'Love you Kiss'. Very like the Hydrangea serrata 'Kiyosumi' in my old hydrangea reference book in fact!
2016 – CHW
The Game & Wildlife Trust (GWCT) shoot walk took place at Tregirls Farm above Padstow on Friday. English partridges became extinct on the farm only 10 to 12 years ago whereas, in the rest of Cornwall, it was 30 to 35 years ago. GWCT Cornwall have raised £13k to fund a reintroduction project in August with five cuvvies of grey partridges (£21 per partridge) and a part time game keeper. Tregirls is unique in having an HLS scheme designed around the corn bunting, another very rare bird. The farm has 60 acres of unharvested corn crops and 80 acres of six meter headlands which have been uncut for years. If grey partridges cannot survive in this sort of habitat it will be a surprise.
Here are some pictures of the 90 plus attendees on the shoot walk.
2015 – CHW
Getting on well with the 2016 catalogue proofing and, fortunately, the heatwave has moved on.  The Phygelius in the garden has straggled up to six feet tall and needs a good chop down. One forgets that this sub shrub is capable of achieving this sort of height.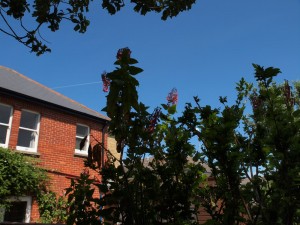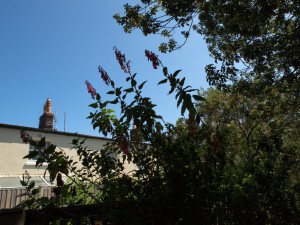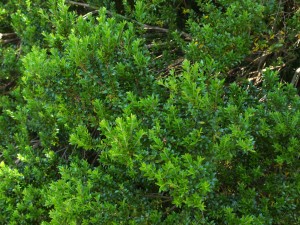 Alongside is a surprisingly good plant of Myrtus communis var tarentina with its very narrow leaves. This variety flowers in the autumn with pink tinges on its white flowers.
1929 – JCW
Came back from the North, Griersonianum, Eriogynum, Harrows x all very good, Mag parviflora has many flowers, M delavayi none open, the smaller Hypoleuca is good and is far the best flower of that species. Styrax wilsonii very good indeed, some discolors are good.
1921 – JCW
Very dry and hot for many weeks. The Sinograndes are frosted by the sun. Plagianthus lyallii is nice and Escallonia langleyense and some roses. R sunsnis was never so good. R moyesi is nearly over. P coulteri is very good. Some forms of Indica sinsii are to be very good near the Top Lodge.
1920 – JCW
A very nice damp growing season for the rhodo's, some of the sinograndes have 24-26 inch leaves. Plagianthus lyallii is very nice. The Fortunei's are nearly over, the Auriculatum hybrids about to open.
1918 – JCW
R brunonis is good. Rhodo's lack rain very badly.
1916 – JCW
Mitraria fair. R brunosis good. R Mrs J.C Williams is nice yet , and Picatee holds on, Ingersii won't open for a fortnight, daff seed mostly in.
1911 – JCW
Just home from London and Scotland (six weeks). R brunonis and Crimson Rambler good, not much else though Romneya is opening well. Mitraria good. Daff seed picked, say 2500.
1899 – JCW
Nigra up to 18 ft 3 in. Finished sowing daff seed, except Recurvas, from spores coming ripe.
1897 – JCW
The water lilies very well in flower.