2017 – CHW
The 2018 Burncoose catalogue first proof is done after seven to eight days' work. VIP moment! This is the 35th year I have completed this tedious and time consuming job.
The clearance work above the top wall continues apace. Time for a good fire now I suggest. One man (Ross Collins) and one machine only with all the skills in felling, grubbing stumps and clearing while piling up the useable timer. A serious professional.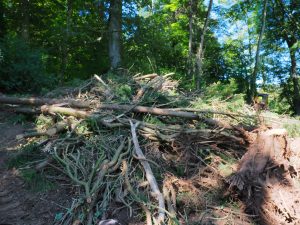 Podocarpus elongatus 'Blue Gem' is a startling colour even as the new growth hardens and the flower stalks appear. We have plenty of plants in the nursery so this will go back into the new catalogue.
Still several good flowers on Calycanthus x raulstonii 'Hartlage Wine' which we had full out on the stand at Chelsea six weeks ago.
This Magnolia 'Caerhays Belle' is one of three which got hit by cold wind or frost just as the leaves emerged. There is substantial dieback here but the plant is still fighting to put on new growth. Dig it out or not? Wait a while I think.
A very late form of Rhododendron maddenii with wonderful overpowering scent. There are several clumps dotted about but this is the last one to flower. Rhododendron crassum is now deemed to be a form of Rhododendron maddenii by the boffins but this of course is out in April to May rather than June to July.
Reevsia sinica, a very rare plant I had forgotten about, is starting to go ahead. Very red new leaves fading to bronze and then green.
Tucked away are three plants of Hoheria glabrata which are just out in flower. Attractive clusters of pure white flowers hang down from drooping branches. Easily the first hoheria species to flower with us. Most are September. 'Nothing to see' still in July in the garden of course!
This Rhododendron sinogrande has set no seed and the new growth is rushing on.
Mahonia tonkinensis has delicate bronzy new growth too and is already 8ft tall.
Dipteronia sinensis used to be a mature tree here but I never saw it in flower. Several failures over the years but this one looks to be on the way. An attractive leaf structure but I fear we are years away from a flower? Multi-stemmed as well.
Amazing blue felted new growth on Rhododendron pseudochrysanthemum.
This Schefflera alpina has decided to produce numerous side shoots from its tall main stem which is now 12ft tall. These will be excellent side cuttings to take in the autumn. No sign of a flower yet but there was last year. The side shoots have emerged as the plant now has more light following the pollarding of a nearby yew.
The very elderly Hydrangea sargentiana in the Auklandii Garden is just out. There used to be several sprawling clumps in the garden but the rest have died out long ago. A larger flower than any of the newer plantings I think and less white florets around the main flower itself.
2016 – CHW
The Magnolia Society International have registered five more of the Caerhays bred magnolias and listed these in Volume 51 of their journal. This will make it easier to propagate and market these excellent plants to the public via Burncoose. They have yet to register 'Tropicana' or 'Mr Julian' which will hopefully come later.
2015 – CHW
On holiday, having a few days off.
1962 – FJW
End of remarkable hay harvest – 3000 bales brought in in a fortnight – Terrace Garden still late – Top Lodge Camellias still have flowers.
1926 – JCW
Had ¾ in about 2 ½ days. American Pillar and R coulteri very good indeed. Picked the first Auriculatum hybrid two days ago. Harrow hybrids would be fine but the heat ruins them.
1923 – JCW
R coulteri has had a few flowers only. Brunonis and Mitraria are nice. The Plagianthus are but just opening.
1919 – JCW
R coulteri has hardly started. Brunonis is fair but not good. This years roses bad.
1918 – JCW
Romney Coulteri is nice. R Brunonis has been and is splendid. Rose beds are fair. Daffodils sown in the open for the first time for 25 years. We have no pans to share. Very long spell of dry weather. Caucasicum red buds burst.