2017 – CHW
The Wollemia nobilis or Wollemi pine has struggled at Burncoose for the last 10 years. It is now 7-8ft tall and I discover today male and female flowers for the first time. Presumably the females are the darker cone-like flowers lower down and the two male flowers are green. Perhaps I have this the wrong way around?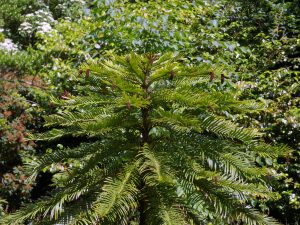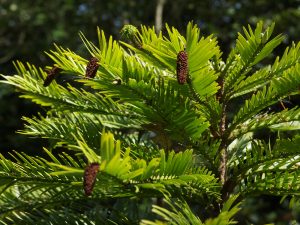 I could not resist more pictures of the Lonicera crassifolia this time in shade. We must try for this in our 2018 catalogue.
The sycamores are setting a plentiful crop of seed very early in this 10 day long heatwave. Insufferably hot again today.
Another mature Styrax japonicus on Bond Street which we all forget. Here is its top peeping above a cornus.
The bracts on the splendid Cornus kousa 'Doubloon' are now turning pink in the sun.
Plenty of flower heads on Viburnum betulifolium. A bumper crop of red berries to follow.
Acanthus mollis is a thug. Here it has taken root in the compost heap outside the arch. We have dug it out and got rid of it in the beds but it was a mistake to leave the roots on the dump. Quite pretty and unusual as it comes into flower though.
2016 – CHW
Beware the hornets are active around and about in the gardens. Not Brexit deniers from the continent I hope?
2015 – CHW
The Father's Day charity fete was a tremendous success with at least 3,500 people attending the event (2,000 paying £3.00, 1,200 children free and 300 performers and stall holders). Probably the largest public event at Caerhays since 1977 when Jeremy Brett and Joanna David opened a similar fete here following the filming of the BBC remake of Rececca at Caerhays.
Michael Morpurgo, the official opener, signed his books for charity all day until every one was sold. Queues at the catering facilities were equally long. The Camborne junior town band, hot from winning national prizes, were excellent. The bar started with 720 pints of
Hook Norton
beer and no one can remember what was left over.
All in all a very happy day all round with a marvellous atmosphere and many beaming faces amongst our staff, committee members and helpers. A profit of well over £10,000 was raised for local charities; the St Michaels Church flower festival raised a further £600 and Cornwall Hospice Care (who will share in the proceeds as well) raised £1,400 themselves. Ice cream sales were £1,500 and the scouts raised £421 on their traditional games stall which included the popular china smashing. A striking contrast to the cold wet day two years ago that attracted only 1,500 people.
1990 – FJW
Walk with Philip. Flowers on following rhod – auritum, discolor, falconeri, argyrophyllum, macrostemon, decorum x by Diva, souliei x campylocarpum, lepidostylum, megacalyx, oreotrephes, Harrows hybrid and CW's Harrows hybrids x, eriogynum, griersonianum, weyrichii, orbiculare, Tally Ho x Elliotii, stamineum, hypoglaucum, floccigerum, apodectum, didymum x, pink decorum x, venator, wilsons fortunei ( in quarry), the latter outstanding with Discolor in the A.G. – others not. Tropaeolum speciosum, Eucryphia intermedia (above Orchid House), Styrax wilsoni, Cornus cuspidata, kousa and walteri, Kalmia, Euonymus wilsonii, Styrax japonica (at its best) ditto Magnolia macrophylla – Mag sieboldii. Camellia mathotiana alba in two places flower vase worthy. A good soak yesterday.
1986 – FJW
The heaviest 24 hrs of rain I have seen – a thunderstorm for nearly 48 hrs – but a flower still visible on the early large un-named Williamsii by the front gate.