2018 – CHW
The 2019 catalogue proofing nearly finished at last and tedious as ever. Lots of interesting new plants for next year though and one I am particularly pleased about is Sorbus folgneri 'Emiel' which has featured many times in flower, fruit and autumn colour in this diary. A superb plant which ought to be more widely grown.
Now that the gardens are closed we can concentrate on the new plague of young grey squirrels which has suddenly appeared despite the cold winter. I saw about a dozen on the drive yesterday and they are exploring far and wide. The Kania 2000 traps from New Zealand have dealt with nine so far this week. Next month the even newer New Zealand gas operated traps should be authorised for use. These do not have to be checked at least one a day.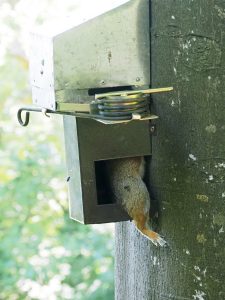 Cornus kousa 'Samaritan' with its first decent crop of flowers against its variegated foliage. Here in full shade and another good cornus to grow. Hidden previously by the aucuba hedge.
Cornus kousa 'Miss Petty' has very dark green foliage and is also flowering well above Bond Street and below the old rubbish dump.
Azalea 'Jane Fire' is very late indeed and very red by the two cornus in this forgotten glade.
The cornus and deutzia are coming into their own in the garden with several exceptional plants. The hydrangeas are now starting into colour. Only a few flowers this year on the liriodendron unlike last year.
2017 – CHW
Still in West Sussex – back home after a long lunch and a four hour drive.
Stephanotis floribunda in the sun lounge is superb but the mealy bug are creeping up from the bottom.
This unknown rose was clearly rather fine a fortnight ago. Dainty pink and highly scented flowers turning white. The flowers stand proud from the foliage on long stalks. Certainly a rose that is sufficiently different to merit growing. The owner had no idea of its name and neither had I even before lunch.
2016 – CHW
A visit from Lizzie's mother (Alice), her long-time nurse (Olivia) and gardener (Hugh). Alice was 92 on the Saturday. The plane is four hours late arriving at Newquay on the Friday night so the party do not arrive here until 10.15. Serena and John's in-laws are invited but Johnny's mum is sadly ill again so they cancel but we do briefly see Sue and Martin, who is also unwell. Nevertheless the party rages for 48 hours and Johnny stalks a roe deer amongst quite a few rabbiting forays.
2015 – CHW
Beyond the fernery is a rather dull record tree; Cornus walteri, introduced by Wilson. It is actually flowering quite nicely in the sun. The plant has self layered itself multiple times and has sparse black berries.
Styrax japonica 'Pink Chimes' is a little further on with its dropping habit that tends to hide the flowers below the branches. Hence why you need to grow it on a bank so you can look up at it. The flowers are pink in bud opening with a tinge of pink. Very floriferous.
1990 – FJW
Rosa filipes 'Kiftsgate' by Front Gate – excellent.
1989 – FJW
Styrax japonica out as well as Catalpa duclouxii and Ligustrum and Rho weyrichii, campylocarpum and argyrophyllum. Very hot, no rain since June 3rd.
1928 – JCW
Styrax, Wilsonii Langleyense, Hemsleyanus the hybrid and Japonica are all nice. Diaprepes is in flower well. Magnolia parviflora fairly good and some hypoleuca buds.
1924 – JCW
The big pink Viscosum in the Old Park is very good. Rho eriogynum and griersonianum and the Harrow hybrids with discolor and maddeni are very nice, also the big bed of Papa Gontier rose.
1923 – JCW
Have been back from Scotland for a week. Things just as in the above, have been crossing Souliei with the best orange Dichroanthum I have seen. Some Souliei x campylocarpum remain in flower. Some very good new white azalea hybrids of ours and two of P.D's all in the Rockery are going over. Magnolia parviflora is nice now.
1921 – JCW
Came back from Scotland, all is very dry, some plants are dead, many are sick. The late white Obtusum is the best thing. Arborescens flowers well, most other things are over. Escallonia langleyense is very nice near the Hovel. Some R souliei are open now.