2020 – CHW
The last two days have been busy for the first time for 10 weeks. The estate insurance review and a rather exciting Burncoose management meeting as well as a Burncoose meeting about a new phone system and a meeting on the beach to investigate an automated self-ticketing system which may or may not be feasible.
This large tree fern has lived in a pot in the back yard for at least 10 years and is looking rather tired and pot bound in the heatwave. Jaimie uses the presence of a small digger to move it to a new planting site near the shop in some shade.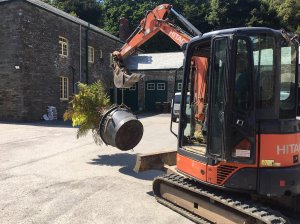 The 20 year old fence on the lawn to keep the dogs penned in has lasted well but has recently started to have rotten posts. Good job the digger was around as the original posts had been concreted in and could not be dug out by hand. A few dwarf conifers which I planted 40 years ago were no longer dwarf at all and threatening the drawing room foundations. Another on the bank was obscuring the view of the sea from the dining room. All gone now.
Reconstruction starts and the new posts are re-concreted in and painted with creosote (or whatever we are allowed to use now).
Iris douglasiana (I think) growing outside the School Room window. Do not remember it being there before?
Then to Burncoose.
Ruta waters her admirable tunnel full of newly potted camellia liners (9cm) into 1.5L pots. Quite a crop for next spring and potted two months earlier than usual in the COVID lockdown. Another benefit and, let us face it, there are very few!
To my amazement I find Carrierea calycina in flower in the rarities tunnel. Very few people have ever seen this very rare large shrub or small tree in flower in this country. It was a Wilson introduction in 1908 but then died out until 35 to 40 years ago when reintroduced via a US botanist. At Penrice Castle a 20 -25ft tall plant has never flowered. Two grow here and are perhaps 6-8ft tall with a 4-6ft spread but no flowers here either although I must check again. Someone once brought a small spray to a Garden Society dinner but I did not know the plant then or its rarity. As unusual as an Emmenopterys henryi flowering in the UK (only three ever have at Borde Hill, Kew and Wakehurst and our 110 year old tree never has!)? I would describe the flowers as shaped like a toad's mouth opening. The only vaguely similar shaped flower I know is Clerodendron.
Looking good in the nursery today: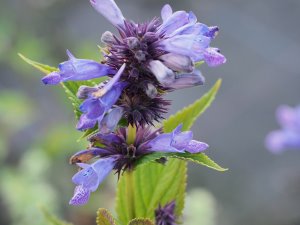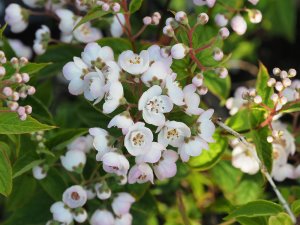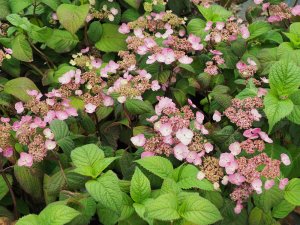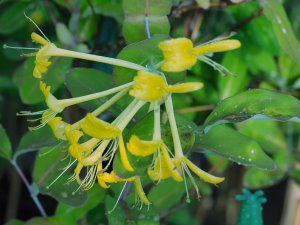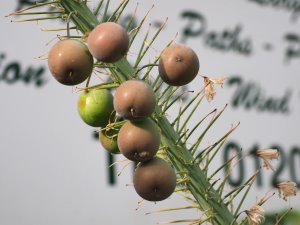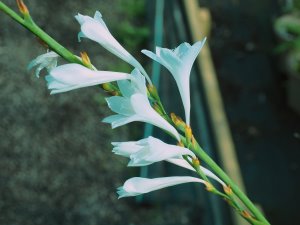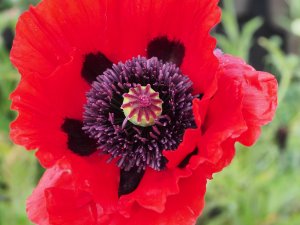 The climbing Rosa 'Veilchenblau'.
2019 – CHW
A trip up to the Rookery shows a few new things and older ones looking good.
Quercus rysophylla 'Maya' with its gorgeous new growth.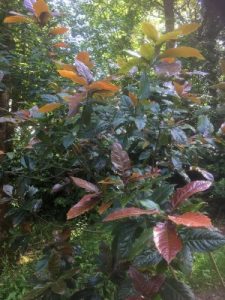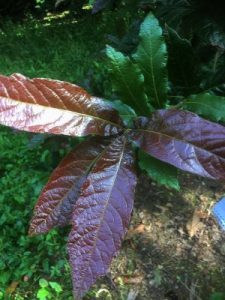 Ptelea baldwinii flowering for the first time.
Pittosporum illicioides angustifolium with tiny orange flowers – another first flowering.
Euonymus wilsonii with a rather more impressive display of yellow flowers.
Here are the two plants given to us by James Garnett and the botanic garden in Nantes:
Lagerstroemia limii
Mallotus japonicus
The Mallotus is a small tree which I have admired in flower and in new growth at Ventnor Botanic Garden for some years. Its scent is superb, although I fear it will be fairly tender. I did acquire this plant from Holland over the winter but the leaf form suggests that I have been sold something else which may or may not be another species of Mallotus. This is definitely the correct plant. Apparently in Nantes they grow both male and female plants close together and are thus able to germinate seed. The Isle of Wight plant looks to be a male from the appearance of its flowers.
Cornus kousa 'Madame Butterfly' with white spidery bracts and looking very fine today.
Aesculus wilsonii seems to flower a fortnight later than all other species. Individual flowers are pink or yellow.
Enkianthus hirtinervus is also a month later than all the other species and varieties located together on Hovel Cart Road. Huge flower trusses and well worth waiting for. On the Chelsea stand as cut branches in 2017.
Azalea 'Moidart' in full shade. Also very late into flower and a gentle apricot-pink fading paler here.
Rhododendron dichroanthum var. apodectum. An ancient and slow growing species with orange flowers very late in the season. Impossible to propagate.
A huge multi stemmed clump of Rhododendron decorum seedlings which are not quite pure decorum is just going over.
2017 – CHW
An absurdly late pheasant's nest by Tin Garden with seven eggs. Not much effort with the nest and not much chance of them ever hatching successfully.
Styrax japonica 'Emerald Pagoda' has popped out. Its flowers are easily the largest of any 'japonica' variety and, arguably, of any styrax species.
2016 – CHW
Off to the rare plant fair at Tregrehan with Justin (7.30am start) and 104 rare plants to sell. We shift about 70 of them by 12.30 and meet lots of friends for 'planty' chats. A welcome outing after the horrors of Chelsea. Plant events like this are a delight.In turn I buy for Caerhays:Quercus insignis
Euonymus morrisonensisQuercus rugosa
Decaisnea insignis
Myrtus paraguayensis
Viburnum awabuki
Viburnum atrocyanea
Plus Thomas Methuen-Campbell gives us from Penrice:
Callistrus (a rare conifer)
Quercus hypoxantha
Salix aff moupinense (TH Vietnam)
2015 – CHW
The target today is to locate any old original Magnolia wilsonii or Magnolia sieboldii sinensis.  Having thought about it the latter is hidden completely behind the original Sassafras albidum above the Auklandii Garden.  However, as usual, there are distractions along the way: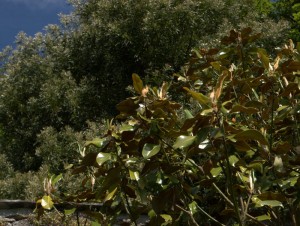 Magnolia grandiflora 'Symmes Select' had a flower out during Jim Gardiner's visit here in early March.  Still out today with buds to come.  Must be a record of some sort?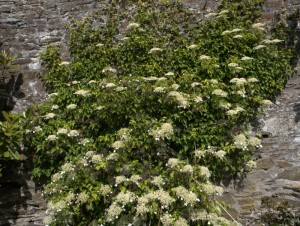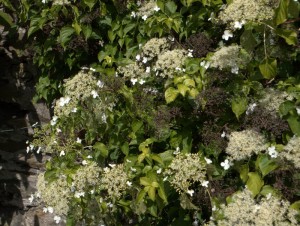 Schizophragma integrifolium full out beside it on the top wall.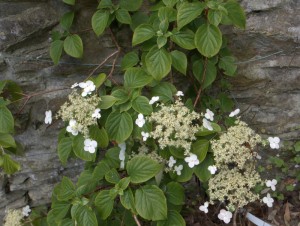 On a bit further is Crug Farm's form of Hydrangea quelpartensis which Burncoose stocked for years much more miniature leaved and quite possibly incorrectly named.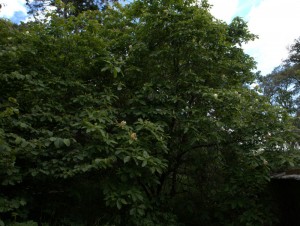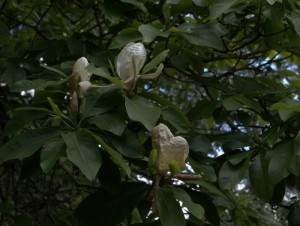 Along from the greenhouse is a 30 year old plant of Magnolia 'Chelsea Coates' (Magnolia sieboldii x Magnolia tripetala).  A rather ugly crinkly flower with sieboldii stamens.  A collector's item only.  The plant on the drive at Burncoose is a bit different.  Perhaps 'Ralph Coates'.  I bought Charles and Ralph Coates from Trehanes Nursery decades ago and they reside, as untrue to name as it is possible to be,  by Charlie Michael's Nursery.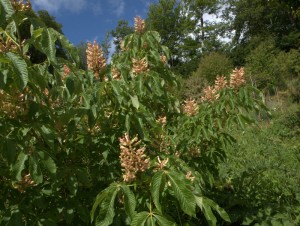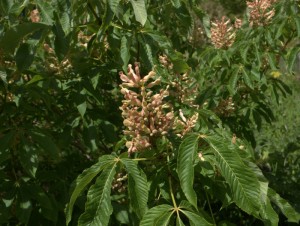 Above the greenhouse the first flowering of our new aesculus collection based on Michael Heseltine's National Collection at Thenhurst.  What else (apart from cornus) is at its best as a flowering tree in early June?  Here is Aesculus x mutabilis 'Induta'  with its apricot and yellow flowers.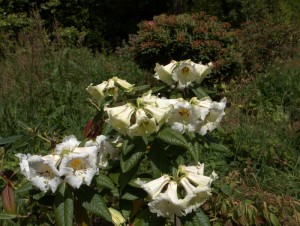 Going the other way is a nice clump of the heavily scented Rhododendron nuttallii (sinonuttallii)  which I used to grow in the Burncoose conservatory where it reached the roof but never set seed. Oppressive and overpowering/sickly smell especially in the evenings.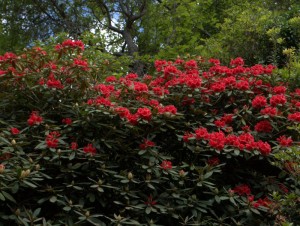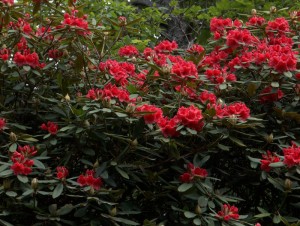 Then, just below today's goal is Rhododendron 'Tally Ho'.  A wonderful very late flowering red Rhododendron griersonianum hybrid (x facetum) which is attributed to other breeders but was undoubtedly raised here as well.  There is another old clump on the drive and at least one at Burncoose by the Tennis Court.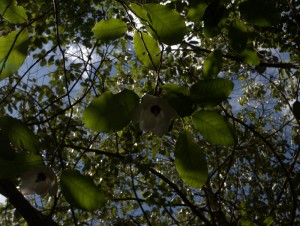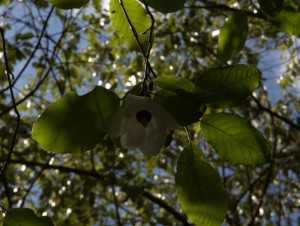 There used to be a good group of Magnolia sieboldii sinensis here but they have been squeezed out by a much newer Lithocarpus pachyphyllus.Only one old spreading plant survives.  It does have broader leaves than Magnolia wilsonii but too high up to smell if it has a lemon scent.  Photography difficult and the plant will not live much longer so we must diarise to collect the seed in early October.  The squirrel poison hopper (empty) is, I see, at the base of the plant.
Yes, you can see a very clear difference with Magnolia sieboldii both in the size of the flower and in the colour of the stamens which are reddish rather than pink.
There is now no more possible confusion between Magnolia wilsonii, Magnolia sieboldii and Magnolia sieboldii sinensis.  However I strongly suspect that in taking seed horticulturalist have bred hybrids between the two or three separate species so much of what is grown today is a mixture.  Good to have an old original to go back to.
2000 – FJW
First flowers out on Rho excellens – introduced by Keith Rushforth 1994 Vietnam expedition. Discovered by Henry.
1991 – FJW
Rain has come just in time for two royal visits to the county and the R.C Show.
1952 – CW
Charles Michael operated on today. Azaleas going over but V.G beyond the Fernery. Griersonianum good also its x with Erioginum. Cornish Loderi at its best also Primula helodoxa. Still some flowers on Michelia behind Georges Hut and small red Camellia by Brown Gate and 2 double pink near Top Lodge and single white above outside terrace.
1917 – JCW
It is now much as in 1916 but if anything a shade later. Harrows hybrids have begun to open.
1916 – JCW
R brachycarpum is open, also R souliei, R corona, R micranthum (good), R brachyanthum, bits of Auklandii, various Waterers, a very fine lot of the later azaleas, and bits of Wilson's forms and R fastigatum. Viburnum plicatum is very good. Roylei cinnabarinum etc open.
1904 – JCW
Much as the above, I picked some ripe Cyclamineus and Caerhays in the open, have moved most of our one bulb seedlings. Fine dry weather.
1902 – JCW
Viburnum plicatum at its best, and a fair lot of roses open, the late Azaleas are coming on, we have put mats on the best daffs to keep off the fly.