2020 – CHW
Our magnolia exhibit in the class for three sprays of magnolia at the Rosemoor show today which won The Lamellen Cup. 'Caerhays Surprise', 'Princess Margaret' and 'Margaret Helen'. This is our second entry which actually came third in the class.
On the magnolia show bench today were:
Our vase of Magnolia campbellii 'Princess Margaret'.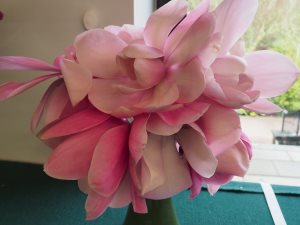 A really good Magnolia 'Sweetheart'.
We had put up an exhibition of the x williamsii camellias bred at Caerhays.
Our Magnolia campbellii 'Valentine's Torch' (as this yellow in bud campbellii has now been named) won The Brother Vincent Cup.
First prize for the trio of single magnolia blooms 'Apollo', 'Caerhays Surprise' and 'Felix Jury' (top).
Jaimie receiving one cup without handshake.
And Michael receives the other.
Of interest at the show on Saturday were the following. Since none of us are likely to be attending a flower show for many months I thought it was worth enjoying what was on display. The garden at Rosemoor gets better and better each year.
Grevillea barklyana
Leucodendron salignum
Rhododendron sutchuenense
Rhododendron argipeplum
Rhododendron fansipanensis – never seen before
Rhododendron montroseanum
Rhododendron retusum
Rhododendron 'Snowy River' (Rhododendron ririei x Rhododendron niveum)
Rhododendron 'Trebah Gem'
Rhododendron baihuaense JN 11050
Rhododendron chrysodoron KW 28078
Rhododendron recurvoides
Rhododendron 'Spinbur' (Rhododendron spinuliferum x Rhododendron burmanicum)
Aucuba himalaica var. dolichophylla
Prunus laurocerasus 'Castlewellan'
'Pink Glacier'
Corydalis nobilis
Grevillea x semperflorens
Alnus ullungdoensis
Acacia boormanii
Lithodora zahnii
Paeonia cambessedessii
Euphorbia rigida
Pinus palustris
Camellia 'Mercury Supreme'
Camellia 'Pastel Shades'
Helleborus 'Blue Metallic Lady'
Coleonema pulchellum
Magnolia stellata 'Royal Star' was planted in 1991 and is now about 15ft tall with a similar or wider width. An impressive show.
This is labelled Magnolia stellata 'Jane Platt' (syn. stellata 'Rosea'). It is certainly pink in bud but I do not think it is yet pink enough in flower to qualify as the true 'Jane Platt'. We have often bought in duds like this in the nursery but perhaps I am being unfair as the plant is still small and in the teeth of the wind today. I guess it may really be Magnolia stellata 'King Rose' which is pink in bud fading quickly but there do not seem enough tepals.
Magnolia 'Raspberry Fun' was bred at the Chollipo Arboretum and is becoming a vigorous small tree. This means it is a Magnolia kobus x M. stellata (ie a x loebneri) seedling from Magnolia x loebneri 'Leonard Messel'. As I have written before this is a very good floriferous magnolia for smaller gardens.
This one is also labelled as Magnolia stellata 'Kiskei' but the striping is rather less pronounced and it is certainly paler. Perhaps it is!? I am now getting seriously confused.
This is supposed to be Magnolia stellata 'Centennial' but it is too nearly over to be certain. If there was a pink tinging in the buds, as there should have been, I have missed it.
This one is, I am pretty much sure, Magnolia stellata 'Water Lily' which has rather more numerous drooping tepals.
This is the 1893 planted Magnolia stellata so at least we can be sure there is no buggering about with the naming of this. There are noticeably less petals/tepals on these more simple flowers.
I have therefore managed to find almost all of the named forms of Magnolia stellata today except a decent 'Jane Platt'. There is a decent one in the Burncoose garden.
Basically it is all about the number of tepals in each flower (although these of course vary from flower to flower on the same bush) and how the flowers present themselves when properly out. The colour bit is rather vaguer and prone to confusion.
To London (and back) in a day to receive the Victoria Medal of Honour from the RHS President, Sir Nicholas Bacon. Unusually good lunch from the RHS. Carol Klein had a burst of tears at her acceptance speech for VHM. I said one line "We are the amateurs; the plants are the professionals." Good applause but probably because I was the last one up after an awards ceremony lasting 1½ hours.