2023 – CHW
Replanting a cleared and tidied area at The Vean.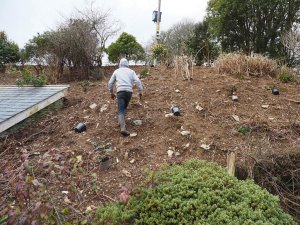 Giddle Orchard today from the drive. The magnolia in the background is Magnolia 'Athene'.
Camellia x williamsii 'Delia Williams' just starting by the castle wall.
Magnolia 'Caerhays Belle' and the view through the arch today.
Camellia x williamsii 'Rosemary Williams' and Magnolia 'Caerhays Belle'.
A sterile two year old female cone on Araucaria bidwillii which had fallen off the tree and had begun to disintegrate.
Buddleia pterocaulis longifolia in flower in the Isla Rose. Another new species to us.
A cock pheasant picks a fight!
Yet more pictures of the New Zealand form of Magnolia 'Lanarth' in its pomp.
James Williams from Tregullow sends me pictures of his seedling Magnolia 'Lanarth' 'flowering as well as it ever has' at the back of the house.
Magnolia 'Mr Julian' which was put up for an RHS award at the Rosemoor show last weekend and received a Preliminary Commendation. Magnolia 'Caerhays Splendour' was awarded a First Class Certificate (FCC) at the same time which has pleased Jaimie and Michael.
Magnolia 'Rebecca's Perfume' – another plant just out while others are over.
From the nursery a picture of our excellent Lampranthus plants just starting to flower rather earlier than one might expect.
Here are more pictures of our exhibits at last weekend's Rosemoor show with a cup for the best magnolia flower at the show.
Calocedrus formosana – rather more tender than Calocedrus decurrens.
Pittosporum glabratum with flower buds to add to our species collection. This one looks rather dull, I fear!
Cornus excelsa (F & M 57) is an evergreen species from Mexico.
Magnolia x loebneri 'Merrill' and Camellia japonica.
Magnolia 'Philip Tregunna' and Magnolia sargentiana var. robusta.
Magnolia 'Philip Tregunna' one day on and fading slightly in colour.
Magnolia 'Delia Williams' one day on.
Magnolia 'Aurora' just out in Kennel Close.
Magnolia 'Sir Harold Hillier' just starting but wind damaged overnight.
Magnolia sargentiana var. robusta in its pomp.
Magnolia 'Ian's Red' now nicely out.