2017 – CHW
A trip around with some northern friends.
The first flower on new Magnolia 'Burgundy Star' which will be a good seller in due course.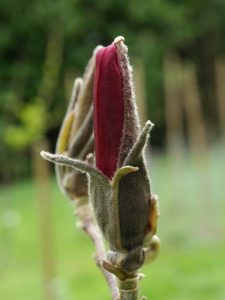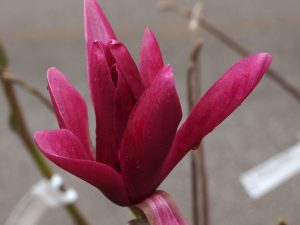 Prunus matsumae 'Beni-Yutaka' just out at the cash point.
Rhododendron sinogrande 'Lord Rudolph' is pink in bud opening to the more normal cream colour.
Camellia 'Dream Castle' was only cut down two years ago yet already a wonderful show from the regrowth.
The half deciduous Rhododendron 'Chink' is superb today on the main ride.
As is the nearby Stachyurus chinensis. Over flowering and soon to expire!
Magnolia 'Petit Chicon' in its second year of flowering. Not really a proper yellow but ok as a halfway house?
Magnolia 'Wadas Memory' full out with its drooping flowers.
First flowering here of Magnolia 'Joe McDaniel'. Large plant on the drive at Burncoose.
Magnolia 'Mighty Mouse' with its first two tiny flowers. Planted only last week.
Magnolia pseudokobus 'Kubimishidori' just coming out and true to name which many are not as we have discovered to our cost.
Here are some pictures of magnolias in the game larder and cold store wrapped in lavatory paper ready to go to the Boconnoc Show later today. A labour of love not to mention expense!
On the top ride the Magnolia campbellii Alba (the third of the originals) is at its peak and, below it, now in the open and not shrouded by trees is a very fine Magnolia 'Lanarth' seedling which I have never taken in before.
The two record Magnolia x veitchiis are just coming out against a blue sky. About on time and normal in this unusual and very early magnolia year.
A blue sky and one of the original Magnolia campbellii albas at its very best. Not quite as good as the one in Old Park which I did not photograph yesterday.
Magnolia 'Caerhays Philip' has taken a battering since a week ago but still has some gorgeous flowers left.
Inflorescences on Acer negundo 'Auratum' are very fine. I have seen these often on Acer negundo 'Violaceum' but not before on this 1991 planted tree with yellow leaves. 'Violaceum' had inflorescences a month ago.
The Queen Mother's magnolia which she planted is very fine and full out today (sargentiana robusta x mollicomata). Improving with age!
The three different magnolia species in the ririei opening are the best thing in the garden today. Even better than last week.
Probably Atlas wins today in terms of height but not today in terms of width.  Over Easter I will get a tape measure but the impending gales may make this impossible.