2021 – CHW
Lockdown is a time for cleaning out old family paperwork and this amusing 1972 invoice for my mother's automatic triumph dolomite car has emerged. £1,500 for a car 50 or so years on makes you think a bit about the value of money and inflation as we start to worry about inflation again. I drove this car in my teens, and I think my brother finally ran it into the ground in London after a few scrapes.
Frost overnight has thankfully caught only the magnolias planted the lower side of the main drive where the cold air settles in the valley. Philip Tregunna always said that we should never plant magnolias below the drive for just this reason and he was right even if we have not entirely observed this rule.
The Magnolia 'Delia Williams' on the lawn has caught it!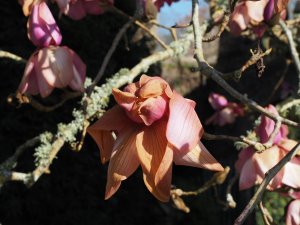 However, the magnolia on from the Rockery is not too bad.
Camellia reticulata 'Lila Naff' is just out.
The second plant of Magnolia campbellii 'Valentine's Torch' below Donkey Shoe has a couple of flowers out and the yellowing is more pronounced.
Already the New Zealand Magnolia 'Lanarth' is shedding tepals onto the ground.
Magnolia 'Betty Jessel' showing colour.
As is the Magnolia sargentiana robusta in the ririei opening.
Another dead snakebark maple with fungal infection at the base.
Magnolia sprengeri var. elongata just coming.
Rhododendron barbatum (from Crûg) only now in flower. Rather late out!
A rhododendron labelled irroratum but without the darker eye. Need to check where this came from.
Then a wonderful surprise. Suddenly the young Magnolia sprengeri 'Dusty Pink' has several flowers out. A gift from Jim Gardiner and I must send him some pictures as this was from wild collected seed in China. Slight frosting overnight. What a colour and what a shape to the flower and on such a young plant.
Magnolia 'Pickard's Ruby' x 'F J Williams' has a flower well reflecting its parentage. Has it been named yet? Need to check the lists.
Tom Hudson's gift of three Rhododendron ririei have never looked better.
Bluebells well up.
Narcissus cyclamineus looking very fine in the sun.
Magnolia 'Vulcan' x Magnolia 'Black Tulip' just emerging.
Magnolia 'Purple Sensation' (this is Magnolia campbellii subsp. mollicomata 'Lanarth' x Magnolia liliiflora).
Magnolia campbellii 'Wakehurst' with three flowers full out. Very nice indeed!
Magnolia 'Felix Jury' – one of three plants we have in the collection. The other two still in tight bud.
Magnolia 'Cleopatra' – rather windblown.
Magnolia 'Shirazz' (Magnolia 'Vulcan' x Magnolia denudata) nearly full out and very dark against a dark sky. Planted in 2006 and already 20ft x 15ft.
Michelia doltsopa just emerging high up on the big plant by Georges Hut.
The white form (alongside the pink form) of Rhododendron irroratum.
This sister seedling to the true Magnolia 'Caerhays Splendour' resides on the drive. It is a small flowered imitation of the real thing but not too bad really.
Leaf on a clump of Enkianthus in the first week of March. Things are rushing on despite a wettish week.
Jaimie planted a few magnolias in the 1992 post hurricane replanting at the top of Forty Acres Wood above Dry Walls. This wood is due to be thinned shortly so he took the opportunity to cut around them in case there was a disaster. This is a Magnolia 'F J Williams' seedling which is not bad and may one day give a glimpse of colour from miles away. We should plant more random seedlings in new woodland as we have along Bond Street where they show up well today.