2017 – CHW
A breakfast meeting at the Eden Project to see the new Western Australian Garden opened by the High Commissioner. Breakfast was kangaroo sausages (vile) and a boiled egg in half an avocado (odd). Lots of time to photograph new (to me) Australian plants.
A Chorizema cordatum with flowers that we recognise but this is not a climber like the one we stock – Chorizema illicifolia.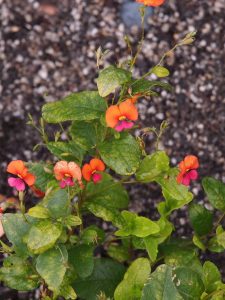 Xanthorrhoea johnsonii – basically a huge grass with a trunk. One had a flower spike – very penile! Lots of nurseries used to sell this when we could import the trunks.
A novel Acacia glaucoptera. Acacia pravissima x10 leaf size!
An Australian dianella species with typical blue flower spikes.
Banksia menziesii
Everywhere you looked there were anigozanthus of every shape and colour. The 'Kangaroo Paws' are an acquired taste (like the sausages) which I have yet to cotton on to. Too tender for us outdoors in the main. We used to stock these but gave up despite one year of massive sales of these horrors at Hampton Court.
Banksia repens
Banksia occidentalis
Eucalyptus forrestiana – rather dull.
Chamelancium uncinatum – rather like a leptospermum in its flowers.
Callistemon 'Kings Park Special' – very special indeed – deado even! Always good to have a dead plant behind the speaker at a launch.
Acacia cyclops – good name.
Callistemon citrinus 'White Anzac' – yellow yes but white never seen before. This one living!
Callistemon phoeniceus – does not look like a bottle brush.
Orthrosanthus polystachus – a 'sort of' iris.
Gastrolobium celsianum – pea shaped flowers.
Dryandra praemorsa – presumably protea family.
A clump of Wachendorfia thyrsiflora just finishing flowering. At last a flower I recognise and we can grow but I realise I have stepped outside the Australian bit and am now in the Mediterranean plant area.
Euphorbia triangularis – I get the 'triangular' bit but it looks like a cactus. I have strayed into the US bit!
Penstemon spectabilis – Californian I believe.
Teucrium fruticans – another we sell and perfectly hardy outside.
Malva subobovata
I thought these were lachenalia, a South African bulby thing, but the label says velthamia.
'King Protea'; Protea cynaroides which we also sell.
Aeonium polyphylla with a gigantic flower stalk for a small plant.
Leucospermum cuneiforme – an attractive protea in flower.
This looks like baptisia?
Huge clumps of Geranium maderense in flower. Biggest I have ever seen by far.
What can one say of these horrors among the vines?
Quercus bushii? No, I am wrong, Quercus wislizeni? No label but we have one like this in Penvergate.
1994 – FJW
Still cool – one fine day out of 3 – flowers hanging on.1989 – FJW
10 days of dry hot weather due to end. New maples starting to grow.
1960 – FJW
First rain since April 17th.
1947 – CW
Picked good bunch of Tower, Triandrus, Jonquil 455, Green eye 308, a Poet 435. Flowered and good Rho auklandii x Eriogynum. X Auklandii, Augustinii and Davidsonium at their best.
1929 – JCW
Much later than 1929. Magnolia nicholsoniana shows colour, several Wilsonii flowers open. Double crimsons not yet open.
1927 – JCW
Roylii cinnabarinum are open and so Auklandii but [?] forms are over. Aureum is very good. Recurvas and daffs is all open. Iris germanica are open, R aureum is at its best and so Haematodes.
1914 – JCW
Daffs are all over – Auklandii's nearly over. Hybrid Iris over, Yunnanense hybrids are right. Standish Devonshire seedlings right – Roylei and Cinnabar. are opening.
1904 – JCW
I picked three nice Recurvas seedlings not quite expanded. No roses except on the walls. I pavonia, R fortunei both open. Auklandii's at their best. Recurvas all open.
1902 – JCW
Picked the first Fortunei yesterday, very few other roses, cold, picked I pavonia and one Lorteti.
1899 – JCW
R fortunei open. A good few roses.