2023 – CHW
Rhododendron 'Dr. Stocker' on the Burncoose drive. This has died out here.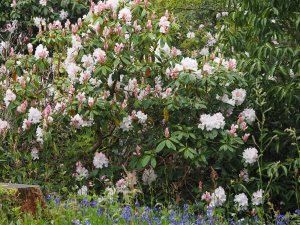 Rhododendron 'Conroy' and Rhododendron neriiflorum looking good together.
Rhododendron neriiflorum also on the Burncoose drive.
I am unsure of the name of this evergreen azalea. A bit like 'Gumpo' but not quite.
Carpinus fangiana flowering properly for the first time here. The flower tassels will get larger with age. A superb plant and perhaps the best of the Carpinus species? Close running with C. rankanensis? The jury is still out.
Rhododendron xanthocodon at Burncoose – a young plant doing well.
Caerhays lost two Wollemi pines in cold spells after planting. The Burncoose one isn't looking great after roe deer antler rubbing on its trunk but it is still going.
A recently planted Magnolia tamaulipana with similar roe deer damage nearby. It should have had a wire netting surround.
Bluebells amazing at Burncoose as ever on a Friends of Burncoose tour for 25 tonight.
Three or four years on from planting Magnolia ( manglietia ) insignis is growing well.
A young Rhododendron zaleucum which I have not seen flowering before at Burncoose.
Rhododendron williamsianum x Rhododendron callimorphum (never named or registered ) looking splendid on Burncoose drive. A JCW hybrid
Acanthus sennii dead to ground level after the December frost but has revived in the nursery.