2020 – CHW
Boris produced an excellent address to the nation last night. Well argued, careful, thoughtful and entirely right in the circumstances. 'Health' was, however, still the priority over the return to normality.
Starmer, the unions and the Sturgeon express themselves 'confused' at this 'mixed' message. Having been part of the inner government COBRA discussions on the end to lockdown it is a bit rich to criticise what you participated in and implicitly agreed. Nevertheless they betray their true colours as regards the economy which they are happy to continue to bankrupt in the interests of safety and the lack of PPE in workplaces. So much for working together to get out of this mess.
One of the most telling revelations over the weekend was that the teaching unions are actually preventing teachers from conducting online classes for children in lockdown because 'they do not have to'. No thought of their service to the public to educate children of course. Enjoy your 'holiday' like the kids are and soon it will be the summer holidays anyway. Why not go camping now and start the summer early.
So what does Boris' announcement mean for us? The car park will have to reopen on Wednesday. There is no way that we can decently or fairly charge for this initially. We have received the government grants and there is no way that we could collect the money in a socially distanced and safe way for our staff.
Shops to reopen (perhaps) on 1st June but not restaurants. Can we sort out social distancing for takeaway service at the beach café by then or before? Better not be seen to be rushing into this until we know what others are going to do or be allowed to do.
How do you reopen the garden entirely safely unless it is free with no facilities but lots of costs for us in disinfecting loos and providing safety cover for emergencies? I suspect we stick with our previous decision not to reopen this year.
Holiday lets open from 1st June? Better wait and see what the 50 pages of government guidelines say today.
Magnolia 'Summer Solstice' in bud.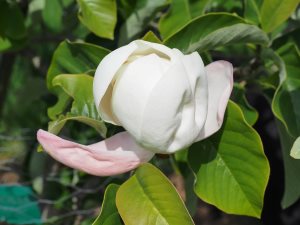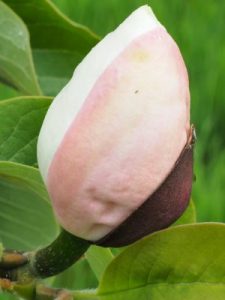 Cercis canadensis 'Flame' making a good show.
Rhododendron 'Gwilt King' just out. Normally a certainty for the Chelsea stand but I suppose we are only about a week away.
The bark is peeling nicely on the largest Acer griseum.
Merillopanax alpinus just coming into leaf. Will it survive with us?
Rhododendron 'Winsome' as splendid as ever.
Rhododendron 'Lemon Meringue'
Rhododendron 'Lem's Cameo'
Rhododendron cinnarbarinum Concatenans Group
Rhododendron vaseyi was exceptionally good in shade.
Cornus 'Venus' still not fully out but a huge bract!
Fagus grandiflora var. mexicana looks tenderish and has dieback.
Crataegus wattiana now in full flower.
Crataegus coombei (?) with flower.
Two pictures of Meliosma alba (formerly Meliosma beaniana) kindly sent from Borde Hill. They hope to send us seed later. Our plant, as we saw recently, is too ancient to have produced any seed for years.
Cestrum fasciculatum 'Newellii'
Magnolia sieboldii 'Jersey Belle'
Another Azalea 'Caerhays Lavender' still in new growth in full shade.
Fagus sylvatica 'Black Swan' leaves a week on.
Magnolia 'Summer Solstice' just out.
A young Magnolia nitida getting going.
Michelia x foggii 'Allspice' perfect today. The others now nearly all over.
Aesculus carnea 'Aureomarginata' was nearly over.
Magnolia 'Southern Belle' is quite similar to 'Summer Solstice' but out a week or so before (this proved not to be correct).
Aesculus woerlitzensis with dark red flowers.
Aesculus bushii with much larger double pink flowers with a yellow blotch.
Aesculus chinensis has some individual pink flowers and some yellow ones. Hilliers say some plants sold as this species are Aesculus indica so now I am more than suspicious!
Aesculus glabra I think, the red horse chestnut.
Crataegus wattiana is thornless but colourful today.
A wild collected form of Rhododendron decorum (NN 0907) with quite small flower trusses to what we know as Rh. decorum.
2018 – CHW
Finalising and checking the full list of the plants which will be used on our Chelsea stand as part of the press release and to give out to the public who ask for it as the show. A tedious job which will never be absolutely right as flowers go over and we always take more plants than we will need or use to be certain of only using the absolute best top quality ones. Anyway the RHS like us doing this. It has the added advantage of enabling Louisa and Christine, the stand designers, to prewrite the individual plant labels for each type of plant which we have to have clearly and neatly written with the correct spelling of the Latin names on everything. This is a major issue with the judges and 'the odd mistake' is no good and no gold medal!
More importantly, we select half a dozen new and unusual plants which are looking good in the show tunnel (today at least) to feature prominently on the website the weekend before Chelsea Flower Show opens and when the BBC Chelsea coverage also starts. We will substitute these with pictures of the same plants actually on the completed stand on Monday 21st May, the press review day. Not all the six we selected today will necessarily pass the test on the stand but at least we can start to entice new customers to new plants.
We have a brand new and superb acer for the stand which will also be entered for the RHS Plant of the Year competition. So secret is it that, until 21st May, I cannot even tell you its name. A couple of (rather bad) pictures are all I can share for now. You will say you are not impressed yet – but you will be!
Christine is holding a new and rather exciting Geum 'Flames of Passion'. Fortunately she is concentrating more on the hassle of the lead up to the show!
Xanthorrhoea johnsonii – basically a huge grass with a trunk. One had a flower spike – very penile! Lots of nurseries used to sell this when we could import the trunks.
A novel Acacia glaucoptera. Acacia pravissima x10 leaf size!
An Australian dianella species with typical blue flower spikes.
Banksia menziesii
Everywhere you looked there were anigozanthus of every shape and colour. The 'Kangaroo Paws' are an acquired taste (like the sausages) which I have yet to cotton on to. Too tender for us outdoors in the main. We used to stock these but gave up despite one year of massive sales of these horrors at Hampton Court.
Banksia repens
Banksia occidentalis
Eucalyptus forrestiana – rather dull.
Chamelancium uncinatum – rather like a leptospermum in its flowers.
Callistemon 'Kings Park Special' – very special indeed – deado even! Always good to have a dead plant behind the speaker at a launch.
Acacia cyclops – good name.
Callistemon citrinus 'White Anzac' – yellow yes but white never seen before. This one living!
Callistemon phoeniceus – does not look like a bottle brush.
Orthrosanthus polystachus – a 'sort of' iris.
Gastrolobium celsianum – pea shaped flowers.
Dryandra praemorsa – presumably protea family.
A clump of Wachendorfia thyrsiflora just finishing flowering. At last a flower I recognise and we can grow but I realise I have stepped outside the Australian bit and am now in the Mediterranean plant area.
Euphorbia triangularis – I get the 'triangular' bit but it looks like a cactus. I have strayed into the US bit!
Penstemon spectabilis – Californian I believe.
Teucrium fruticans – another we sell and perfectly hardy outside.
Malva subobovata
I thought these were lachenalia, a South African bulby thing, but the label says velthamia.
'King Protea'; Protea cynaroides which we also sell.
Aeonium polyphylla with a gigantic flower stalk for a small plant.
Leucospermum cuneiforme – an attractive protea in flower.
This looks like baptisia?
Huge clumps of Geranium maderense in flower. Biggest I have ever seen by far.
What can one say of these horrors among the vines?
Quercus bushii? No, I am wrong, Quercus wislizeni? No label but we have one like this in Penvergate.
1994 – FJW
Still cool – one fine day out of 3 – flowers hanging on.
1989 – FJW
10 days of dry hot weather due to end. New maples starting to grow.
1960 – FJW
First rain since April 17th.
1947 – CW
Picked good bunch of Tower, Triandrus, Jonquil 455, Green eye 308, a Poet 435. Flowered and good Rho auklandii x Eriogynum. X Auklandii, Augustinii and Davidsonium at their best.
1929 – JCW
Much later than 1929. Magnolia nicholsoniana shows colour, several Wilsonii flowers open. Double crimsons not yet open.
1927 – JCW
Roylii cinnabarinum are open and so Auklandii but [?] forms are over. Aureum is very good. Recurvas and daffs is all open. Iris germanica are open, R aureum is at its best and so Haematodes.
1914 – JCW
Daffs are all over – Auklandii's nearly over. Hybrid Iris over, Yunnanense hybrids are right. Standish Devonshire seedlings right – Roylei and Cinnabar. are opening.
1904 – JCW
I picked three nice Recurvas seedlings not quite expanded. No roses except on the walls. I pavonia, R fortunei both open. Auklandii's at their best. Recurvas all open.
1902 – JCW
Picked the first Fortunei yesterday, very few other roses, cold, picked I pavonia and one Lorteti.
1899 – JCW
R fortunei open. A good few roses.