2017 – CHW
Another visit to Burncoose to catch up with and complete the Chelsea programme. Loading Monday. Press releases sorted and finalised today.
Slug damage on magnolia leaves in one of the tunnels. You can see the slimy trails. You can also see from these pictures how easily a slug can eat all the new leaves as they emerge and kill or greatly stunt the growth of individual or newly planted plants. Beware and get the slug traps or bait out. Look for the culprits on wet days or in the damp early mornings.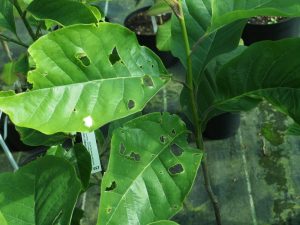 Rosa rugosa 'Frau Dagmar Hastrup' – just coming out and a very gentle colour. Too delicate to take to Chelsea I fear but Rosa roxburgii may make it.
Calceolaria 'Camden Hero' is nicely out for Chelsea and put aside in quantity.
Salvia officinalis 'Albiflora' is however too far out to go. Take off the pile to be loaded.
Corydalis 'Berry Exciting' is just producing its flowers and will be fine. Perfect even! What a colour contrast.
Argyranthemum 'Raspberry Ruffles' is a new introduction to us this year. It too is looking perfect for 10 days' time with loads of bud which will open in the forecast sun for the next few days.
Geum 'Tequila Sunrise' is another new plant to us and fine for Chelsea.
Rhododendron 'Graffito' has shot out since last week and may be too far out to go on the lorry? Time will tell but I fear this one will not!
Rhododendron calostrotum subsp riparium 'Nitens' is now just in flower and may well fit the edge of the Chelsea stand.
Rhododendron 'Germanica' might well make it too.
Now a real oddity for Chelsea. Lonicera subaequalis 'Ogisu'. A very blue hue to the leaves and extraordinary flowers. One to make the judges think.
Parthenocissus 'Star Showers' will be great at the show for a bit of unusual variegation. The flowers are showing up too. Train it up one of the Harrod obelisks I think.
Protea 'Little Prince' are perfect for the show – these flowers last for weeks.
A self sown wild strawberry in flower – Fragaria vesca. Pity to pull it out.
I have been trying to photograph Dianthus 'Mrs Sinkins' for three or four years. The plant is hugely popular and they all get sold before we ever see a flower. These are for an order and not for Chelsea.
Tiarella 'Appalachian Trail' will be spot on for the stand as will the other tiarella varieties. The heucheras are 'good to go' too.
Hachenochloa macrantha 'All Gold' will definitely not. Shitty little plants which have grown badly and seem to have wind or frost damage.
Kolkwitzia amabilis 'Pink Cloud' has very little flower yet and will not make it either. Too tight in bud.
Cornus kousa 'Blue Shadow' is about right. Not quite sure about the name yet? Where is the 'blue shadow' the judges will say.
Magnolia 'Gold Crown' is a perhaps. Nice bit of green in the yellow flower.
Hydrangea petiolans 'Semiola' has no flowers yet. Nice leaves but hide it in the background perhaps.
Rhododendron 'Polaris' should be fine to go.
The gigantic Beschorneria flower has grown 2ft in a week and the side flower shoots have all appeared. How in the hell will we get it on the lorry as it is 12ft tall already and the lorry only 10-11ft? It will have to lie on the tree fern trunk at 45°. After the show if we do not sell it we can cut the flower off for the return trip.
The Cardiocrinum giganteum however has not moved much into flower. Very fat stalk but little progress sadly.
Look how perfect this Acer palmatum 'Ukigumo' is – it is going to be! What a colour to show up well in a tent where the light is not great.
The huge jasmine is worryingly too full out and scenting the whole show tunnel. We do however have others not so far advanced as this so it may just be ok.
No flowers yet either on the Chatham Island forget me nots. We did have them last year.
However the Podophyllum 'Spotty Dotty' has a flower on the way. It looks black today but will open dark red.
Stewartia rostrata is plastered in bud which should open in time.
Time to clip the box balls ready for the big event. If you do it actually at the show the judges will realise. This is one of those small show 'tweaks' which only those with serious show experience will know!
The calycanthus buds are perfectly poised to be fully open for judging on 22nd May at 9.00am – or so we hope!
Plants in the show tunnel are starting to be moved to the paths ready for loading on the lorry. Only 30% of what you see here will actually be fit for London.
Gerry and Louisa doing the final painting on the central surround for the pool. I had no idea they knew how to blend and mix paint to create the colour and feel to go with the central fountain. Quite a pair of artists!
Goodness we are so lucky to have such an experienced, dedicated and professional team. It is not just plants and horticulture when it comes to designing and making a circular stand as large as ours will be.
2016 – CHW
A wasted day at an appalling Cornwall Farmers AGM where the members present displayed unbelievable ingratitude to the board for the successful sale of the business (but not the stores themselves) to Countrywide which saved the business from certain bankruptcy.The new camellias from France are superb and we will have to plant them straight out on Monday. I had hoped to make a special clearing and plant them all together next spring but they are too large to sit in pots until then.
This is the list:Camellia champetre Alpen GloCamellia espèce Amplexicaulis
Camellia ss Bettys Beauty
Camellia champetre Cinnamon Cindy
Camellia champ Cinnamon Scentsation
Camellia reticulata Debut
Camellia champetre Gay Baby
Camellia champetre High Fragrance
Camellia ss Kerguelen®
Camellia ss Kicho
Camellia classique Manuroad Road
Camellia ss Memphis Belle
Camellia classique Mimosa Jury
Camellia reticulata Miss Tulare
Camellia classique Sanpei Tsubaki
Camellia sasanqua Sekiyo
Camellia sasanqua Setsugekka
Camellia sasanqua Showa No Sakae
Camellia champetre Sweet Emily Kate
Camellia champetre Sweet Jane
Camellia classique Tom Pouce
Camellia classique Winter Gem
2015 – CHW
First lorry goes to Chelsea with the fountain and the moongate sculpture.  Little time for wandering but a few things which might be cutable for Chelsea.Halesia Carolina – this is our second attempt at growing this excellent small US tree.  The first suddenly died by the cash point a few years ago.  The seeds are rock hard.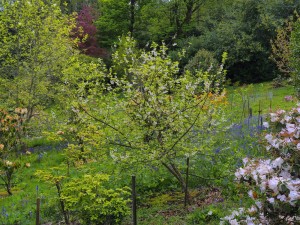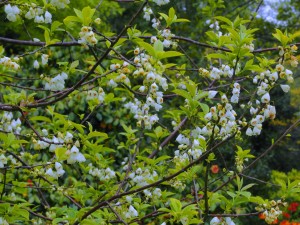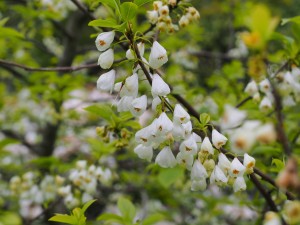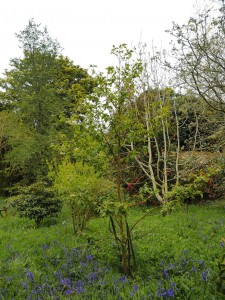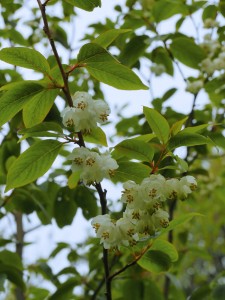 Rehderodendron macrocarpum – a Trewithen plant originally and our only old plant is nearing the end.  Burncoose has however two big trees in their prime.  Not as good as Tom Hudson's newish Vietnamese Rehderodendron kwatungense which is a better flower.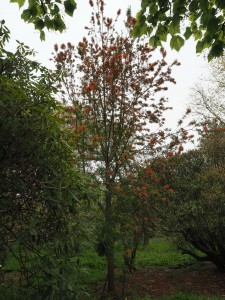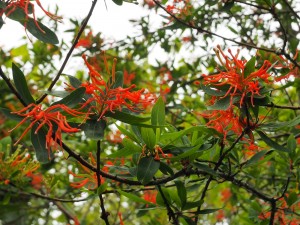 Embothrium coccineum – pure orange (rather than red or scarlet) and out this year rather earlier than usual.  Embothrium lanceolatum is a good fortnight behind.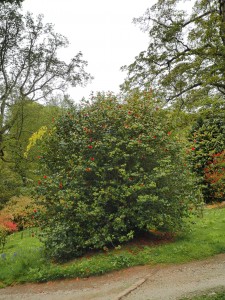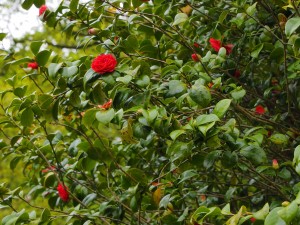 Camellia 'Mathotiana Rubra' – one of the last camellias to flower and often still showing a flower in July.  Twice we have had this at Chelsea but too close to the flowers shattering to be worth the effort today.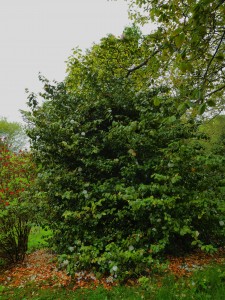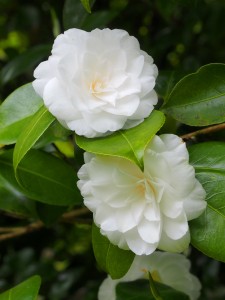 Camellia 'Mathotiana Alba' – same problem.  The two plants are side by side.  I cannot remember where the pink mathotiana rosea is.
1931 – JCW
Rhodo bloom remains very good. Augustinii in particular and many of my Azaleas show colour. Orbiculare was never so fine. Auklandii is very good but not quite all open. There are a few flowers on C speciosa now.
1930 – JCW
Camellia speciosa seedling has been very good indeed since the 26th January and is now on the wane. Auklandii is good and do the Davidsonianum.
1919 – JCW
Garden cherries over – Auklandii hybrids nearly over – Devonshire hybrids in bud. Daffs over. Auklandii's just started to open.
1911 – JCW
Auklandii's splendid, Van Tubergens Iris at their best. All Recurvas open. Coombe Royal lot hardly open. Iris pavonia open. White broom very good, sweet scented rhodo's nice. C. montana rubra very good. Mrs Butler just coming. Some Azaleas out.
1910 – JCW
Auklandii's (very few from Nov frost) nearly over, and cold but moist growing season. Recurvas all open, and most of the Coombe Royals.
1909 – JCW
Auklandii's not all open, want rain badly. Iris Van Tubergens very good. Recurvas open. Some of the Coombe Royal lot open.
1907 – JCW
Just as in 1898. Auklandii have never been so fine.
1902 – JCW
Embothrium out, a small bit. Very cold wind.
1898 – JCW
I pavonia has been open for some days, Andreana at its best, Altaclarence about, Iris lorteti quite, C montana, Clianthus, Habrothumnus all at their best. Rhodo' fortunei a few flowers open, Suavio going over and so the blood red Arboreum. No waterlilies open, one or two Arum, moved a seedling from Emperor into the Drive, not quite ripe. P recurvus at its best.
1897 – JCW
Iris pavonia open, one waterlily flower (Gloriosa). Broom andreana at its best. Cold winds.