2019 – CHW
Collecting and choosing the cut stuff for Chelsea between meetings.
All the Enkianthus species and varieties are either over or too far out already to cut as I expected. The exception is Enkianthus hirtinervus which seems perfect. We cut one huge spray from the clump of three plants.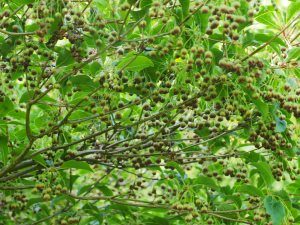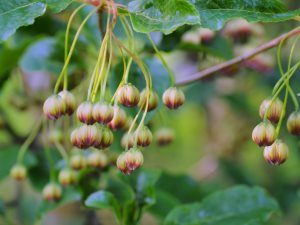 Along the way Magnolia 'Judy Zuk' is now full out. An odd mix of colours but not unattractive.
One forgets how plain the flowers are of the dwarf Enkianthus campanulatus 'Wallaby'.
The first lot of Caerhays cut stuff in the game larder by the cold store. There was something rather pungent in the cold store left by the keepers so we have left the flowers outside the store for the moment.
This dwarfish and compact Trachycarpus in Kennel Close has its first flower. This variety takes its name from a volcano in Italy but, in the haste for Chelsea, I do not have time to look it up.
Loading the last lorry and away to Chelsea once again.
The cut stuff for Chelsea is assembling beside the cold store. It is cool and light rain which is good.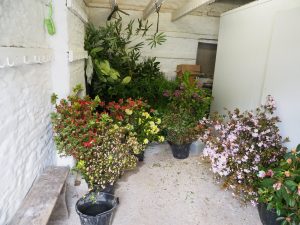 The lorry is full and ready to hit the road to Chelsea. It will arrive we hope at 7.00am.
We looked at Fagus sylvatica 'Aurea Pendula' last week. This is Fagus sylvatica 'Zlatia' by the Four in Hand. The new yellow leaves glow in the sun and the beech 'mast' is forming. Very attractive. I wonder why this is not just named 'Aurea'?
Fagus sylvatica 'Asplenifolia' – one of my first purchases from David Knuckey and the old South Down Nurseries 35 to 40 years ago. Silly place to have put it with hindsight! Planted at the same time as 'Zlatia'.
When we cleared Sinogrande Walk of ponticum this single surviving Rhododendron sinogrande was fully exposed to the wind. To my surprise it has survived and is now even flowering. The laurel hedge now gives it some protection.
Our last surviving old Styrax japonicus is losing its crown and will soon join the other two recent casualties. You can see that we have cut off all the side shoots from the base of the trunk which will prolong its life by a year or two perhaps? What an odd 'nobbly' trunk!
The Rosa bankiae 'Lutea' which we pruned hard and shaped in the winter is reshooting vigorously.
The newspapers have been full of a 16ft tall Echium pininana grown at the Welsh Botanic Gardens. Theirs was grown inside of course so, even though early into flower, it is still no different to ours featured here which are out too as we saw a few weeks ago. We have cut a stem for Chelsea to see if it will last in water. This is doubtful but we have never tried before. What we do know is that the three plants in the show tunnel are already over. Quite whether any of our echiums are over 16ft tall is something I cannot be bothered with but pretty close I suspect even if not this particular clump. One got blown over recently by the Library window. Amazing blue flowers which then individually fade to light pinkish.
2016 – CHW
We have placed our and planted all the largest plants from Crug and nearly all the French large camellias without too much problem finding spaces although it is very dry and far too late to be planting out really. Now the quest for more cut stuff for Chelsea.First thing this morning we loaded the huge Rhododendron sinogrande and a large Rhododendron yakusimanum dug from the garden in tight bud onto the first lorry going to Chelsea. Denis (with a beard) was just back to work with his new hip well into his 70s to tell us how to load them and some cut greenery 'properly'. Denis has worked at Burncoose for well over 40 years and seen plenty of Chelsea loadings before.
Staphylea colchica was looking especially good but far too far out to cut for Chelsea. Staphylea pinnata nearby is nearly over and far less floriferous.
Delighted to find Rhododendron 'Corona' full out. I first saw this in Corona North's garden at Altimont in Eire near Tullow some 15 years ago. Bred by her father I believe. Did not know we had it!
The true and original Enkianthus cernuus rubens is out and just may make it for Chelsea as it is still in tight bud.
'Pheasant Eye' narcissus still out in full shade in mid-May above the cash point! And in such an early year! Amazing.
Now off to Burncoose to supervise the cut stuff from the garden there to cut on Wednesday. This year we will be struggling to fill the stand without really good cut material.
2015 – CHW
Another bit of cheating but it fills a gap.  Here are a few things well worth searching for in the garden today although I saw them last Thursday.Rhododendron 'Assaye' – the old clump is nearly defunct by Crinodendron Hedge but the clump on the drive is late out but thriving and needs propagating.  It is a Rhododendron calophytum x Rhododendron sutchuanense hybrid bred by JCW and registered by my father in 1963.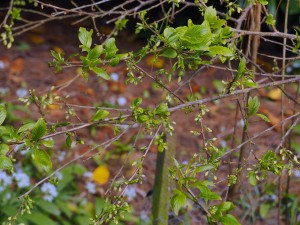 Halesia diptera – this is a shrub with a twisted spreading habit and is said to be a shy flowerer.  I have not seen this plant in flower at Caerhays before but it does not look very shy!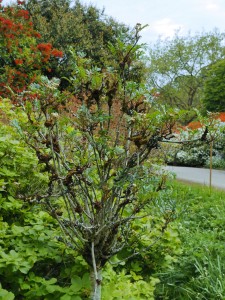 Sorbus reducta (top-grafted) – this is basically a creeping, suckering, rockery plant but here top-grafted so it has remained the same size for 20 years.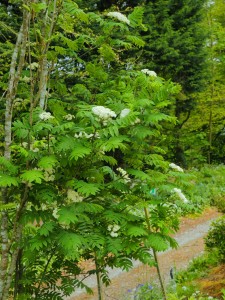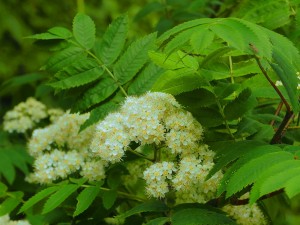 Sorbus 'Hilling Spire' – this plant was a present from Trevor (Yorkshire) Green who grafts sorbus as a sideline and has introduced many fine new clones and species to the garden.  Most of them are on the drive and the berries can be a picture in autumn unless the pheasants get at them first.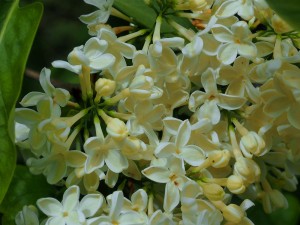 Syringa vulgaris 'Primrose' – I do not really like common (vulgaris) lilacs because they remind me of Chelsea time.  There have always been one or two on the drive and below the tower on the lawn.  This one is not too bad and now around 15 years old.  The 'primrose' pretty quickly fades to white and the scent reminds me of toilet air freshener.  How vulgar is that!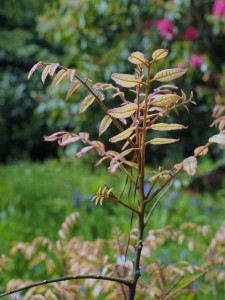 Alectryon excelsus – this unusual and supposedly evergreen tree has extraordinary and rather beautiful new growth.  It is in a coldish spot and has struggled after being hit by a fir branch.
1995 – FJW
Rain came after 6-8 weeks of good weather – the Garden seldom better – which included the Camellias. Michelias hung on well.
1992 – FJW
Flower Show party and hot weather started.
1954 – CW
Still very dry and rain wanted. Odd flowers still on Mag veitchii, parviflora, Wilsoni, sinensis coming out. Auklandii at best also Saffron Queen and many Azaleas. A few daffodils as well as Recurvas. Peonies as Lutea beginning and an odd rose bud – single white Camellia and some Japonica and Saluenensis left.
1917 – JCW
The Auklandii just about its best and 50 other species more or less in flower. Zealanicum's would be good but are frosted. Very few azaleas. It is very dry for May.
1907 – JCW
I pavonia and Korolkowi both at their best. No more daffs, it has been a very good season for them for more than two months.
1904 – JCW
Picked the first Prian seed from [? ] Forte.