2023 – CHW
The weather has turned and the new growth is luxuriant after the rain. A search for new things today.
Carya cordiformis coming into leaf. A very distinctive new leaf and habit and this is the second species seen in a few days.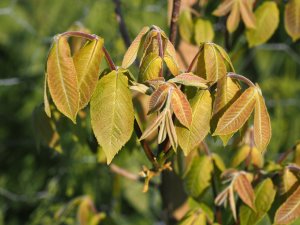 Ilex cerasifolia from Brazil which has survived the winter and now with red new growth.
I have stated to concentrate on the rather dull genus Celtis. We now have 3 species recently planted and a couple from earlier which may need proper identification. This is Celtis sinensis. We also have C. australis and C. tournefortii. These Nettle trees or Hackberries originate from Europe, Asia and the USA. They look a bit like Carpinus so plenty of fun in the future working out which is which. Nice bark already on this one.
The white flowered sport of Azalea 'Greenway' making a nice clump in Tin Garden.
Deutzia calycosa 'Dali', also in Tin Garden, is quickly making a good sized shrub.
Deutzia longifolia from Tom Hudson is an even more vigorous grower.
Cercis canadensis 'Flame' plastered in flower.
Mallotus japonicus coming into leaf. The deer cannot nibble this now with a higher wire netting surround.
Rehderodendron kweichowense (WWJ 12019) flowering properly.
Rhododendron 'Sappho' outside the back yard nearly over before Chelsea.
Rhododendron 'Veryan Bay'
Rhododendron zaleucum still flowering a little after its haircut last winter.
Then on to a tour of the garden at Carnanton which has quickly developed over the last 20 years into something excellent and well worth opening to the public. Ash disease on 20 to 30 year old ashes the worst I have yet seen in Cornwall.
Rhododendron unknown
Rhododendron 'Percy Wiseman'
Crataegus laevigata 'Paul's Scarlet' just coming out.
Rhododendron 'Silver Lady'?
Rhododendron 'Winsome' and Leptospermum 'Red Damask'.
Rhododendron 'Winsome' and Cotinus coggygria 'Royal Purple'.
Unknown but spectacular rose.
The yew avenue was cut down to about 8ft and is now kept trimmed.
Azalea 'Rosebud' and Photinia davidiana 'Pink Marble'.
The fountain under the weeping willow – gravity fed from the top pond and impressive.
Bulrushes on one of the three lakes.
Rhododendron 'Ken Janeck'?
Rhododendron 'Pink Cherub'
Rhododendron 'Hoppy'?
Rhododendron 'Winsome'
Rhododendron 'Dopey'
Rhododendron 'Doc'?
Rhododendron 'Excelsior'?
Rhododendron yakushimanum?
Rhododendron 'Silberwolke'?
Rhododendron 'Hachmann's Polaris'
My rhododendron naming may be a bit inaccurate but these were taken during a wedding!
2021 – CHW
A welcome sight. Large puddles outside the front door in what would have been Chelsea Flower Show week. A dry summer looks less of a worry for the garden.
Wisteria floribunda 'Black Dragon' just out above the gents' urinals. It used to mingle with an Actinidia but is now better on its own.
The very last single flower on one of the original Camellia saluenensis. The first was in November!
Camellia 'Optima' still has plenty of flowers which is unusual this late in the season.
Azalea 'Caerhays Lavender' just out on the Main Ride. Normally over by Chelsea so perhaps a little late this year.
A garden tour today with Susan d'Arcy, a travel writer for The Times, who was staying at The Nare hotel as they reopened after lockdown. Since the hotel is fully booked for the rest of the year, she may hopefully give us a mention!
The castle reopened today for tours of only six people (booked online). Scarcely viable with these sorts of numbers but we too need to celebrate another milestone in the route map to the total end of lockdown.
A good Rhododendron crassum as well.
Phlomis fruiticosa full out on the bank. A clump of 20ft x 10ft now.
Weigelia 'Rubidor' with yellow margined and striped leaves and dark red flowers. It has made a large shrub in 10 years. Perfect for a hot corner situation like this.
A young roe deer prances away from The Vean as I leave. It seems to want to return to The Vean garden.
Azalea 'Berryrose' making a good showy clump down from the top lodge.
The first new flower out on Hydrangea 'Madam E Mouilliere' only about three months since I last photographed one on this same bush. What a performance for a hydrangea! The first hydrangea out here too.
Metasequoia glyptostroboides 'Amber Glow' glowing in the sun. What an excellent plant this is here growing in a damp spot where a drive side drain empties.
A few new things this afternoon. Steve has sent me a picture of Aesculus x marylandica which is not yet in the collection here. This is Aesculus glabra x Aesculus flava and still very rare. It makes a big tree apparently.
Cornus kousa 'Satomi' – the flower bracts are just colouring up. A week or two from the full show.
Aesculus sylvatica with its first decent flowering in Tin Garden.
The rare Quercus hypoxantha with new leaves and catkin flowers. A gift from Thomas Methuen-Campbell.
Aesculus glabra now just out. Few flowers this year.
Aesculus x bushii now full out and nearly over.
Populus lasiocarpa 'Bolonii' looks a bit different from the usual P. lasiocarpa leaves. This came from Roundabarrow nurseries.
Quercus palustris 'Flaming Suzy' – having recently spotted this in the greenhouse with no 'flame' in its (there) well developed leaves here is the real thing just in leaf. Very good it is too!
I had not really taken in how good Quercus palustris is in full new leaf either in the sun.
Laburnocytisus 'Adamii' is absolutely stunning today. A peculiar plant which, understandably, not everyone likes.
A young Carpinus orientalis just into leaf with rounded leaves.
The rare Carpinus polyneura with a very different leaf formation. In 'New Trees' but not Hillier's.
A group of three Enkianthus cernuus recurvus with recurved bells so these appear true to name.
Magnolia 'Honey Liz' with strange green markings on the outer tepals and quite a nice yellow thereafter.
This is supposedly Magnolia aff. floribunda var. Tonkinensis (DJHV 06105) from Crug Farm. I had assumed it was actually a Michelia (in former parlance) and had planted it near our original Michelia floribunda. Judging by the tight buds I am assuming that it is in fact a Manglietia but there are no Manglietias with this name that I can find? Tom Hudson told me that floribunda var. tonkinensis should now properly be called 'X' – sadly I cannot remember what but he may revise his view when the flowers open in a few weeks' time?
Magnolia acuminata 'Variegata' does not appear yet to have any variegated leaves but very blue buds.
Rhododendron griffithianum full out. Sadly last year's layers have been nibbled off by something – deer I assume.
A young group of Enkianthus campanulatus 'Albiflorus' is pure white unlike the larger plant above Hovel Cart Road which is tinged pale pink when full out.
Jaimie forbade any cutting from the superb pink tinged Rhododendron lindleyi for the Chelsea stand and I am happy to agree.
Rhododendron lindleyi at its very best. Our older Caerhays plants are pure white but more recent introductions have a pink stripe when they first open.
Rhododendron 'Polaris' too far out for Chelsea.
Staphylea colchica now full out and very splendid. Not as good, by far, however as the branch of the same thing which Tom Hudson brought with him to compare. Tom's came from an eastern European collection and was much larger in leaf and flower.
At last we have located what we believe to be Staphylea bumalda. The flowers are 'cymose' which means that the lowest flowers in each flower cluster open first. Tom Hudson brought two small plants with him and the leaves did not match so we may still be guessing!
Phyllocladus trichomanoides (var. alpinus), which came from Mount Congreve 12 years ago, is now a compact shrub. Here it is covered with flower clusters of reddish male strobili. Hard to think of this as a conifer! The reference books say this is ideal as a rockery plant but we saw it as a small tree at Fota gardens in Ireland and elsewhere on our recent trip.
Rhododendron 'Ruby Hart' was good on the stand last year. Now useless.
Camellia 'Mathotiana Alba' is always late and has made it some years. A few nice flowers still but too far out.
Magnolia 'Daphne'; this one growing in the shade looked 'good to cut and go' on Sunday. Now not a hope!
Rhododendron loderi 'Lems Monarch' is however a possibility.
Laburnocytisus 'Adamii' is another possible starter although I loathe is (even in the mist as here)!
First flower out on Magnolia x wiesneri. Others might just cut?
An interesting approach from a US forestry department official seeking to prove that the wrong magnolia had been used on some project. He was expecting Magnolia virginiana but thinks he has got Magnolia 'Porcelain Dove' which is a cross between Magnolia virginiana and Magnolia globosa. I take some pictures of Magnolia 'Porcelain Dove' which is nearly out here and Magnolia globosa which is not yet and email them over to Rockville saying I do not want any part of the row!
Wisteria floribunda 'Violacea Plena' is always a shy flowerer and the flowers are easily hidden by leaves. Too far out for Chelsea now anyway.
2016 – CHW
Most of the day with Asia sorting the early rhododendron and enkianthus cuttings to take in the next two to three weeks. Mainly the scented ones. The rhododendron seeds sown the traditional way in moss and sieved topsoil are germinating like crazy and will now need protection from direct sunlight. Quite a success story but we will soon be short of room for it all. Another greenhouse I expect.
Fagus sylvatica 'Purpurea Tricolor' is coming into leaf by the Four in Hand. You have to look to the leaf edges to see rather tiny and irregular evidence of the third colour in the leaf.
Staphylea holocarpa var rosea by the fernery is now a large plant showing up spectacularly today from the drive.
Populus deltoides 'Purple Tower' is a new plant to Caerhays. If the leaf stays this bronze colour we are in for a treat. Another plant which will have a foliage impact and possibly the only plant with leaves of this sort in Kennel Close.
Juglans ailanthifolia also has rather special foliage and you would not immediately think 'walnut' but that is what it is. There was only ever one rather spindly juglans in the garden which blew over about eight years ago. My mother planted one many years ago in the field below the castle where it has grown slowly. Caterpillars devour the young leaves every year and only the secondary new growth makes any real progress. No idea which caterpillars like walnuts!
2015 – CHW
Chelsea stand nearing completion when the awful news arrives that 22 largely pedigree cattle (almost 20% of the herd) have failed this week's TB test and are shortly to be culled.  Two more are 'inconclusive'.   Many of those to be killed have healthy baby calves which will now have to be hand reared with milk in a bucket.   Calves denied their mother are difficult and dangerous to hand feed and some will pine away and die.  Why do those pro badger fascists not give any credence to the cruelty of TB and killing cattle as opposed to supposedly 'cuddly' badgers.   At least we may now get a Cornish badger cull from George Eustice in 2016.   In the meantime our farm staff are both distraught and angry.   TB testing every two months from now on and no sales of any of our pedigree cattle other than direct to the abattoir at much less than their true worth.  Arthur, the farm manager, is close to giving up on our pedigree herd of Salers and suggests we use the derisory government compensation when it eventually arrives to buy 100 more Dorset ewes instead of replacements.   I will think on that and cross breeding all the pedigree cows from now on.   A whole farming policy and 15 years of deliberate breeding up the spout or, rather, up the brock.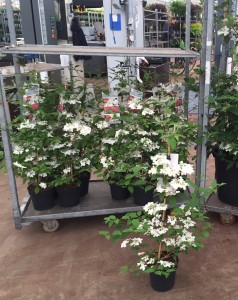 This disastrous news is countered by the arrival of Viburnum plicatum 'Kilimanjaro Sunrise' which is to be entered into the RHS Plant of the Year (Chelsea 2015) competition.  40 plus entries and we are shortlisted into the last 20 by Sunday evening.
The 'new' plant has to be new to the UK market and not exhibited before.   Breeders of new plants (in our case a very nice Dutch firm and their even nicer sales rep Chris Campbell) have to provide plants to a Chelsea exhibitor to put on his stand.  Hilliers had turned Chris down so he rang me at Burncoose only 10 days ago.   We had been trying to find something to enter this hugely commercial and lucrative competition since it started five years ago but larger firms had trumped us particularly on last year's winner, a hydrangea called Miss Saiori, which ended up on the Hilliers stand despite my best efforts entertaining the grower here the year before.Putting up a stand at Chelsea takes (this year) seven people (who have prepared for weeks if not months) working 10 plus hour days five to six working days each.   We are very fortunate to have horticultural knowledge and artistic talent in Gerry and Louisa with Andrew and Ruta doing the heavy lifting of the props on the first day.   John has an attention to detail which is critical and so we have a TEAM who are unrushed, unfussed, happy and enthusiastic.   After 37 Chelseas I have seen much excellence and a few (self inflicted) disasters but this is all going well and we are finished in good time.
2003 – FJW
First deer seen in Castle Wood.
1991 – FJW
Still dry but mild and the garden flowers hang on well. Azaleas excellent. A few casualties from the great plant out, but the vast majority held up.
1986 – FJW
The latest year seen for some time. Hinomayo just coming. Camellias by no means over. Flowers hanging on well in cool weather. Saw first swallow.
1929 – JCW
M wilsoni opens, the early one. A flower or two of Nicholsoniana. Parviflora shows colour. M brozzoni has been very good and so the various Conspiscus. Wilson's Aperantha is flowering fairly well.
1920 – JCW
Forrest came. We are ten days ahead of 1919 and Magnolia wilsoni is the best thing open with the Engine House Azaleas. It is about mid season for Azaleas.
1919 – JCW
Auklandii is very good indeed, but are frosted in the 40 Acres. Roylei is good. The Standish plants are very good. Loderi is very nice. Bluebells at their best. May very scarce. Azaleas have hardly started.
1914 – JCW
Auklandii's now nearly over. 14 to 1500 flowers on the best 40 Acres plants. C montana is very good. Azaleas about their best.
1910 – JCW
Just as above (1909) in point of time, plenty of moisture and it is a fair growing spring.
1909 – JCW
Auklandii would be splendid but for the want of rain. R roylei nice, a few Azaleas, a few Waters rhodo's. Van Tubergens wane. Mrs Butler a few open. R falconeri fine but for heat.
1906 – JCW
Auklandii never so good as now.