2019 – CHW
On arrival at 12.00 on the Friday still much on the stand to do. However the fountain is operational or was until we got a series of power failures.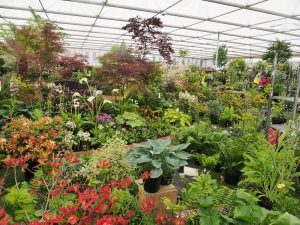 By Saturday morning all the cut stuff has been arranged and we move forward quite quickly.
Putting the lip pins on 500 labels took two and a half hours.
The sales point is in place and the celebrity booze under wraps.
The centre of the stand is nearing completion and looks fantastic with the iron fence.
The electrics for the fountain conk out again. If we fill the water feature completely top and bottom and the electric conks we will flood the whole stand. We will do this only before judging at 7.30am on Monday.
Will the azaleas open up properly by judging? Despite two overcast days with some rain they did!
This was pinched from Asia's greenhouse. Originally it was used to boil up rabbits and eggs to feed young pheasants before the first world war.
Sweeping up rubbish starts but there is still plenty to finish off.
5pm and the turf starts to go down.
Christine watering up before we all go out to dinner in an Italian number of World's End.