2020 – CHW
I finally got around to viewing a four minute (and in English) trailer for the new David Attenborough type series of plant programmes which is about to be broadcast on Chinese prime time national TV. What could be more topical!
The Chinese film crew were here about a year ago. Too late for the magnolias. They also visited Exbury, interviewed Roy Lancaster, and visited us again at Chelsea. We were all a bit wary of what the theme of the programme might be. Was it to be the theft of thousands of species of plants by the intrepid English plant hunters or a genuinely historic and or pictorial / 'planty' approach without this slant. We still do not really know but, having seen the trailer, where I have a bit to say in the Billiard Room, and there are clips of Exbury with Marie-Louise Agius combined with rhododendrons in the mountains of Yunnan, I suspect the propaganda element is linked more to 'continuing friendship' and 'plants across the oceans' than the historic theft (by nasty capitalists) of 60-70% of the garden plants growing in western European gardens today. We will see.
It certainly looks like a big budget production and is going out on the main (government) channel. Perhaps the BBC or ITV will buy the rights and show it here? We have been trying to interest independent TV producers in the concept of a series about the history of Cornish gardens. So far no real takers. Even a great gardens of Britain series once day perhaps filmed over a whole season. Probably considered far too upmarket and right wing for the BBC. Channel 5 did a good series on Repton gardens (including Belvoir) with Alan Titchmarsh but it was fairly low budget. I think we should try again with a Great Gardens of Cornwall theme for the next spring season.
First flower almost out on Magnolia officinalis var. biloba. The individual flowers last only about 48 hours.
Embothrium lanceolatum against a blue sky.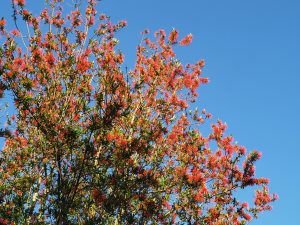 Rhododendron 'Lem's Monarch' coming to its best. Rhododendron loderi 'Venus' next door to it nowhere near out.
Magnolia sieboldii 'Genesis' x Magnolia virginiana nearly out. An odd cross but improving. A bit like Magnolia 'Porcelain Dove' which grows nearby and is just showing colour. Magnolia globosa nowhere near out but buds just visible now.
Last flowers on Magnolia 'Honey Liz'.
Schefflera rhododendrifolia (GWJ 9375) – new growth and old leaves.
Seeds forming and a nice snake bark trunk on Acer sikkimense. An excellent new introduction. Seed to collect later in the year.
I first saw Magnolia acuminata 'Seiju' in Koen Camelbeke's article on new 'yellow' magnolias about six to seven years ago. This is the first (rather small) set of flowers I have seen on our young plant. It will get better. Very blue in bud.
Acer takesimense (now Acer pseudosieboldianum subsp. takesimense in New Trees) with seed heads forming and leaf structure. Planted in 2010 so it has grown quickly into a small tree.
Trachycarpus wagnerianus flowers are now developing fast.
The big new clump of Rhododendron lindleyi is just out. Very pink in bud.
This (unnamed) Mahonia species was a gift from Harvey Stephens / Savill Garden.
Rhododendron 'Nancy Evans'
Boring though it is I wanted to record the now fully formed leaves on our larger lime species collection. To my horror a roe deer has eaten most of the leaves off the smaller ones and had a very good go at the larger trees on their lower limbs. Jimmy told me he had culled more roe than usual this spring but one key one more to go.
Tilia tomentosa 'Petiolaris' – planted in 2010.
Flowers on the Mespilus germanica.
Tilia mexicana – planted 2011.
Magnolia 'Peaches and Cream' – a few late flowers.
Sorbus thompsonii with attractive silvery-purple new leaves – planted 2010.
Tilia miqueliana (the Tilia on the drive by Hovel Turning is Tilia x moltkei).
Tilia tomentosa 'Brabant' – planted 2009.
Tilia heterophylla (now Tilia caroliniana subsp. heterophylla) – planted 2017.
Tilia x moltkei
Tilia oliveri
Crataegus aprica in flower.
Tilia cordata 'Winter Orange'
Tilia tomentosa 'Petiolaris' (second plant) with a more pronounced weeping habit – planted 2009.
I think this is Tilia mandshurica on the drive although I had mistakenly thought it was Tilia henryana until recently. T. henryana is in Penvergate and a falling tree has destroyed all but one branch.
By Saturday morning all the cut stuff has been arranged and we move forward quite quickly.
Putting the lip pins on 500 labels took two and a half hours.
The sales point is in place and the celebrity booze under wraps.
The centre of the stand is nearing completion and looks fantastic with the iron fence.
The electrics for the fountain conk out again. If we fill the water feature completely top and bottom and the electric conks we will flood the whole stand. We will do this only before judging at 7.30am on Monday.
Will the azaleas open up properly by judging? Despite two overcast days with some rain they did!
This was pinched from Asia's greenhouse. Originally it was used to boil up rabbits and eggs to feed young pheasants before the first world war.
Sweeping up rubbish starts but there is still plenty to finish off.
5pm and the turf starts to go down.
Christine watering up before we all go out to dinner in an Italian number of World's End.