2022 – CHW
A decent half day of heavy rain.
A young Magnolia wilsonii just out in the Ririei Opening.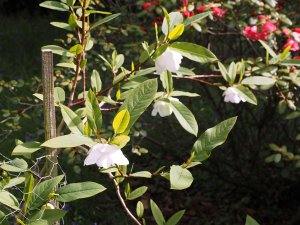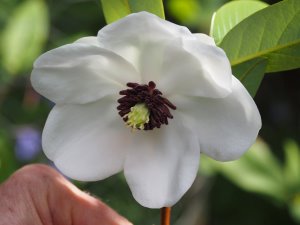 Cyclocarya paliuris with its first set of growth after planting. Formerly called Pterocarya paliuris. A medium sized tree with disc winged (rather than two winged) fruit.
Rhododendron 'Jock' and Rhododendron 'Norfolk Candy'.
Embothrium lanceolatum 'Norquinco' and Photinia beauvardiana var. notabilis.
Rhododendron orbiculare and Rhododendron loderi.
Podocarpus wangii with its exquisite new growth.
Laburnocytisus 'Adamii' – with all the flowers shown close up.
Magnolia x wieseneri and Enkianthus campanulatus 'Victoria'.
Enkianthus deflexus remains my favourite species with its huge flowers which are later into flower than most other species.
Philadelphus sericanthus just out.
2021 – CHW
Still a good late flower or two on Magnolia 'Anne Leitner'.
Viburnum sieboldii now in flower. A large erect shrub at 15ft or so.
A young Azalea wadanum 'Album' flowering for the first time here. (This is yet another subspecies of R. reticulatum.)
First flower this year on Rhododendron lindleyi.
Michelia 'Fairy Cream' looking the best it ever has at 10-12ft.
Enkianthus cernuus recurvus with its flowers as the name implies.
Rhododendron 'Goldsworth's Yellow' (or similar).
Rhododendron griffithianum full out – note the smooth bark.
This tree is Umbellularia californica as we quickly discovered crushing the leaves. Our other plant is a shrub with far more extended leaves although both quickly induce a headache and dizziness when crushed.
Another slightly different flower on Magnolia 'Honey Liz'.
Rhododendron 'Lemon Meringue' just out.
Rhododendron 'Ruby Hart' – a wonderful dark red.
A nice dark form of Rhododendron reticulatum. Very different from the old plant in the Rockery. A very variable species colour wise.
Flower on low down branches of Plagianthus regius (Plagianthus betulinus). This smallish tree normally only flowers high up.
Rhododendron 'Lem's Monarch' coming to its best. Rhododendron loderi 'Venus' next door to it nowhere near out.
Magnolia sieboldii 'Genesis' x Magnolia virginiana nearly out. An odd cross but improving. A bit like Magnolia 'Porcelain Dove' which grows nearby and is just showing colour. Magnolia globosa nowhere near out but buds just visible now.
Last flowers on Magnolia 'Honey Liz'.
Schefflera rhododendrifolia (GWJ 9375) – new growth and old leaves.
Seeds forming and a nice snake bark trunk on Acer sikkimense. An excellent new introduction. Seed to collect later in the year.
I first saw Magnolia acuminata 'Seiju' in Koen Camelbeke's article on new 'yellow' magnolias about six to seven years ago. This is the first (rather small) set of flowers I have seen on our young plant. It will get better. Very blue in bud.
Acer takesimense (now Acer pseudosieboldianum subsp. takesimense in New Trees) with seed heads forming and leaf structure. Planted in 2010 so it has grown quickly into a small tree.
Trachycarpus wagnerianus flowers are now developing fast.
The big new clump of Rhododendron lindleyi is just out. Very pink in bud.
This (unnamed) Mahonia species was a gift from Harvey Stephens / Savill Garden.
Rhododendron 'Nancy Evans'
Boring though it is I wanted to record the now fully formed leaves on our larger lime species collection. To my horror a roe deer has eaten most of the leaves off the smaller ones and had a very good go at the larger trees on their lower limbs. Jimmy told me he had culled more roe than usual this spring but one key one more to go.
Tilia tomentosa 'Petiolaris' – planted in 2010.
Flowers on the Mespilus germanica.
Tilia mexicana – planted 2011.
Magnolia 'Peaches and Cream' – a few late flowers.
Sorbus thompsonii with attractive silvery-purple new leaves – planted 2010.
Tilia miqueliana (the Tilia on the drive by Hovel Turning is Tilia x moltkei).
Tilia tomentosa 'Brabant' – planted 2009.
Tilia heterophylla (now Tilia caroliniana subsp. heterophylla) – planted 2017.
Tilia x moltkei
Tilia oliveri
Crataegus aprica in flower.
Tilia cordata 'Winter Orange'
Tilia tomentosa 'Petiolaris' (second plant) with a more pronounced weeping habit – planted 2009.
I think this is Tilia mandshurica on the drive although I had mistakenly thought it was Tilia henryana until recently. T. henryana is in Penvergate and a falling tree has destroyed all but one branch.
By Saturday morning all the cut stuff has been arranged and we move forward quite quickly.
Putting the lip pins on 500 labels took two and a half hours.
The sales point is in place and the celebrity booze under wraps.
The centre of the stand is nearing completion and looks fantastic with the iron fence.
The electrics for the fountain conk out again. If we fill the water feature completely top and bottom and the electric conks we will flood the whole stand. We will do this only before judging at 7.30am on Monday.
Will the azaleas open up properly by judging? Despite two overcast days with some rain they did!
This was pinched from Asia's greenhouse. Originally it was used to boil up rabbits and eggs to feed young pheasants before the first world war.
Sweeping up rubbish starts but there is still plenty to finish off.
5pm and the turf starts to go down.
Christine watering up before we all go out to dinner in an Italian number of World's End.